Immigration authorities tried unsuccessfully on Tuesday to get permission to force-feed a man on a 3-week hunger strike at the Stewart Detention Center in Lumpkin, Georgia.
In a case that once again shines a spotlight on the isolated facility where a major protest broke out in September, a federal judge denied immigration authorities' request to restrain Alaa Ismail Yasin and feed him intravenously or through a nasal tube.
Contending that he qualifies for release, the 27-year-old Palestinian began refusing food on April 17 and says he won't eat again until Immigration and Customs Enforcement officials let him go. ICE, in turn, says that if Yasin were to die as a result of the hunger strike, authorities would lose control of the detention center.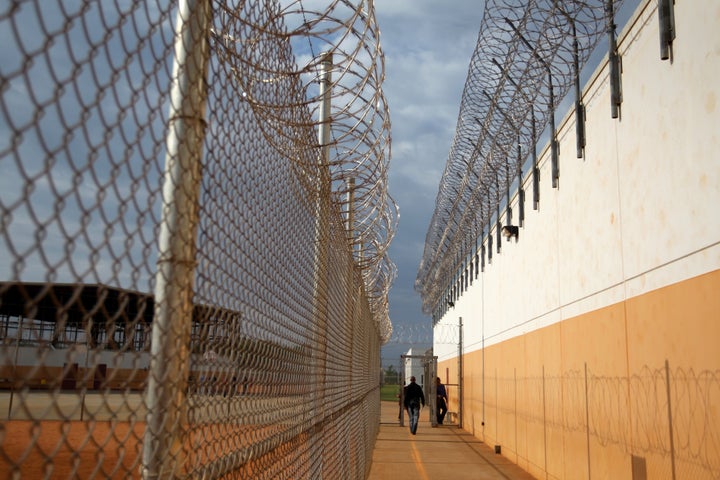 U.S. District Court Judge Leslie Abrams' decision does allow ICE to take blood and urine samples from Yasin to monitor his health, even if he refuses to give consent.  
Yasin risks death if he continues to refuse food, according to a court declaration filed Monday by Eugene Charbonneau, a staff physician at Stewart. The detainee continues to drink water and has consumed "Boost," a nutrition shake sometimes used as a meal replacement, on a handful of occasions.
As of April 17, Yasin weighed 193.2 pounds, according to Charbonneau. By Monday, he had shed more than 20 pounds.
Failing to force-feed Yasin could jeopardize security at Stewart, according to Sebastian Mason, who filed a separate declaration on Monday and serves as ICE's supervisory detention and deportation officer in Atlanta.
If Yasin were to die, Mason said, his death "would seriously affect the operation of the Stewart Detention Center and would adversely affect my ability and the Department's efforts to maintain the security and good order of this detention facility." 
But Yasin says he qualifies for release.
Federal guidelines require immigration authorities to review each detainee's case after six months. Those who don't pose a flight risk, terrorism threat or a danger to the public generally must be released if the U.S. government hasn't been able to deport them. The six-month mark passed for Yasin back in March, but he's still in custody.
"I need to get out of here, that's all I know," Yasin told The Huffington Post in a telephone interview from detention last week. "I'm trying to do my best."
An ICE spokesman declined to discuss the specifics of Yasin's case, citing Privacy Act restrictions, but said the agency respects prisoners' right to refuse food.
"ICE fully respects the rights of all people to voice their opinion without interference," the spokesman wrote in an email. "ICE does not retaliate in any way against hunger strikers."
They keep saying his departure is imminent, but they've been saying that since September.

Helen Parsonage, attorney for Alaa Ismael Yasin
Born in the West Bank, Yasin first came to the United States on a tourist visa in 2013. He then took out a student visa and began studying English that year. Immigration authorities detained him on charges of using a false address on a government form and for working illegally at his uncle's pizza shop in North Carolina, according to Yasin's attorney, Helen Parsonage.  
Parsonage says her client was put in solitary confinement for signing a document that protested conditions at Stewart. The facility is run as a for-profit enterprise by the Corrections Corporation of America, the country's largest private prison contractor.
A CCA spokesman did not immediately respond to a request for comment on Yasin's hunger strike.
The West Bank has a Palestinian government, but is under Israeli military control. The United Nations has recognized the state of Palestine without defining its borders, but the U.S. and Israel have not. That situation can leave Palestinian nationals in deportation limbo.
Parsonage says that ICE has refused to release her client on the grounds that U.S. authorities have nearly secured his removal.
"They keep saying his departure is imminent," Parsonage told HuffPost. "But they've been saying that since September. That's why he's on hunger strike."
Calling all HuffPost superfans!
Sign up for membership to become a founding member and help shape HuffPost's next chapter
BEFORE YOU GO
PHOTO GALLERY
Kids Writing To Kids In Immigrant Detention