Gail Vittori becomes the first woman to win the Hanley Award.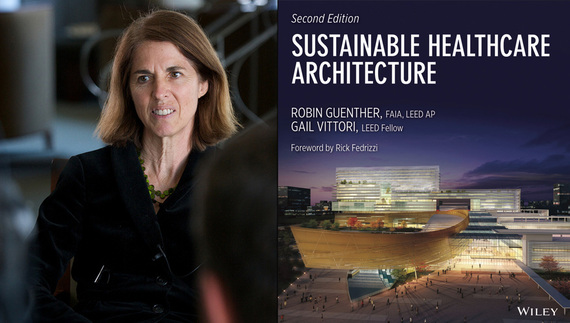 With her partner and husband, Pliny Fisk III, Vittori co-directs the Center for Maximum Potential Building Systems in Austin, Texas. Celebrating its 40th anniversary this year, the non-profit is an incubator for innovation, designing and testing new ways to integrate air, water, food, energy, and materials to build better communities. In a survey I conducted in 2010, industry leaders named the Center's home, the Advanced Green Builder Demonstration Building, one of the world's ten most significant examples of sustainable design.
Outside the Center, Vittori seems to have a hand in everything happening in the green building industry. She is the current Chair of the Board of Directors of Green Business Certification Inc. (GBCI), which oversees credentials and certificates for the Leadership in Energy and Environmental Design (LEED) rating system and other programs. Previously, she served as Chair of the USGBC, as well. Vittori also is a founding board member of the Health Product Declaration Collaborative, which developed the first open standard for manufacturers to report the health impact of materials and products. Previously, Vittori and others developed the Green Guide for Health Care, the first protocol measuring the environmental and health impact of healthcare facilities. As co-author of Sustainable Healthcare Architecture, Vittori is a recognized pioneer in that field, which barely existed a decade ago.
Ask anyone who knows and works with Vittori, and they gush with praise: "Gail has the most authentic, honorable voice I know," says Rick Fedrizzi, CEO of the USGBC. "She is a master positive change maker," offers Bob Berkebile, last year's Hanley Award winner, "and my lead candidate for cloning." Beth Heider, a later Chair of the USGBC Board, tells me, "Gail's leadership is a model the world needs."
That Vittori is the first woman to win the Hanley Award is fitting. A decade ago, when Kira Gould and I began researching our book, Women in Green: Voices of Sustainable Design, Vittori was the first person we contacted, and she became a prominent voice in the book. "Business as usual is broken," she told us. "And women are often the ones rallying about broken systems." Today, Gould calls Vittori simply "a force of nature."
I caught up with Vittori this week.
The Hanley Award is given for vision and leadership in sustainability. You have said that the term sustainability is "very moldable," since it means different things to different people. How do you define it?
Sustainability is one of those words that is better to let have some ambiguity, rather than precision. It becomes a point of reference for a desired state. It can be very expansive and include anything from social equity to ecological concerns, human health and the economy. It can motivate people to work toward a future that has promise.

What obstacles are preventing quicker progress in that direction?
A lot of time and energy gets used up on issues that divide us, when we should work toward common ground. The issue of health has been a big divider. We need a back-to-basics approach. We know what to do -- we just need to implement it at a larger scale.
Why is sustainability important for healthcare design?
Hospitals operate around the clock and serve vulnerable populations. They use 2.5 times more energy than most buildings, and climate change is the biggest public health threat of this century. Healthcare should be the poster child for green and healthy buildings--it has everything to gain and nothing to lose. As recently as the early 2000s, there was no obvious bridge between healthcare and green building. Back then, I could hardly find an example of it in the US or anywhere else. We developed the Green Guide for Health Care to fill this gap, and it catalyzed a fundamental shift in the ways hospitals are designed, constructed, and operated.
What are great examples of hospitals today that are embracing green building?
I worked on the first LEED Platinum hospital in the world, Dell Children's Medical Center of Central Texas. It took the typical large floor of a hospital and opened it up to light and views, connecting people to the outdoors. It's become a real model, attracting people from all over the world. The Gunderson Health System in Wisconsin is becoming energy independent. And Kaiser Permanente inspired the whole industry with its "Small Hospital, Big Idea" competition, which imagines the hospital of tomorrow.
What is the "hospital of tomorrow," and how is it different from the hospital of today?
Some say that in the future, hospitals will have no beds. If we shift our focus to prevention, rather than treatment, there will be less need for buildings housing the ill. For now, hospitals will function better at a smaller, humane scale that is more connected to the community. A hospital is not an island -- it's a series of transactions and flows that is much more expansive than the building. The healthcare industry has a huge footprint not just physically but in terms of its supply chain and environmental impact. As it shifts its procurement practices to products and materials that are healthier, more environmentally sensitive, and socially just, the hospital re-creates itself as an environment defined by the highest, life-affirming principles. This could transform the whole market to benefit both environmental and public health.
Calling all HuffPost superfans!
Sign up for membership to become a founding member and help shape HuffPost's next chapter