Shortly after, its ride-sharing rival Lyft announced a similar policy, joining Microsoft, the first major company to ban the practice back in December.
Congress could make all companies follow suit and allow individuals to take sexual harassment cases against employers to court. In December, Rep. Cheri Bustos (D-Ill.) and Sen. Kirsten Gillibrand (D-N.Y.) introduced legislation in the House and Senate that would ban employers across the board from applying forced arbitration in cases involving workplace sexual harassment.
The legislation boasted a bipartisan group of co-sponsors, and it had a boost from former Fox News host Gretchen Carlson, whose contract contained a forced arbitration clause when she leveled sexual harassment claims against executives at the cable news giant.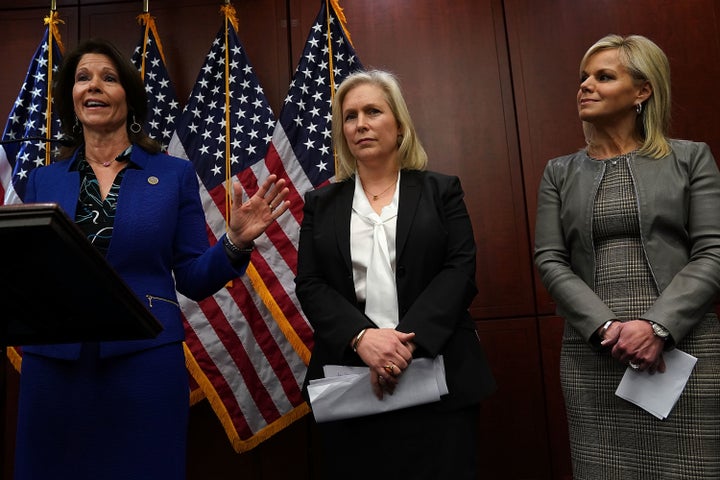 Despite increased attention on the issue because of the Me Too and Time's Up movements, the legislation appears to have stalled, with both bills referred to legislative committees nearly six months ago. Some of its advocates suspect that it's due to lobbying and pushback from business leaders who don't want to publicly declare that they are against the legislation — and in effect, say they support silencing sexual misconduct victims.
In a Tuesday statement, Bustos heralded Uber's decision as "proof that our movement is making a difference." She renewed her calls for Republican leaders to move forward on the bills, accusing them of "being lobbied aggressively by special interests who are on the wrong side of history."
During a press conference introducing the legislation in December, Graham called on business leaders and groups like chambers of commerce to lend their support, arguing that it was good for their interests.
However, when HuffPost contacted the other organizations that have disclosed lobbying related to the bill, two of them — the National Retail Federation and the Society of Human Resources Management — confirmed that they oppose the bill. Others said that they do not have an official position on the bill, but have favored arbitration in the past.
When asked about its lobbying, the National Retail Federation said it has been "working to educate members of Congress on how arbitration agreements serve the interests of both workers and employers by avoiding lengthy, costly litigation and ensuring a fair and fast process for resolving workplace disputes," according to a statement from Lizzy Simmons, NRF's vice president for government relations. "Arbitration also offers an added virtue of occasionally settling these disputes with less rancor than a lawsuit."
A spokeswoman for SHRM wrote in an email that the group "supports public-policy proposals that promote an accessible, prompt and fair resolution of harassment claims in the workplace while protecting confidentiality and due process, including in arbitration."
Lauren Sheets Jarrell, chief counsel at the American Tort Reform Association, said in an email that "we generally support arbitration as an efficient tool for judicial economy." When asked about the group's lobbying, she said that it had not taken a position on the bill.
"We're taking a look at these pieces of legislation and discussing them with our members. The Chamber will work with anyone to make sure appropriate steps are taken to combat sexual harassment," a spokeswoman for the U.S. Chamber of Commerce said.
"I think if companies are unwilling to support a sexual harassment survivor or sexual assault survivor's right to file a claim in open court, they should say so.""
Earlier this year, Facebook, which also has reported lobbying activity, said that it was considering its position on the bill. A company spokeswoman said Thursday that there were no updates. Uber, which is not among the companies that have reported lobbying activity, said Tuesday it supports the bill.
Both bills were referred to their corresponding committees and subcommittees, the House Judiciary Subcommittee on Regulatory Reform, Commercial and Antitrust Law, and the Senate Committee on Health, Education, Labor, and Pensions.
A spokeswoman for the House subcommittee's GOP vice chair, Rep. John Ratcliffe (Texas), said that there were no updates on the status of the bill. A spokeswoman for subcommittee chair Rep. Tom Marino (R-Pa.) did not return multiple requests for comment.
A spokeswoman for HELP committee chair Sen. Lamar Alexander (R-Tenn.) did not immediately return a request for comment on any updates on the bill.
Advocates for the legislation suggested that the relative lack of public support from companies and interest groups are the reason for the bill stalling and argued that their apparent reluctance to state a position shows that they may not want to publicly say that they are against it.
"Publicly, everybody will tell you, we support women's rights, we support the rights of rape survivors, but privately, companies are lobbying against the bill," said Julia Duncan, senior director of government affairs at the American Association for Justice, one group that has lobbied in favor of the bill. "I think if companies are unwilling to support a sexual harassment survivor or sexual assault survivor's right to file a claim in open court, they should say so."
Duncan argued that congressional action is necessary because it's not enough to put the onus on individual companies like Uber to reform their practices.
"Uber can say, 'Yes, I will face these nine women in court for these claims,' and tomorrow, they could reverse their position and say, 'Everybody else goes to forced arbitration.' There's nothing in the law that says they can't do that," she said. "The vast majority of companies will continue to force people into arbitration, no matter how bad it makes them look."
Popular in the Community