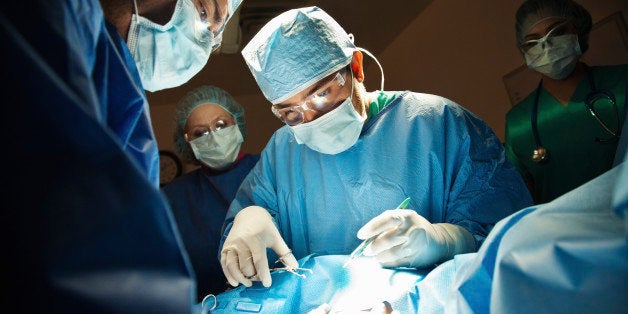 According to The Telegraph, the 36-year-old woman, who was identified in court documents as Mrs. P, has a history of paranoid schizophrenia and has been resisting treatment. Though she is around 36 weeks pregnant -- just shy of full term -- doctors want to induce labor immediately.
Last month, authorities held the mother of three under the Mental Health Act, following her return from a trip to her native country of Bangladesh. After a visit from mental health workers revealed the expectant mother was "severely neglecting herself," authorities pursued a court order for a forced C-section as a precaution, in case the woman refuses to give birth naturally.
Justice Peter Jackson said on Dec. 11 that doctors could sedate the woman and use "proportionate force" to deliver the child, the Press Association reports. He concluded that she lacked the mental capacity to make a potentially life-saving decision for herself and noted the order was in the woman's best medical interest.
The ruling echoes an August 2012 case in which an expectant Italian mother was detained in the U.K. under the Mental Health Act. Following a court order, the woman was reportedly sedated, and the baby was forcibly removed from her womb.
That forced delivery made international headlines earlier this month due to the ensuing legal battle over custody of the child. Many criticized Essex social services for asking a British court to approve the forced delivery. The mother also came forward in December, saying she is "suffering like an animal" over the forced birth and the decision to take her daughter away.
While the idea of a "forced C-section" may incite criticism, it seems the medical team in Mrs. P's case may also have medical justification: Doctors told the court that the woman's C-section scar from 2005 could put her life at risk during a natural delivery.
"You can only perform a C-section against a woman's will if she lacks capacity and it is in her best interest (medically)," Penney Lewis, a medical law expert at King's College London, told The Associated Press earlier this month.