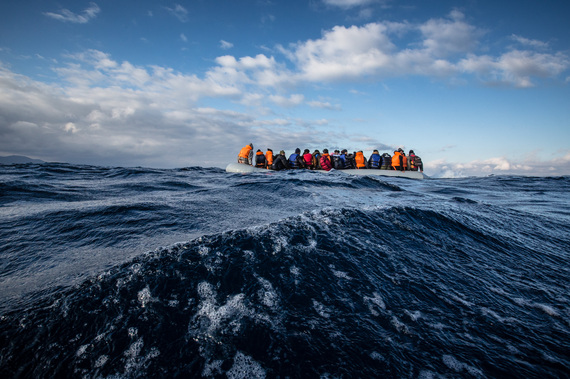 The following speech was given by Ali N'Simbo, board of directors, Doctors Without Borders/Médecins Sans Frontières (MSF-USA), at the launch of a public interactive exhibit on the global refugee crisis. The exhibit will be in New York City until September 27, before moving on to Washington D.C., Boston, Pittsburgh, and Philadelphia. For more information and to register for a tour, visit: www.forcedfromhome.com
Twenty years ago, I was forced from my home for the first time. I was a boy in eastern Democratic Republic of Congo, and war came to my city. I was at home, listening to a popular song on the radio, when the radio suddenly cut off. We saw missiles coming in our direction. My family decided what to bring with us, and what to hide: a few photos, water, food, blankets, and cash. And then we ran, under fire. Our photos fell to the ground. I jumped over the dead bodies of those who had run before me. Others traversed one thousand miles of inhospitable jungles and crocodile-infested rivers. If they were not in the center of the African continent, they might have tried to cross the sea as well.
When I returned home, I was stopped by foreign soldiers and forced to help dig a mass grave beside a busy city road. Bodies of the displaced, killed as they ran. They have never been counted. Their graves are unmarked. Their voices have disappeared. There are no photos to capture their stories. I thank Doctors Without Borders for being a bridge between these voices and you here today.

Later, as a physician with Doctors Without Borders, I took care of many others who were running from war, in my country and in South Sudan. I cared for traumatized patients who had witnessed the massacres of hundreds of people within minutes. This continues today.
While providing medical care to displaced people in a mineral-rich, but war-torn area without access to healthcare, I met a very brave girl. As her family ran from home, her father was killed. She was seven-years-old. Then her mother died. She was the only caregiver for her two-year-old sister, who was my patient for the three months I worked there.
The following year, after a new wave of displacement and malaria, my team was called back to the same area. I did not find my patient. She had died. I did, however, find her sister. The sole survivor of her family. She was now eight-years-old. She lived in the hospital, each day at the mercy of whomever would give her something to eat. To say she is displaced is a euphemism. She lost everything. There is no record of what happened to her. All she has are memories. I often wonder if she is still alive today.

Do you think she only needs Doctors Without Borders? Her needs are beyond medical. She needs you. She needs perhaps all of us here, because she needs peace, so she can return home. And there are many people like her in this world.

Today we are seeing more people running from their homes, trying to cross the seas, in this exodus from war. The numbers are overwhelming. But there are so many more than what we are counting. I was not counted, and I was not the only one. There are seas of refugees who are lost in the desert and forest who we are not seeing, and who we do not hear. They are behind the cameras, excluded from the view, in the shadows. They do not even enjoy the status of being a statistic. They are often denied the status of refugee. And this is not new.

Those who have survived are asking themselves, "Does the world understand what is happening to us?"
Today I speak not only to your minds as you try to find your own answer to this question, but to your hearts. I hope that as you view this exhibit, you will see not only numbers and statistics, but your fellow human beings behind them. While we may not be able to bring all of the world's refugees to safety in our countries, we can at least recognize what they have lived through and what they are running from.
Through recognition, peace can follow.

I once heard an astronaut describe his trip to space. At first he saw individual countries, then continents, bound by oceans. When he went high enough he could see only one world. Do we all need to go to the moon to understand that we live together in one interconnected world where peace can be found? I hope that this exhibit helps bring us closer to this view.
REAL LIFE. REAL NEWS. REAL VOICES.
Help us tell more of the stories that matter from voices that too often remain unheard.