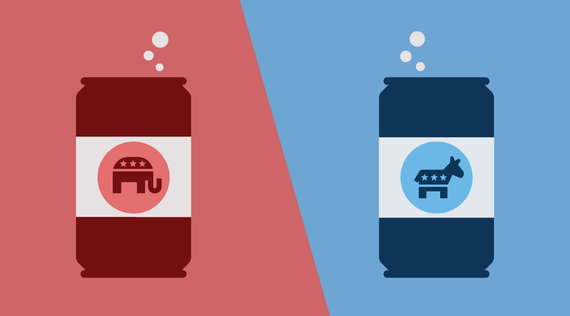 Image credit: Alex Vicuna
Are you Coke or Pepsi drinker? I am sure you have a favorite as between the two rival beverage companies. Everyone does, even your parents.
Both companies have created regional loyalties, built strong brands, and developed distribution monopolies in stores across the country. They sell the brand rather than the sugary contents of their beverages, selling how it makes you 'feel' without reference to the health effects. Sound like any other organizations that are currently forcing America to choose?

The following is an oversimplified comparison of four organizations:
Coca-Cola
Pepsico
Democratic National Committee
Republican National Committee
Similarities
Listen to the public but ultimately decide the products offered
Have brand colors of blue and red
Force people to choose between them in challenges
Have strong regional loyalties with turf wars (shelf space, exclusive sponsorships, gerrymandering)
Preferences between them not necessarily based on data
Unhealthy in large doses
Are not written into the governing documents of our country
Difference
One will have chosen the next president of the United States, despite not being written into the governing documents of our country
While I happen to lean blue for both of these products, I am forced to remember that these are just organizations formed under the laws of a country that has been around since 1776. The most important thing to remember is that the number one goal of all four of these organizations is self-preservation. A fact that seems more troubling as history is made by both parties through super delegates and a potentially brokered convention.
A short simple reminder as you take the political Coke vs Pepsi challenge this year, choosing the organization that will choose the president.
Popular in the Community