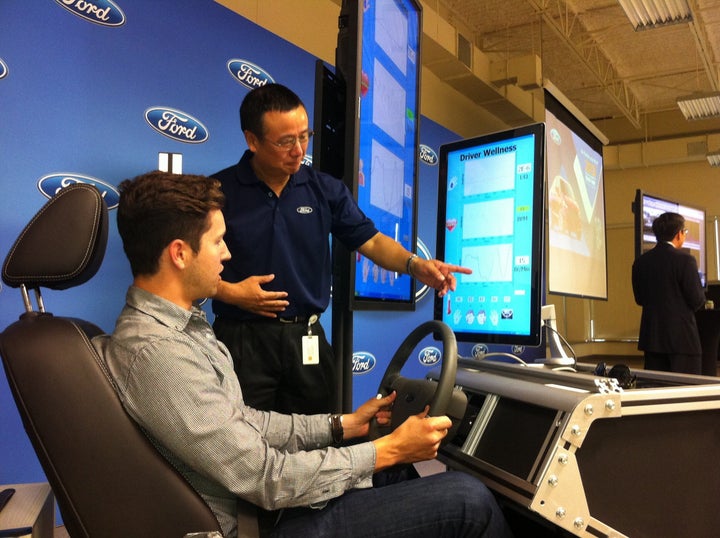 Ford is researching ways to track your breathing, heart rate, temperature and even sweaty palms to figure out how stressed you are while driving.
The new research, which some might say borders on creepy and overly intrusive, could be used to tell a car's computers when a driver's phone needs to be blocked from receiving incoming calls or whether to wait a minute or two for a stressful situation to end before issuing an alert about a low fuel level.
Ford says this research could amount to a breakthrough in safety technology, with the blocking of distractions during tricky maneuvers, such as merging into traffic or driving through busy intersections.
Driver distraction has become a hot-button issue in the past few years as smartphone use has climbed along with the number of in-car distractions. Department of Transportation Secretary Ray LaHood has made driver distraction one of his top policy concerns. Automakers are frantically seeking new ways to keep drivers focused on the road, while also packing their vehicles full of electronic gadgets that bring can realize high-profit margins.
But privacy issues have also become a big sticking point for consumers, who are balancing a plugged-in world with concerns over how their data could be used against them.
"Do I want Ford to know I pick my nose at red lights?" said Justin Brookman, director of the Center for Democracy and Technology's project on consumer privacy. "The technology itself is good; there just has to be assurances that the data isn't going to be saved in ways you don't expect."
Ford's system uses sensors to determine if drivers are doing a routine task, like driving down a straight highway or engaged in a more tricky activity. It combines data from the driver -- heart rate, sweat data, temperature and breathing patterns -- with with data from the car, including acceleration patterns, steering adjustments and braking.
"While these features are still in research, they show significant opportunity for us to leverage data already being captured by the vehicle and apply an intelligent decision-making system to simplify the driving experience," said Gary Strumolo, manager of vehicle design and infotronics at Ford Research and Innovation.
There are already plans to use the technology to monitor drivers' health and alert them when their blood sugar might be low or should they be heading into an area where smog might trigger an asthma attack.
The system uses a thin tape sensor in the seat belt to measure a driver's stomach movement while breathing. Two metal sensors on the steering wheel, similar to those used to monitor heart rates on exercise equipment, check the pulse and perspiration on the palms.
There are also four sensors on the steering wheel that measure a driver's hand and face temperatures. The car can adjust the air-conditioning or heating on its own to make sure a driver is perfectly content.
But in-car monitoring makes some people uneasy.
Last year, General Motors' Onstar division found itself in the middle of a public relations controversy when people discovered that the company had written a line into its terms of service allowing it to keep tracking users even after they canceled the service. The service is designed as a sort of GPS system, emergency locator and personal assistant rolled into one, and customers learned that the company had reserved the right to keep monitoring their location, whether they were wearing a seat belt and vehicle speed -- even if they no longer wanted Onstar.
GM reversed course after the public outcry, which led to an investigation by Congress.
"People are starting to get more and more concerned about monitoring, and you're starting to see public pressure on these companies," Brookman said.
There are virtually no laws that protect consumer privacy, Brookman said, except one: Companies cannot lie to consumers. So companies often write long and broad policies that give them a lot of latitude to use the information that they gather however they desire.
Ford said it has no plans to use the data for anything other than reducing driver distraction. Consumers would need to opt in to use the system, deciding for themselves if they wanted their car to watch their every move.
"Our customer's privacy is of utmost importance, therefore that is one of the critical components of this research," said Alan Hall, a Ford spokesman, in an email. "This feature would not share data outside of the car, as it would only be used in real-time during the drive."
Calling all HuffPost superfans!
Sign up for membership to become a founding member and help shape HuffPost's next chapter