If ketchup goes great with your burger and fries, why not your car?
Heinz and Ford are collaborating on a bio-plastic for auto parts that can be made from a Heinz Ketchup byproduct, the automaker said in a June 10 press release. Dried tomato skins culled from production leftovers "could become the wiring brackets in a Ford vehicle or the storage bin a Ford customer uses to hold coins and other small objects," according to the release.
"Our goal is to develop a strong, lightweight material that meets our vehicle requirements, while at the same time reducing our overall environmental impact," Ellen Lee, a plastics research technical specialist for Ford, said of the project.
(Story continues below image.)

While the research is only in the exploratory phase, one expert not associated with the project told The Huffington Post that the science behind it is real. "We need to remember that plant parts that are re-engineered will not be flimsy like the stem of a fruit," said Ainissa Ramirez, the author of Save Our Science and Newton's Football. "Bamboo is incredibly strong, so are trees. So plant fibers have some potential to be used as strong parts. But again, lots of research needs to happen first."
Ramirez, a former mechanical engineering professor at Yale, cracked, "It is a bit early to think that the new car smell will have a hint of tomato in it."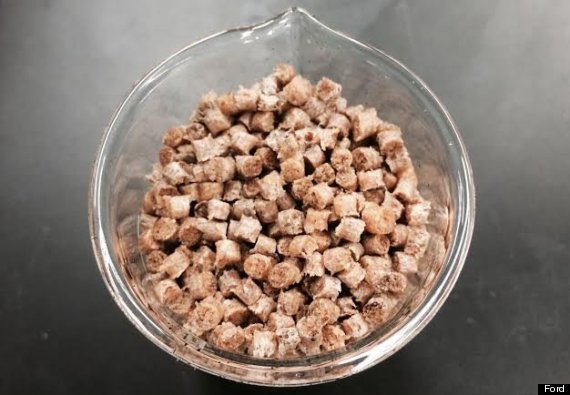 Dried tomato pellets being used in the research.