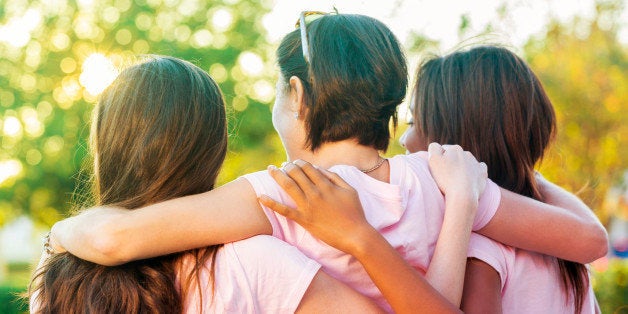 A few weeks ago, I found myself packed into a kitchen at a cooking school filled with women decompressing over cocktails and good conversation. While nibbling on appetizers that resembled tiny works of art, we shared our love of good food.
"I spend most of my day thinking about food!" admitted the adorably effervescent Aimee Bariteau. "Everyday, I wonder what to cook, when we're going to eat...then while we're eating, I think what we're going to eat for the NEXT meal!" The whole room erupted with laughter.
Aimee went on to tell us that her love of cooking was so great that when she turned 30, she decided to follow her dreams and enroll in night classes at The French Culinary Institute. Seven months later, as she was showering, she discovered a lump in her breast. When she was diagnosed with breast cancer shortly after, Aimee was forced to take a leave from culinary school. Three weeks later, she was undergoing a bilateral mastectomy, followed by eight rounds of chemo.
Laughter in the kitchen turned to tears. It was so hard to imagine that only a few years ago, this vibrant young woman was fighting for her life. But, fortunately, Aimee won her personal battle with breast cancer and has now turned her focus to helping others. "Since all of this happened, I've had three co-workers and three friends of good friends diagnosed with breast cancer," she recalled. "I've welcomed them into the club that no one should ever join; helping them navigate through this stressful and challenging time."
Working in a professional kitchen put her at risk for other types of cancer, so she returned to her previous career in advertising. But Aimee hasn't given up on her passion for cooking. Last summer, she joined nine other chefs for a week at Camp Sunshine in Maine - a camp for children with life threatening illnesses.
Aimee's story was so inspiring and uplifting; everyone in the room cheered and hugged each other in celebration of her success. Then we all rolled up our sleeves and joyfully began a lesson on traditional Mexican cuisine. It was a wonderful evening made possible by Ford Motor Company's Warriors in Pink, a program dedicated to giving breast cancer patients and survivors more "good days."
For those who are battling breast cancer, there are often bad days when simply getting out of bed is impossible. That's why the days when they do have the energy to engage in a favorite activity or spend time with loved ones are the days that count the most. To Aimee Bariteau, one of Warriors in Pink's Models of Courage, a "good day" was cooking with friends - so that's what we did.
So how can friends and family members help create more "good days" for a breast cancer patient? Ford offers some great ideas on their website. Here are a few:
Start a Meal Train
Some of the most simple but significant ways to help are by making a meal, doing household chores, or providing childcare. Ford offers free access to Meal Train on their website, so family and friends can view a mutual schedule and sign up. Be sure to check out Chef Aimee's healthy (but flavorful) recipes, too!
Throw a Chemo Party
Chemotherapy is a necessary but painful process for many breast cancer patients. That's why support both during and after treatment can lift their spirits and help them feel better more quickly. Throw a themed chemo party complete with snacks, hats, and lots of laughter!
Get Active
Physical activity can do wonders for a patient's body and spirit. So when the time is right, get moving! Invite your loved one for a walk in the park, a bike ride, or a dip in the pool. Not only will you help create "more good days," you'll have lasting memories to share for years to come.
To learn more about Warriors in Pink and the Good Day Project., please click here.
Calling all HuffPost superfans!
Sign up for membership to become a founding member and help shape HuffPost's next chapter