Amazingly, a serious safety problem which has plagued Ford vehicles for well over a decade has arisen again, this time involving 4.5 million vehicles, meaning a total of at least 16 million cars and trucks have been recalled over the years for this one specific problem.
Stop me if you've heard this one before, but the recall is because of leaky cruise control switches that have been reported to cause vehicle fires. In addition, leaks from the cruise control switches into the anti-lock brake system have been determined to be a fire danger.
Ford said in an Oct. 9 letter to U.S. regulators that Windstar minivans from 1995 to 2003 will be recalled for repairs following "a small number of reports" of switch fires. The Associated Press put the number of affected Windstars alone at 1.1 million.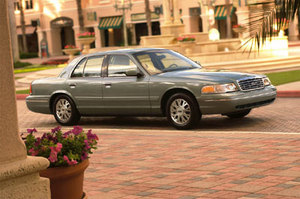 Ford Crown Victoria
The letter, posted today by the National Highway Traffic Safety Administration, also said Ford would recall another 3.4 million vehicles with the cruise-control deactivation switch, according to the AP.
The vehicles that "don't seem to pose a safety risk," according to the letter, are mostly pickups and SUVs, including the Excursion (diesel), F-Super Duty (diesel), Econoline, Explorer/Mountaineer, Ranger, and F53 Motorhome vehicles from model years 1992 to 2003. But that doesn't mean you shouldn't check the NHTSA.gov website and/or call your dealer to find out if your vehicle is involved.
The switches, made by Texas Instruments, may leak internally and "overheat, smoke or burn," the Ford letter said. In some Windstars, the switches may leak brake fluid into the anti-lock brake system, which also has led to reports of fires.
Owners will be instructed to bring their vehicles to a Ford or Lincoln/Mercury dealer for installation of a fused wiring harness to eliminate the potential risk of fire. Ford plans to notify dealers this week and send notification letters to owners starting Oct. 26.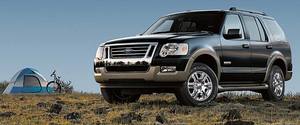 Ford Explorer
The cruise control problem first emerged in 1998, when the government investigated complaints of engine compartment fires. A year later, Ford recalled about 279,000 Ford Crown Victoria, Mercury Grand Marquis and Lincoln Town Car sedans built for the 1992 and 1993 model years, to replace cruise control switches. And yes, those recalls wreaked havoc with police fleets around the country which favor the Crown Vics.
More complaints and investigations led to five more recalls in 2005, 2006 and 2007. Those recalls totaled more than 10 million cars and trucks built for the 1992-2004 model years. In 2008, 225,000 of the vehicles were recalled again, to redo the initial repair.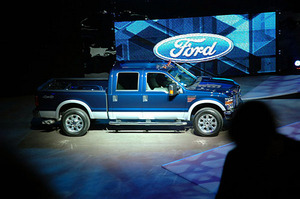 F-series Super Duty
The safety agency warned consumers to look out for warning signs including cruise control systems that stop working or can't be activated, brake lights that stop working, and brake lights and ABS warning lights illuminating on the dash board.
Before the cruise control issue escalated, Ford's 1996 recall of 7.9 million vehicles for an ignition malfunction ranked as the industry's biggest, according to NHTSA figures.
Automotive News and the Associated Press contributed to this story.
Calling all HuffPost superfans!
Sign up for membership to become a founding member and help shape HuffPost's next chapter