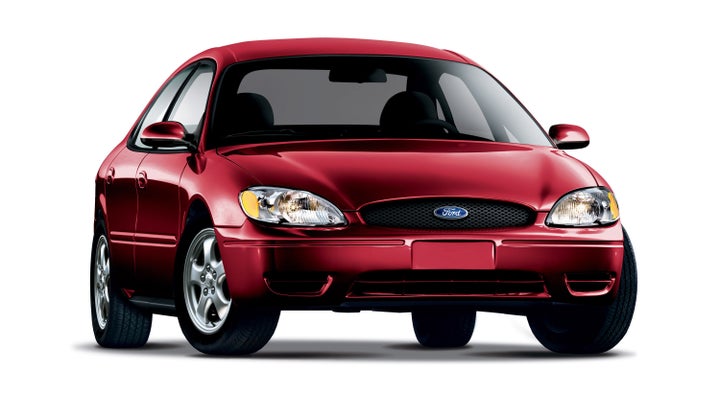 The government notified Ford Monday that it is launching an investigation into 2005 and 2006 Ford Taurus and Mercury Sable sedans after receiving 30 complaints from drivers who said they couldn't control the speed of their cars.
The National Highway Traffic Safety Administration said the sudden acceleration problem may be caused by a loose cruise control cable, which can get tangled with gas pedal cables, forcing the accelerator to stay engaged even when the driver wants to slow down.
NHTSA's complaints database shows drivers began reporting the problem in November 2009. The agency, responsible for monitoring defects in cars that may affect safety, has received about one complaint a month since. It may not seem like a huge number, but the agency tends to act swiftly in cases of auto defects that could cause deaths. One driver said the car was difficult to stop at a red light, and finally came to a rest in the middle of an intersection.
"Ford is aware of the NHTSA investigation and will, as always, cooperate fully with the agency," said company spokesman Dan Pierce.
None of the incidents described in the complaints resulted in a fatal accident. Nevertheless, drivers describe panicked scenes.
"Went through a red light, around two cars, as speed reached about 70 mph," said one driver, whose personal information was kept confidential by the NHTSA. "Both feet on brakes, could smell them burning … Wow, the scariest thing I have ever experienced. If there was heavy traffic, someone would have been killed. No doubt in my mind."
Another car owner said he received a frantic call from his daughter, whose car started accelerating when she was going around 35 mph and would not stop. She eventually got it under control, and when the father checked out the car he found the cruise control cable had come undone and was pushing on the gas pedal.
Incidents involving the driver's inability to slow or stop a car that is accelerating are called sudden acceleration, and a topic of hot debate in the auto industry. Many in the industry argue sudden acceleration doesn't exist and blame drivers stepping on the gas instead of the brake.
Ford has dealt with sudden acceleration problems related to cruise control flaws in the past. Last summer, a Florida judge said Ford concealed evidence in a lawsuit involving a 1991 Aerostar minivan. That evidence showed there were electronic problems that caused the Aerostar to accelerate out of control as its driver pulled out of his driveway.
Ford had argued that the driver was stepping on the gas instead of on the brake, a common defense against sudden acceleration legal claims.
That kind of defense from automakers prompted one 2005 Ford Taurus owner, whose complaint is among the 30 that prompted NHTSA to open its investigation, to take a video of the problem as it was happening:
"It proves that no, I did not have my foot on the gas," the driver told NHTSA. "No, I did not have a car mat stuck under the gas pedal. No, I did not hit the gas pedal thinking it was the brake!"
Toyota had two high-profile sudden acceleration recalls in late-2009 and early-2010, raising public awareness of the issue. Toyota recalled about 9 million cars worldwide for two reasons: Floor mats could get stuck under the gas pedals of some cars, and moisture could get trapped inside the accelerator pedal and make it stick when drivers took their foot off the accelerator.
Those Toyota recalls may have prompted NHTSA to act faster on Ford's issue. The agency came under fire for failing to act quicker after Toyota admitted to defects. NHTSA had investigated Toyota for sudden acceleration issues twice before the 2009 and 2010 recalls, concluding there were only minor problems.
NHTSA said it does not comment on open investigations.
REAL LIFE. REAL NEWS. REAL VOICES.
Help us tell more of the stories that matter from voices that too often remain unheard.