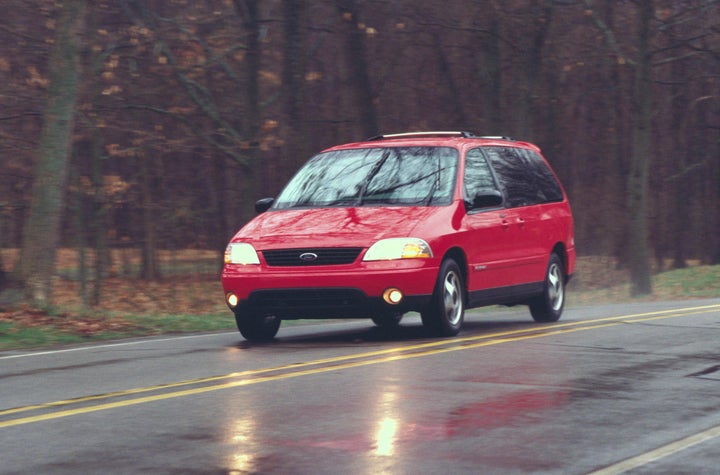 Ford Motor is broadening a recall on Windstar minivans because of corrosion issues that could lead to rear axles' snapping in half. The recall now includes cars bought and sold in Virginia.
Initially the recall of the minivans with model years ranging from 1998 to 2003 had been limited to vehicles sold or registered in 22 cold-weather U.S. states and locales as well as Canada, where salt is used to deice roads in the winter. The salt leads to corrosion on the rear axle, which can eventually break in half -- a dangerous occurrence that can leave drivers unable to control their vehicles.
The axles often snap with little to no warning to the driver, the company has said. The problem was so bad, Ford offered to buy back Windstar minivans from customers with cracked or perforated axles. For owners whose vehicles weren't showing signs of damage, the company gave drivers rental cars until the problem could be fixed.
In November 2010 Ford expanded the initial 600,000-minivan recall, first announced in August 2010, to include vehicles bought and registered in Utah. Then this week the company told the National Highway Traffic Safety Administration it will now include 27,000 minivans originally sold or now registered in Virginia.
The company analyzed field reports from Virginia and found "the axles on these vehicles may also be exposed to the same combination of factors that make them susceptible to cracking from stress-related corrosion," wrote Steve Kenner, global director of Ford's automotive safety office, in a letter to the NHTSA.
A spokesman for Ford told The Huffington Post the company is not planning to expand the recall further.
Virginia borders on several corrosion areas, and some cars there are starting to show signs of cracks or fractures. "This is likely due to the vehicle being in close proximity and/or traveling inside corrosion areas like Washington, D.C., and Maryland," said Ford spokesman Dan Pierce. "There are very few reports of any issues for vehicles that weren't sold or aren't registered in corrosion states."
The axle recall was the first of two corrosion-related recalls that Ford has issued for the Windstar. In January 2011, Ford issued a second recall because some vehicles also experienced corrosion on the subframe brackets and mounts -- where a car body is connected to under-the-hood parts; this could result in drivers losing control of their vehicles.
After the axle recall's announcement in August 2010, critics said Ford had taken too long to address a critical problem, raised in 800 owners' complaints. Then in October of that year, a father died on his way to pick up his daughters after his Windstar's axle broke. His family claimed that Ford had not yet notified them about the safety defect.
Buyers shopping for a used Windstar should pay attention to where the vehicle has previously been sold or registered. Ford's recall involves cars sold or registered in 24 states or locales: Connecticut, Delaware, the District of Columbia, Illinois, Indiana, Iowa, Kentucky, Maine, Maryland, Massachusetts, Michigan, Minnesota, Missouri, New Hampshire, New Jersey, New York, Ohio, Pennsylvania, Rhode Island, Utah, Virginia, Vermont, West Virginia and Wisconsin.