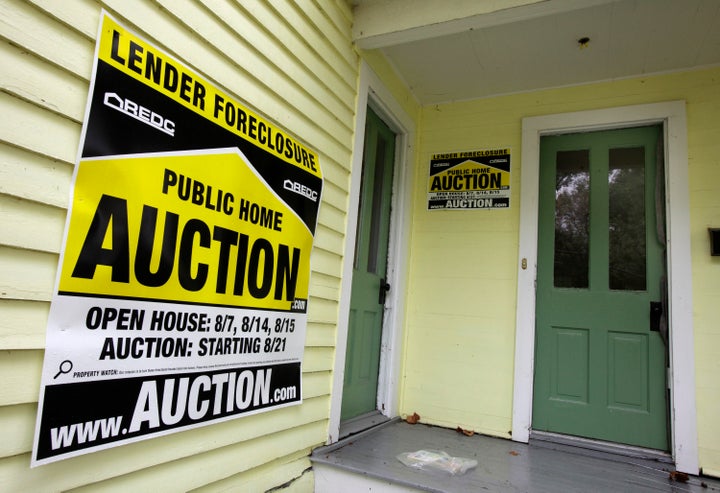 WASHINGTON -- In August, Tim Collette's son Aaron will spend 15 days on leave from Iraq.
Aaron is 20 years old, and he's been in the Army for about a year and a half. A few weeks ago, his squad was hit with an improvised explosive device. Everybody survived, but it frightened both the soldier and his family. The Army told Aaron he could go anywhere he wanted. And of all the places in the world he could visit, Aaron wants to go home.
But Aaron might not have a home to come home to. Collette has been defending his house from foreclosure since 2008. It's currently scheduled to be auctioned off on June 20.
"I just want him to come home and know he can be safe for 15 days," Collette told HuffPost. "I don't want him thinking about coming home and having it not be there."
Tim said negotiating with his bank, JPMorgan Chase, has been a living nightmare.
When he first asked for help in 2008, he had not missed any payments. At the time, his mortgage was being handled by Washington Mutual, a subprime lending specialist Chase purchased in the fall of 2008. Collette said WaMu told him he would only qualify for a loan modification if he missed two of his $1,100 monthly mortgage payments. So he missed the payments. And the bank began trying to foreclose on him.
"They told me that you can't qualify for a loan modification without missing two payments, so I missed two payments, but I haven't gotten the modification," he said.
The bank has repeatedly lost Collette's mortgage paperwork and he receives different, often conclicting advice almost every time he communicates with Chase. After months of wrangling, the bank agreed to a "forbearance plan" that cut Tim's payments from $1,100 to $600.
In 2010, after making 13 months of payments, an unexpected bill arrived on Collette's doorstep. Chase wanted the $500 a month differential back, plus penalty fees: $9,000 in total. Collette could afford to pay $1,100. But he didn't have $9,000. After thinking he had arranged for at least temporary relief, Chase suddenly demanded that he pay up, or get out.
JPMorgan Chase and its CEO, Jamie Dimon, have spent months apologizing for illegally foreclosing on the homes of active-duty military members currently fighting in Iraq and Afghanistan. Soldiers have an extra layer of legal protection in mortgage lending. Even if you miss payments, a bank cannot evict your family while you fight for your country.
"We recognize that we made a mistake," Dimon told the company's shareholders at their annual meeting in May. "There is no class of citizen that we hold in higher regard; there is no mistake that we've made -- this is the worst one we've made. We deeply apologize to our veterans . . . and we're sorry."
Chase foreclosed on the families of 27 active-duty military members in violation of the law. The bank has since made a very public effort to demonstrate that it intends to do right by those families by giving back their homes where possible and by paying damages in cases where the house has been sold.
But that extra layer of legal protection does not apply to the parents of soldiers. Aaron wants to come home, but since the mortgage is in Collette's name, the family is left with the narrower legal protections of non-military families. And while Chase is making a major push to repair its reputation with veterans, it has not initiated similar programs for other borrowers who say Chase has wrongfully foreclosed on them.
Collette said his primary concern now is not about the house, but about the strain the foreclosure process is taking on Aaron.
"He worries about it," Collette said. "I don't talk to him about it when we talk, but he knows what's going on and he shouldn't have to think about this when he's trying to stay alive."
The bank told HuffPost that it does want to cut a deal with Collette.
"We are working with the family on a solution," Chase spokesman Tom Kelly said.
But after years of struggling to get help from the bank, Collette has dramatically lowered his hopes. At this point, he just wants to spend two weeks with his son.
"All I'm asking for is something to let me be there for a few more months," he said. "You wanna take the house after that, fine. After everything I've been through they can give me that much."
At the moment, virtually all the companies that handle mortgage payments and implement foreclosures have horrible reputations with consumer groups. The basic business model was never designed for a heavy volume of defaults, and banks all over the country resort to wild measures to keep the foreclosure machine running, even forging signatures and fabricating documents when it is convenient. Chase is not the only bank that loses key paperwork and pushes homeowners through a ringer.
His financial woes don't stem from a tricky, complex mortgage product: He lost his job and received extremely bad advice from his bank. When he bought his Bend, Ore., home in 2006, he was running his own a bustling construction business, which enabled him to make a $125,000 down payment on a $365,000 home. His credit score was 810 and he had no other debts.
Today, Collette said, he's afraid to look at his credit score.
"A lot of us going through this foreclosure stuff now, we paid our bills," he said. "We got into our homes because we worked for it, and when the economy goes down we just want a hand . . . We gave the banks a bailout and they just stuffed the money in their pockets."
The construction industry began slowing down in Oregon in 2007, as with many other markets, and by 2008, Collette realized that he was not going to have enough work to make ends meet. After 35 years as a contractor specializing in flooring and countertops, Collette allowed his state license to expire in 2008.
In the years since, when not wrangling with Chase, he's been working odd jobs. And things are not as bleak as they were in 2008 or 2009. He's taken a job with a local store called Interior Flooring Solutions, and he's going to reinstate his contractor license on Friday. He said he can afford to stay in his home if Chase will eliminate all of the fees and debts the bank has saddled him with since he began negotiating.
"I'm so appreciative that Merkley's office is trying to do something for us," Collette said. "To not get support from the other senators is mind-boggling."
"These are their constituents," he added. "You can go to every state in the country and see people struggling with this. Why aren't they supporting their own constituents?"
A previous version of this article incorrectly listed July as the month in which Tim Collette's house is scheduled to be auctioned off. The article has been corrected to reflect the appropriate auction date, which is June 20.
Calling all HuffPost superfans!
Sign up for membership to become a founding member and help shape HuffPost's next chapter