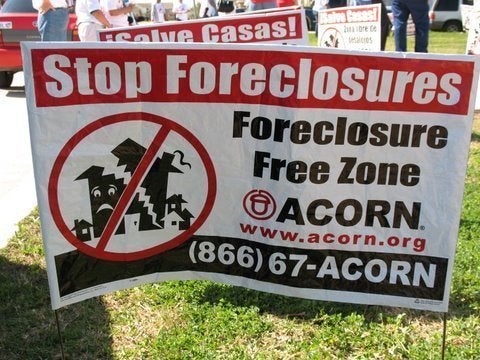 This piece on the foreclosure crisis was produced as part of HuffPost's citizen journalism initiative. Reporting by Lauren Cannon, Leia Ford, Richard Mellor and Robert Temple. Sign up here to participate in HuffPost's ongoing citizen journalism project.
Originally from Jamaica, Mrs. Millington and her husband purchased her three-bedroom house 38 years ago for about $30,000. According to Millington, the house was valued at $409,000 in 2008. She currently resides in the home with her 37-year-old son and receives a monthly income of $800 in social security benefits.

Her husband left the home in substandard condition, and Millington began receiving citations from the city as a result. She contacted Tri State Construction Company to fix the problems, and over a period of two years, Millington took out two HELOC loans through Fleet Bank in order to pay for the renovations to her home that initially totaled $160,000. According to Millington, the construction company caused further damage and did not complete the job. The company filed suit against her for non-payment and Millington, whose home had long since been paid for in full, refinanced to pay off the mechanical lien on her home, the original HELOC loans, and credit issues arising from the construction problems.

The sub prime mortgage that she was ultimately issued caused her loan debt to balloon to $360,000 and her monthly payments to rise to $3,159.
The Tri State Construction Company refused to comment when contacted, said Cannon.
Mrs. Millington is one of the few homeowners now spearheading the Home Defenders campaign run by the Association of Community Organizations for Reform Now (a.k.a. ACORN).
The civil disobedience program, which kicked off last Thursday, one day after President Obama outlined his plan to provide aid to homeowners facing foreclosure, is a much different kind of nationwide program to keep families in their homes than the president proposed.
ACORN aims to rally communities in those cities across the United States hit hardest by the housing crisis to sit-in with local residents who are refusing to leave their houses despite an inability to pay their mortgages. Huffington Post sent citizen journalists in New York, Los Angeles, Oakland, Tuscon and Houston to report on press events kicking off the endeavor, and interview the homeowners involved.
Find more photos of foreclosed homes here, including condemned houses taken over by the wild animals.
Across the country, Debra and Tommy Beard live in Watts, CA. (Watts is a small Los Angeles neighborhood with the county's lowest household income, ranking at $17,987 according to the 2000 census). Based on a dispatch from a HuffPost citizen journalist who asked to be identified as "Mixie," the Beards refinanced their home of 23 years at an inflated price - like Mrs. Millington, to pay for renovations - after being heavily courted by a loan broker located in nearby Irvine, CA. Based on Census Bureau estimates from 2008, Irvine is the seventh wealthiest city in the U.S, with a median household income of $98,923.
After two years, the adjustable rate on the mortgage, held by Chase, kicked in and the Beards' monthly payments on the loan jumped from $1,700 to $3,200. Mrs. Beard fell ill, and was unable to work for several months. "You know it's easy to fall behind, she said "but hard to catch up."
When asked if the terms of the mortgage were made clear upon signing, Mr. Beard answered "Well my wife actually did the work with the lender, she started the process...then I came in, met the people and basically signed my life away."
Mrs. Saldivar bought a single family detached house with her husband and four children 3 years ago. She put zero down on her adjustble rate mortgage. Her mortgage was also an 80/20 spilt mortgage. Known to many in the industry as a "teaser" loan that so many home buyers were drawn into. The original loan payments for the Saldivar's were of one monthly payment for $250 and another for $740. When the ARM kicked in, which was for the 80% split on her mortgage, the payment went from $740 to $1500, more than doubling the original amount.
[Ana Castro's] house isn't filled with expensive frills. A modest, well kept one story, two bedroom house of about 1000 square feet, there is no cable or high speed Internet connection. Ana doesn't own a computer, and the television brings in only local channels using a rabbit ear antenna.

She has lived in this house for fifteen years, easily affording the $430 mortgage payment while making small home improvements like planting a lemon tree and installing landscaping bricks with the help of friends and neighbors.

That began to change three years ago when she refinanced with Wells Fargo. What started out as an affordable $650 per month payment for the first two years started to increase. Her monthly payment is now $1450 at an interest rate of 17.5%. With Ana's job as a Prep cook at the Universal Medical Center bringing in $10.50 per hour, she is unable to keep up with her steadily increasing house payment.
Wells Fargo recently foreclosed on Ms. Castro, Temple reported. She, like the other homeowners participating in the Home Defenders campaign, intends to resist eviction.
In the city of Oakland, Washington Mutual (since absorbed by Chase) foreclosed on the Gonzales family when they failed to meet their monthly mortgages on a home bought for $480,000 and now worth approximately $220,000, after losing two of three incomes, according to a report from Richard Mellor.
The family bought the home in conjunction with the husbands brother. After about a year of contributing to the mortgage the brother was picked up by the U.S. immigratation department and remains in their custody (exit #1 paycheck). The husband is a construction worker and he became unemployed over a year ago (exit #2 paycheck). The $3800.00 payment became impossible to meet. Mrs, Rosa Gonzales made repeated efforts to talk to a bank official but was constantly rebuffed. She was given an email address to contact but never had the courtesy of a reply. Rosa is desperate to repurchase the home and with the security of her [Post Office] check feels capable of meeting her obligations at the current value of the property.
While many homeowners mistakenly signed for mortgages beyond their pay-grade, the Home Defenders believe that banks have not assumed a fair share of the blame. "The vast majority of families are there through no fault of their own" argues an ACORN organizer in Los Angeles. "For more than a decade low and moderate communities have been aggressively targeted by sub prime lenders for predatory loans. In many cases, brokers and lenders did not explain how these loans worked in the best cases; in others they straight out lied."
This piece on the foreclosure crisis was produced as part of HuffPost's citizen journalism initiative. Reporting by Lauren Cannon, Leia Ford, Richard Mellor and Robert Temple. Photography by Leia Ault, Jim Stevenson and Robert Temple. Sign up here to participate in HuffPost's ongoing citizen journalism project.
REAL LIFE. REAL NEWS. REAL VOICES.
Help us tell more of the stories that matter from voices that too often remain unheard.