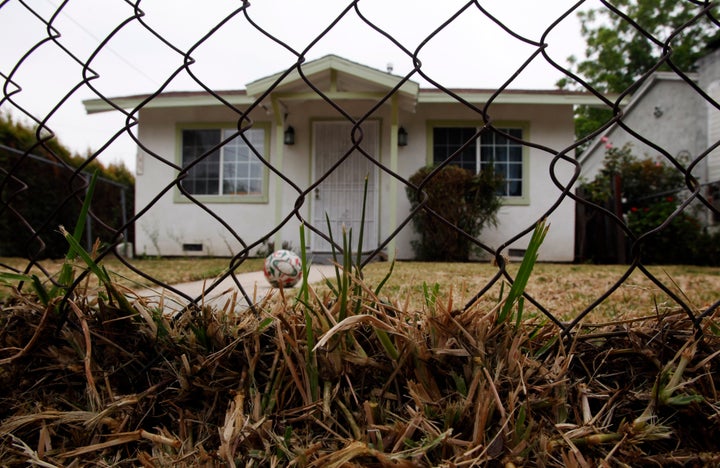 Foreclosed borrowers abused by their lenders won't get their homes back, but they could get a little cash from a settlement under negotiation between state officials, the Obama administration, and the nation's biggest banks.
A coalition of attorneys general led by Iowa AG Tom Miller and federal housing chief Shaun Donovan is currently pushing for a $25 billion settlement with Bank of America, JPMorgan Chase, Wells Fargo, Citibank, and Ally Financial (formerly known as GMAC). At issue is bad mortgage servicing and fraudulent foreclosure paperwork.
Attorneys General Eric Schneiderman of New York and Beau Biden of Delaware have warned Miller's focus is too narrow and the deal would let banks off the hook for too much wrongdoing. In August, Schneiderman and Biden broke off from the talks; they are now pursuing their own investigations.
The deal as currently stands would extract $17 billion worth of mortgage modifications and principal reduction for struggling borrowers, among other things, according to a source familiar with the situation. Another $3 billion would be set aside to boost refinancing. And from $5 billion paid directly to state and federal governments, foreclosure victims abused by one of the five banks would be eligible for restitution payments of around $1,500 or $2,000.
That amount of money could help Katherine Johnson, 61, pay for almost a year's worth of storage space. Johnson's Huntington Beach, Calif., home was auctioned off in August, and she'll likely soon need a place to stash her furniture. She'd stopped making payments two years ago after signing up for a loan that she said unexpectedly increased her payments. She claimed her bank ignored her request for a modification this summer.
Johnson is of two minds about the prospect of receiving $2,000 for her trouble. "That's hardly enough," she said. But, she added, "I suppose it would be better than nothing at all from the banks."
Here's how it would work, according to a source close to the negotiations who spoke on condition of anonymity: A settlement administrator, using information from the banks, would contact people who'd lost their homes from the beginning of 2008 through the end of this year and let them know they could be eligible for payments from the settlement. Eligible borrowers would then have a chance to assert that they'd suffered some kind of abuse from a mortgage servicer.
The restitution payment process is designed to be easier and quicker than a foreclosure review scheme announced by the Office of the Comptroller of the Currency last week, the source said. Under that program, mortgage servicers are sending out letters this month to 4 million former homeowners asking them if they want their foreclosures audited, a process that could take months. Receiving a restitution payment from the new possible settlement would not preclude borrowers from suing their banks or asking the OCC to review their foreclosure, the source said, stressing that the payments are solely for bad servicing and are not meant to make borrowers whole if they were wrongfully foreclosed.
Officials declined to say how many people could receive cash. The Financial Times, which first reported payments were part of the settlement in September, said as many as 1.1 million borrowers could benefit. Lenders have repossessed more than 3.5 million homes since January 2008, according to RealtyTrac, the leading aggregator of foreclosure info. The $25 billion settlement would not cover the 50 percent of mortgages owned or guaranteed by government-sponsored enterprises Fannie Mae and Freddie Mac.
Liz Ryan Murray, policy director for community organizing group National People's Action, said the payments would be too small.
"That's shameful," she said. NPA is a founding member of the New Bottom Line, a coalition of consumer and community groups pushing for a strong settlement. "There clearly needs to be much, much, much more money on the table."
Johnson said her troubles started in January 2008 when Wachovia agents told her she could refinance into a fixed rate loan that would give her lower payments and a pile of cash. When a mobile notary came to her house, she said, the person rushed her to sign paperwork without carefully inspecting it.
"She just flipped through the pages. I didn't have a chance to read it well," Johnson said. "The information I gave the broker was honest and true. They decided that that wasn't enough so they gave me a job working for a company I never heard of."
The loan application, a scan of which Johnson shared with HuffPost, claimed she earned more than $9,000 per month in sales at a California distribution center. But she said she made just $30,000 a year from Social Security disability payments and wages from her part-time work as a tutor and substitute teacher. The loan was for $430,000. She couldn't afford her new payments for long and is now on the verge of getting thrown out of the house she's lived in for the past 39 years. Johnson, who suffers from Multiple Sclerosis, said the home has been customized with wider doorways to accommodate her wheelchair.
Fraudulent loan origination is beyond the scope of the of the main settlement negotiation led by Miller. But Schneiderman and Biden have said they are investigating "banks and the other lenders engaged in patterns of deceptive conduct when they made mortgage loans across the country."
Johnson didn't quite benefit from a previous settlement struck between Wells Fargo, which absorbed Wachovia in 2008, and then-California attorney general Jerry Brown over "pick a pay" loans like hers. Pick a pay loans had adjustable interest rates and allowed borrowers to make minimum payments that actually put them deeper into debt. That deal required Wells to provide $2 billion worth of loan modifications for an estimated 14,900 homeowners starting this year. So far, state data show, Wells has done modifications for nearly 5,000 borrowers. But not Johnson.
The bank considered her for a modification in 2010 and determined she didn't qualify. She may not have been a good candidate because of her large loan, severe delinquency and low income, not to mention the fact that her home's value has not declined. Still, the bank invited her to apply again for a modification this year.
"We had reviewed Ms. Johnson's loan for workout options several months prior to sending her an offer to apply for modification assistance under [the Home Affordable Modification Program] at the beginning of July," a Wells Fargo spokesman said in a statement. "We have no record of a formal modification application being received from Ms. Johnson in the month between this mailing and the foreclosure sale on Ms. Johnson's home."
"They sent me paperwork in July," Johnson said. "I filled it out and sent it in and then 20 days later they auctioned off my house."
Johnson provided HuffPost a scan of the letter she received, along with the financial worksheet she filled out, but she didn't use certified mail and can't prove she sent the documents to the bank. Insufficient documentation is one of the most common reasons borrowers have been denied mortgage modifications. Lost paperwork is one of the most common complaints borrowers lodge against mortgage servicers.
Walter Hackett, Johnson's legal aid attorney, who first filed a lawsuit to stop a foreclosure sale in March, said the August foreclosure sale violated a recent OCC order that prohibited banks from simultaneously "dual tracking" modifications and foreclosures. Under the settlement sought by Miller and his allies, the dual track treatment is one of the things that could qualify a foreclosed homeowner for some cash.
"She's a perfect example of someone who got hornswoggled by a servicer," Hackett said.
Calling all HuffPost superfans!
Sign up for membership to become a founding member and help shape HuffPost's next chapter