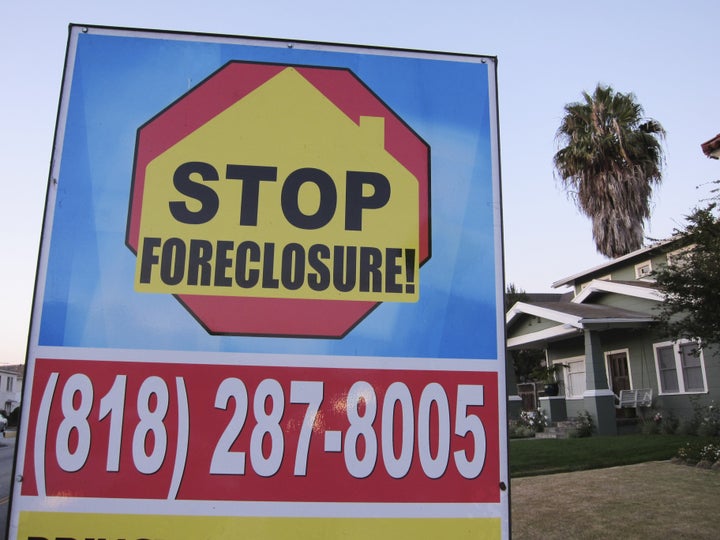 WASHINGTON -- The Obama administration and state officials are expected to offer the nation's five largest mortgage firms updated terms next week in ongoing negotiations over a settlement regarding the firms' faulty treatment of borrowers, according to three people with knowledge of the government plan.
As part of their discussions to settle months-long state and federal probes into shoddy mortgage practices and wrongful foreclosures, the new terms are expected to incorporate suggestions offered by the banks in response to an earlier term sheet circulated in early March by state and federal officials. Bankers said the original terms were too stiff; investors said they didn't go far enough. Consumer advocates said they were a good start.
The new term sheet will mark another attempt to get bankers and policymakers on the same page regarding the treatment of borrowers who fall behind on their mortgage payments or default on their obligations. But it is not expected to detail any fines to be meted out in response to banks' flawed practices, which include improper home seizures and other actions that broke federal and local laws.
Officials also remain undecided on a possible mandate to banks to reduce borrowers' loan balances, according to the three sources, who were not authorized to speak publicly about the matter. Banks are reluctant to slash mortgage principal balances; some agencies in the Obama administration want to require it, as do most of the state attorneys general leading their mortgage probe. A vocal minority -- all Republicans -- are opposed.
On April 28, the disagreement played out during meetings held in Washington. State and federal officials held two in-person meetings with bankers, with many state officials calling in from their respective states. Representatives of the five firms -- JPMorgan Chase, Bank of America, Wells Fargo, Citigroup and Ally Financial -- made a presentation which they claimed showed why mandating principal reductions would not prevent a significant number of new foreclosures and would be harmful to the general economy.
The banks said "it would trigger a stampede of strategic defaults," said an official familiar with one of the two discussions, referring to instances in which borrowers who can afford to make good on their obligations choose not to. Strategic defaults are much more common in the business world than among homeowners, according to experts who study the issue.
Government officials questioned the banks' assumptions, which were partly based on data from the Obama administration's signature foreclosure-prevention initiative, the Home Affordable Modification Program, according to people familiar with the meetings. HAMP, which seeks to reduce monthly payments, is primarily known for its lackluster results.
But the bankers and government officials did not discuss the size of potential fines, nor did they address the mortgage firms' push for release from legal liability for their unlawful actions in their treatment of borrowers and pursuit of home repossession. The nation's largest lenders voluntarily halted home seizures last autumn after faulty document practices -- like so-called "robo-signing" -- came to light, erupting into a national scandal. Federal and state investigations began shortly afterward.
Now, the top law enforcement officers in some states, most notably New York Attorney General Eric Schneiderman, want to make sure they are not constrained in taking legal action against mortgage firms for violations of state and local laws.
Some have grown frustrated with the pace of negotiations, people familiar with the matter say, and fear a broad release from legal liability will likely be sprung on them at the last minute as a condition of their settlement with the targeted banks. Attempts to begin discussions over the liability release have thus far been thwarted, however.
Also at issue are potential fines. The Department of Housing and Urban Development and the Bureau of Consumer Financial Protection are looking to impose penalties on the five firms nearing a total of $30 billion, according to people familiar with the matter. The Federal Deposit Insurance Corporation has suggested levying at least $20 billion in penalties. Other federal agencies have suggested amounts closer to $5-10 billion, with the banks open to fines just under that range. Some state officials are pushing for more than $30 billion.
By taking shortcuts in processing troubled borrowers' home loans, the nation's five largest mortgage firms have saved more than $20 billion since the housing crisis began in 2007, according to a confidential presentation prepared for state attorneys general by the nascent Bureau of Consumer Financial Protection inside the Treasury Department and obtained by The Huffington Post in March.
The estimate suggests that the nation's largest banks have reaped tremendous benefits from underserving distressed homeowners, a complaint frequent enough among borrowers that federal regulators have repeatedly acknowledged the industry's fundamental shortcomings.
The dollar figure provides a basis for regulators' internal discussions regarding how best to penalize Bank of America, JPMorgan, Wells, Citigroup and Ally. Much of the money would go towards reducing troubled homeowners' mortgage payments and lowering loan balances for underwater borrowers, who owe more on their home than it's worth.
This week, 33 Democratic members of Congress signed a letter sent to Attorney General Eric Holder and Iowa Attorney General Tom Miller (D), urging them to extract a meaningful settlement with the targeted banks.
"In the communities we represent, and in others across the country, the flagrant disregard for the law and predatory practices by lenders and servicers have imposed substantial hardships on both homeowners and their neighbors," the letters read. "We hope that, as these talks proceed, you will work to protect the rights of those harmed by these practices, provide meaningful immediate relief to homeowners, hold lenders and servicers accountable for any unlawful practices that they engaged in, and ensure that, in the future, the practices that brought about this crisis will not reoccur."

Popular in the Community