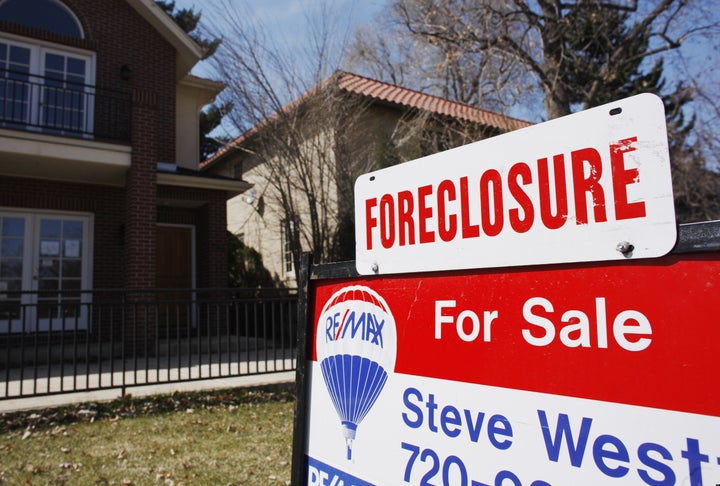 WASHINGTON -- Fifty state attorneys general and nearly a dozen federal agencies are currently hashing out plans for a multibillion-dollar settlement with some of the nation's largest banks over alleged mortgage abuses. But some consumer advocates argue that the figures being discussed are too small to account for the economic damages incurred, and say no deal will be acceptable without criminal prosecutions of the bankers. There is no indication that such charges will be filed under the deal currently being negotiated.
By contrast, more than 1,100 bankers went to jail after the savings-and-loan crisis of the late 1980s and early 1990s. Because regulatory fines are typically levied against institutions rather than key decision-makers accused of wrongdoing, consumer advocates view them as a relatively weak deterrent against future abuses.
"You've got all of the top law enforcement officials investigating the foreclosure crisis, and it seems like if they found evidence that people broke the law, there would be criminal penalties," said George Goehl, the executive director of National Peoples' Action, an anti-foreclosure group. "There's no reason to go to all this trouble and not take that final step. It's mind-boggling for them to be considering letting all these guys off the hook."
On Thursday, as federal regulators contemplated a settlement of up to $30 billion, National Peoples' Action delivered a petition with over 8,900 signatures demanding that state officials file criminal charges and compensate wronged homeowners.
"Home prices have plummeted by $9 trillion over the last four years because of the massive fraud that the big banks perpetrated on the American people -- $20 billion is chump change, especially when you divide that amongst the nation's 14 largest banks," said one of the petitioners, Gina Gates from San Jose, Calif., who claims to have lost her home fraudulently to JPMorgan Chase. Gates was referring to an earlier Wall Street Journal story, which cited $20 billion as a potential settlement amount.
Advocates like Goehl were heartened by statements late last year from Iowa Attorney General Tom Miller, who vowed to "put people in jail" as part of the 50-state investigation into fraud in the foreclosure process.
Miller has since backpedaled dramatically from that claim. In a January town hall meeting (see video below), Mike McCarthy, a local union leader and deacon at the St. Ambrose Cathedral in Des Moines, asked Miller anew, "Are we going to put some people in jail?"
The attorney general offered a tepid response, saying that law enforcement officials were negotiating with banks over whether or not bankers would be prosecuted.
"I don't feel like I should talk about what's gonna be in the agreement and what isn't going to be in the agreement," Miller said. "That's something that we have to hammer out with the Justice Department and with the federal people and with the banks in a negotiating session."
This is no time to aim low, argues Lisa Donner, the director of Americans for Financial Reform, a coalition lobbying for increased regulation.
"The record of abuses is astounding," Donner told HuffPost. "There's a lot of leverage for regulators, and there's a lot at stake."
Even some officials at the Federal Reserve, which is principally charged with maintaining the stability of the banking system rather than protecting consumers, are sounding the alarm against foreclosure abuse. In a speech this month before bankers in Utah, Fed Governor Sarah Bloom Raskin declared the foreclosure system "broken" given what she described as "widespread" problems. Raskin even suggested that bankers had broken the law in foreclosure proceedings, a rare allegation for central bank officials.
"Going forward, the ... industry must foster an operational environment that reflects safe and sound banking principles and compliance with applicable state and federal law," Raskin said, according to prepared remarks released by the Fed.
The Federal Reserve, the Office of the Comptroller of the Currency, the Treasury Department, the Federal Deposit Insurance Corporation and the Consumer Financial Protection Bureau all declined to comment for this story, citing ongoing negotiations.
"We as attorneys general are working very closely with nearly a dozen federal agencies on a settlement,' Miller spokesman Jeff Greenwood told HuffPost. 'We have not finalized anything and I don't want to speak for the federal government, but our understanding is that none of those agencies have finalized anything either.'"
Watch Miller's exchange with Iowa homeowners:
Popular in the Community