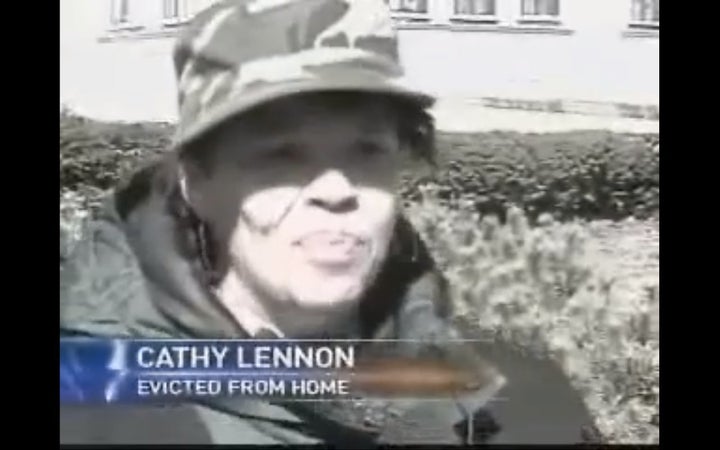 This post has been corrected.
Update: Read Bank of America's full statement to The Huffington Post below.
Last week, a team of Police officers forcefully evicted Rochester resident Catherine Lennon from her New York home, arresting at least six protestors and neighbors in the process, according to MSNBC.com.
The federal debate over the foreclosure process has heated up in recent weeks, with the Obama administration backtracking on an earlier, more dramatic proposition that would have required mortgage lenders to reduce monthly payments for millions of homeowners like Lennon.
Lennon, a grandmother living with her children and grandchildren, says she was willing to make mortgage payments to government-sponsored mortgage insurance firm Fannie Mae, but that the bank refused to accept her checks because the property was not in her name. Her husband -- the official homeowner -- died in 2008 without writing a will, leading to a legal battle between Lennon and her bank.
Take Back The Land-Rochester, a group dedicated to defending community housing and now supporting Lennon, staged an eviction in the weeks leading up to the altercation. The day of the confrontation, police arrested protestors for attempting to block entrance to the house.
"This is not America," a neighbor told a local television crew. "This is not what America should be."
Bank of America released a statement in response to the controversy saying Lennon had fallen behind on her payments, becoming delinquent. In turn, TBLT's Ryan Acuff said that while Lennon was delinquent on payments to Countrywide and Bank of America, she had "not only met with the Housing Council, the local HUD approved mortgage counselors, but attempted to engage with Bank of America."
"[T]he fact remains," Acuff continued, "that Bank of America refused her attempts to pay and efforts to negotiate modifications to her mortgage for the reasons stated above."
Rep. Louise Slaughter (NY-28) has reached out to Fannie Mae to re-review Lennon's case. After speaking with high-level representatives, Lennon says she is "very positive" about the prospect of her house being returned to her.
Last month, Federal Reserve officials completed a survey of foreclosure filings, finding no evidence of wrongful foreclosures. That claims stands in contradiction with statements by Florida judges that banks have submitted increasing amounts of questionable foreclosure filings.
Fannie Mae, who now owns Lennon's home, received a government bailout during the financial crisis estimated to have cost taxpayers $154 billion, according to USA Today.
Bank of America's full statement to The Huffington Post:
It's unfortunate that Ms. Lennon finds herself in this position. Bank of America has serviced her mortgage since the acquisition of Countrywide in July 2008. The loan was already delinquent at the time of the acquisition. As we do with all customers facing financial hardship, we send offers to assist with modifications. Foreclosure is a lengthy process and many legal requirements need to be completed before it is completed as required by the state of New York.
CORRECTION: A previous version of this post wrongly referred to the team of Rochester Police that responded to this incident as a SWAT team.
Support HuffPost
The Stakes Have Never Been Higher
Related
Popular in the Community