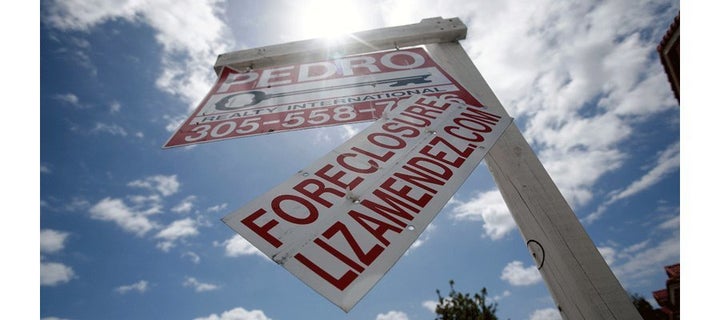 Hopes for economic improvement this year are being threatened by the lingering mess of unresolved foreclosures.
Alleged foreclosure fraud committed by banks, mortgage firms and foreclosure attorneys is slowing down foreclosure proceedings which may in turn stifle the housing market's recovery in 2011, according to a new piece by Bloomberg.
Mark Zandi, chief economist for Moody's Analytics, Inc., told Bloomberg:
"The problems that have come to light in the legal process have the potential to cause more foreclosure delays," Zandi said from West Chester, Pennsylvania. "By the end of this year, the housing crash could be over, or, if we see foreclosures pushed into next year, we might not see a recovery until the end of 2012. It's very difficult to gauge how it will play out."
Despite a round of new data suggesting the economy is on the mend, such as a 1.1% increase in the Leading Economic Index in November, a stumbling housing market could put a damper on growth in 2011. The ailing housing market, formerly a driving force of the U.S. economy, reportedly sunk GDP growth .17 percentage points last year, Bloomberg notes.
Phyllis Caldwell, chief of the Homeownership Preservation Office, explained to the Congressional Oversight Panel in late 2010, that delays in foreclosure proceedings could prevent the housing market from attracting new investors, saying "foreclosed homes account for 25 percent of the total home sales and any delay in foreclosure is not good for both the buyers and sellers."
Meanwhile, the latest S&P/Case-Shiller Home Price Index showed that home prices dipped 1.3 percent nationally in October from the prior month. In a release, David M. Blitzer, chairman of S&P's Index Committee, warned that "the double-dip is almost here, as six cities set new lows for the period since the 2006 peaks."
As HuffPost Shahien Nasiripour and William Alden reported in December, millions of Americans have seen their most valuable asset decrease in value. Homeowners' equity, fell two percentage points to 38.8 percent in the third quarter, according to the new Fed data.
Calling all HuffPost superfans!
Sign up for membership to become a founding member and help shape HuffPost's next chapter