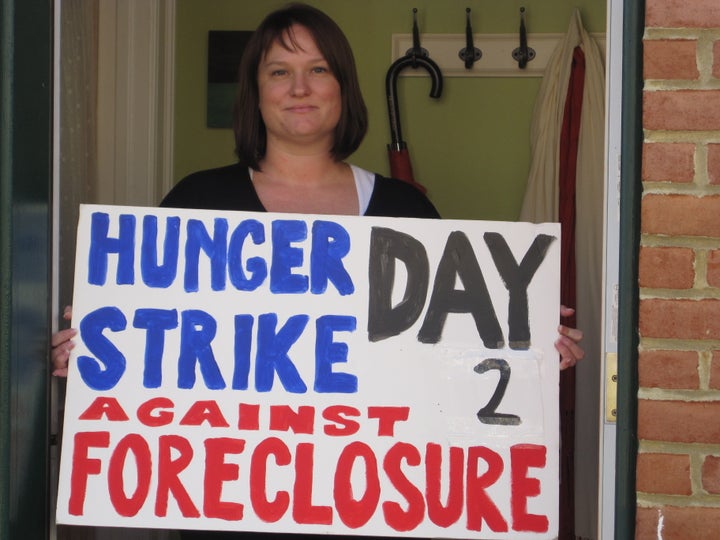 A Baltimore woman who is losing her home started a hunger strike on Monday morning to draw attention to the national foreclosure crisis and the difficulty borrowers face when they try to modify their mortgages.
"This is not about my story anymore, it's about representing a lot of people who are going through this," Lauren Rymer, 32, told HuffPost on Tuesday. "Homeowners aren't experts and we can't navigate the system. This is an impossible system to navigate."
Rymer's hunger strike and protest across from the Maryland State House in Annapolis has been effective; aside from news coverage, Rymer said she has been contacted by an official from Gov. Martin O'Malley's office about her situation. She is now hoping to hand over the deed in lieu of going through the foreclosure process. She said she'll eat if it looks like that process is going to work out.
Rymer, who has been steadily employed at a nonprofit agency, said she bought her home in 2006 with an interest-only loan and couldn't keep up with monthly payments after her property taxes increased by 55 percent. When she tried to get help with a modification, the Maryland Department of Housing and Community Development, which owns her mortgage, said she couldn't refinance or modify.
She said she was told she did not qualify for help under the Obama administration's Home Affordable Modification Program, but she was not given a clear explanation for why not. She said she received a foreclosure notice on her front door last Tuesday.
Rymer said she doesn't understand why someone with a steady job who didn't splurge can't get a break.
"I bought a small house. I didn't go crazy. I took the best loan that was available to me at the time. It was before the market crashed," she said, hastily adding that she doesn't want sympathy. "People are in much worse situations than mine. I haven't lost my job. I don't have children. I'm a 32-year-old professional."
Homeowner advocates have roundly criticized the Obama administration for its efforts to help struggling borrowers avoid foreclosure. More borrowers have been booted from HAMP, for instance, than have been given a shot at keeping their homes, as mortgage servicers drag their feet on requests, constantly losing paperwork and giving borrowers mixed signals about their status.
In October, a small group of homeowners protested HAMP at the state capitol in Salem, Ore.
WATCH: Rymer explains her hunger strike on "The Dylan Ratigan Show"
Related
Popular in the Community