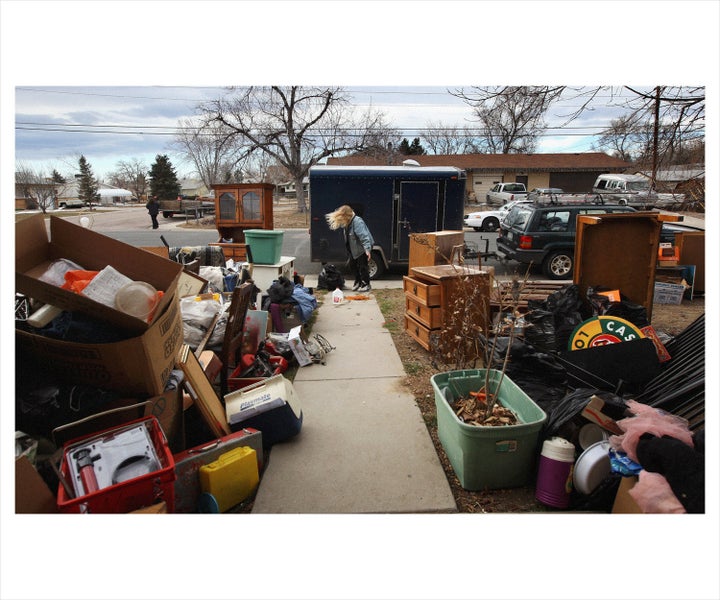 Eleven months after Brandie Barbiere stopped paying the mortgage on her Milliken, Colo., home, her husband found out when he returned from work to see their possessions piled on the front lawn. As a sheriff's deputy supervised the Oct. 5, 2011, eviction, he confronted his wife and wrestled with his anger. A few minutes later he spotted photographer John Moore. "Who the hell are you?" the husband exclaimed.
"I said I was very sorry this was happening and that I was taking some pictures to show what people all around the country were going through," Moore recalled. "And he let me stay."
Moore is one of a small cadre of photographers who have set out to record the life-altering event of a foreclosure, which sometimes is climaxed by an eviction lasting at most two hours. Moore's pictures and those of 10 other photographers (see slideshow below) form a new exhibit, "Foreclosed: Documents from the American Housing Crisis," at the Alice Austen House on New York City's Staten Island, which held its opening reception earlier this month.
This is the second New York City museum to tackle the subject this year. In February, Manhattan's Museum of Modern Art opened "Foreclosed: Rehousing the American Dream," exploring architectural solutions for five foreclosure-ridden suburbias.
To Carl Rutberg, executive director of the Alice Austen House, the show seemed apt for a museum honoring the legacy of a pioneering 19th-century woman photographer in her former home, which she lost to foreclosure because of financial reverses in the Great Depression.
Since 2009, Moore has photographed hundreds of evictions in Colorado. "Everybody had a different story," he said. "Some people had lost their jobs and could no longer make their mortgage payments."
Barbiere's foreclosure was triggered by the shrinking of her child care business. Other homeowners had assumed balloon mortgages whose rates readjusted to levels they could not afford. And then there's Tracy Munch, whom Moore photographed on Feb. 2, 2009, in Colorado's Adams County. Although she paid her rent faithfully, Moore said, her family was evicted because her landlord had stopped paying the mortgage.
Moore immersed himself in the world of foreclosures after a three-year posting for Getty Images in Islamabad. He returned to a United States besieged by recession and wanted to chronicle one of the causes: the bursting of the real estate bubble. "The struggle was trying to get access to the actual moment when people were being evicted from their homes," he said.
Since Colorado's foreclosures are supervised by sheriff's deputies, he found four counties that would let him accompany those officials during evictions. "It was, of course, very delicate," he said, adding, "I tried to not get into people's faces. I tried to give them a little space."
Moore, who recently won a World Press Photo award for his work on the subject, said he would not shoot those "who would want me gone."
The goal of the exhibit is "to look at this aspect of the recession and how it was recorded by various photographers, whether they were photojournalists or fine art photographers," explained Paul Moakley, the museum's curator. Because he also works as Time magazine's deputy photo editor, Moakley was already familiar with many photographers specializing in the genre.
"I wanted you to experience a diverse range of people, whether they were rich or poor," said Moakley, noting that foreclosure also strikes "investors, people who had a lot of money, who could afford to build communities [and we're] seeing the remains of that."
Photographer Brian Ulrich contributed a stop-motion multimedia piece of several Cleveland houses being demolished, which also appears on Time's website. The noise of the demolition provides the soundtrack.
One of Bruce Gilden's photos shows a subdivision in arrested development, its construction frozen mid-project. Another depicts a languid swimming pool next to a foreclosed home. Yet another shows Christine Baker of Fort Myers, Fla., sleeping in a van post-foreclosure in 2008.
Lauren Greenfield, who for 15 years has tracked the exporting of the American dream and now the foreclosure crisis all over the world, contributed a photo of two homes sitting side by side, one for sale in shabby condition, the other with a verdant lawn.
A policeman told her, "You know something is wrong when the lawns are brown and pools are green," recalled her husband, Frank Evers. The couple teamed up to make the 2012 Sundance Film Festival entry, "The Queen of Versailles," about a palatial 90,000-square-foot home, financed by a fortune from a time-share business, whose construction is halted by real estate industry woes.
French artist Guillaume Zuili shot a surreal scene in muted pastels in Los Angeles' Inland Empire, lately dubbed Foreclosure Alley. "I drove for miles and miles into ghost towns, emptied gated communities, deserted malls for sale, half-built cities, roads ending in nothing ... everything had stopped," Zuili wrote.
T.J. Proechel snapped his images while working as a Minnesota foreclosure contractor after college, focusing on the themes of "loss, identity and fraud." In his photo "11th Ave., Saint Paul, MN, 2008," a foreclosed home glows spookily at twilight.
"An empty home feels haunted. It feels like the life has been completely drained from it," Moakley said.
Three photos in the exhibit deal with another photographer profoundly affected by economic crisis: Alice Austen (1866-1952), as captured by Alfred Eisenstaedt. Her father deserted her mother before she was born so Alice and her mother lived with Alice's grandparents in a Staten Island house called Clear Comfort. The original farmhouse had been built in 1690.
Austen was an unconventional woman for the late Victorian Age, traveling around on a bicycle "with 50 pounds of photographic equipment strapped to her back," said Moakley. Interested in social issues, she photographed many immigrants living on New York City's Lower East Side. Over the course of her life, she took some 8,000 images.
After Austen, who lived for decades with her lover Gertrude Tate, lost her money in the 1929 stock market crash, she mortgaged Clear Comfort. Austen struggled with finances for years. In 1945, the bank foreclosed on the house. A van pulled up and they carried her out, Rutberg said.
"The idea of growing up there and losing it all -- I think about that and all the other stories. It makes it very powerful for me," Moakley said.
Tate was taken in by her family, who wouldn't do the same for Austen. So Austen gave her negatives to the Staten Island Historical Society for safekeeping, declared herself a pauper and went to live on the Staten Island Farm Colony -- like something "out of a Dickens novel," according to Rutberg.
When Life magazine's Oliver Jensen ran across Austen's photos a few years later, he realized their historic value and tracked down Austen, then 90, at the colony. "She was an undiscovered photographer until ... Life magazine decides to do this big story on her," Moakley said. That's how in 1951, Eisenstaedt, the magazine's most famous lensman, happened to capture Austen in front of her former house.
It's a happy story, said Rutberg: An artist is recognized; one of the city's oldest homes is preserved as a museum.
A more recent image of another foreclosed Staten Island home also appears in the show. Before the exhibit, Rutberg thought, "What if kids come and their homes have been foreclosed?"
But "we decided to go ahead," he said. "They'll know they're not the only one."
Calling all HuffPost superfans!
Sign up for membership to become a founding member and help shape HuffPost's next chapter
BEFORE YOU GO
PHOTO GALLERY
Foreclosure photo exhibit