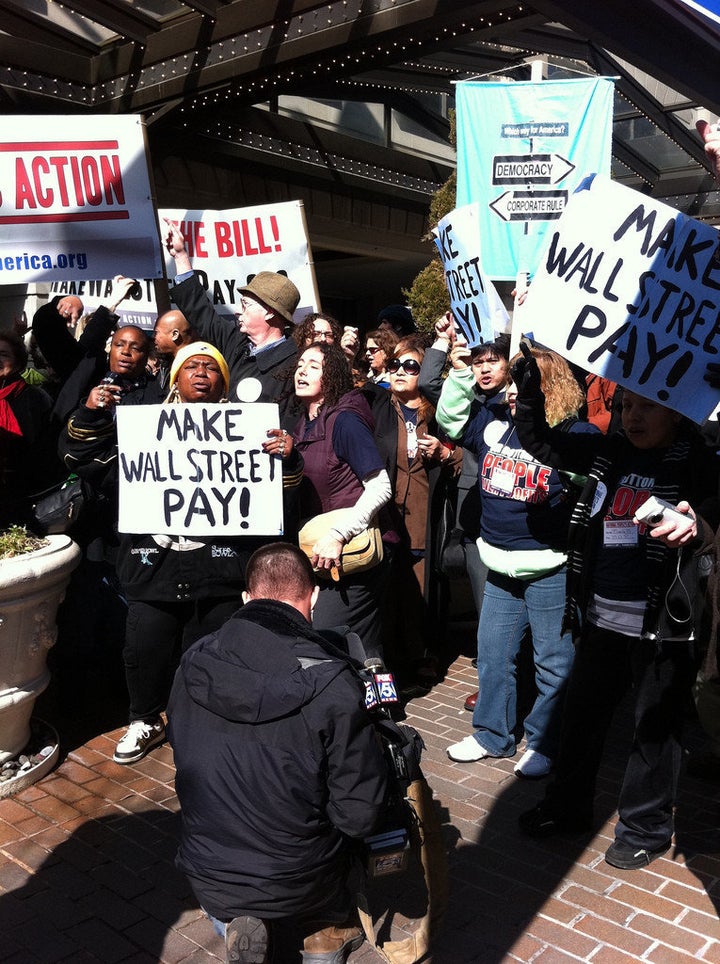 WASHINGTON -- Hundreds of protesters from around the country descended on a meeting of all 50 state attorneys general in the nation's capital on Monday, demanding criminal prosecutions for bankers and mortgage servicers accused of foreclosure fraud and other abuses.
"Handcuffs for the CEOs! Corporate criminals got to go!" demonstrators chanted during an hourlong event outside the Fairmont Hotel, waving signs with slogans like, "Make Wall Street Pay!" and "Send Wall Street The Bill." [SEE VIDEO BELOW]
State AGs and several federal regulatory agencies are currently hammering out the terms of a settlement on allegedly wrongful foreclosures, with reports suggesting a potential maximum fine of $20 billion. Calling that amount "chump change," protesters said any fair settlement would include criminal prosecutions against bankers, restitution for homeowners banks have already mistreated, and a national loan modification program to limit future foreclosures.
The government's current primary foreclosure-prevention effort, the Home Affordable Modification Program, has been riddled with bank errors and alleged abuses that the Treasury Department has failed to rein in.
Monday's Fairmont protest was one of several orchestrated by National People's Action, a coalition of neighborhood and community activists. Demonstrators also chanted outside the Offices of the Comptroller of the Currency, a federal bank regulator reportedly pursuing a small-dollar settlement. Earlier in the day, NPA members briefly shut down a Washington, D.C. Bank of America branch when hundreds showed up to protest the bank's foreclosure practices. On Sunday, hundreds of protesters picketed the Georgetown home of BofA board member Charles Rossotti.
NPA organized the protests to highlight a new report analyzing tax breaks that allowed the six largest banks to pay an average tax rate of just 11 percent in 2009 and 2010. Bank of America and Wells Fargo have both secured multibillion-dollar tax refunds in recent years.
At the AG event, demonstrators accused banks of committing widespread fraud, citing a broad array of abuses: evicting people who had already paid off their mortgage, charging illegal fees and illegally inflating home appraisals, among others. Some protesters said banks had failed to follow through on commitments to modify improper loans, while another said her bank denied a short sale and foreclosed on her because, the bank said, it had lost her paperwork.
Such complaints have become commonplace at homeowner assistance organizations. The National Consumer Law Center has reported that in half of the foreclosure cases they work on, the foreclosures were caused by bank errors, not homeowner shortcomings.
"I've talked to a few people on the investor side of the mortgage-backed securities business, and they said doing business with Wall Street now is like doing business with oligarchs in Russia," Rep. Brad Miller (D-N.C.) said. "You have to factor in the fact that contracts are not enforceable when you're dealing with these banks."
"I am incensed that the FBI has not filed one criminal case," Rep. Marcy Kaptur (D-Ohio) said, referring to the lack of prosecutions against major banking executives. "And I'm very worried that the game that's being played here is to run out the statute of limitations."
Several banks have been sanctioned by the Federal Trade Commission over illegal fees charged to borrowers, but advocates note that these settlements were tiny relative to the scope of the problem, and appear to have failed to curb such behavior. The FTC settled with Bear Stearns for $28 million in September 2008, and hit Countrywide for $108 million in June of last year. By that point, however, both companies had already been absorbed by other Wall Street financial institutions.
Several other regulators have jurisdiction over bank activities, though, and a broad investigation into mortgage servicers -- the bank divisions that collect payments and process foreclosures -- has revealed "widespread" problems and "broken" systems, according to Federal Reserve Governor Sarah Raskin.
In December, NPA members met with Iowa Attorney General Tom Miller, who vowed to "put people in jail" following a 50-state investigation into foreclosure abuses. Current reports on settlement negotiations, however, have given no indication that criminal charges will be part of any deal.
Check out video from the AG protest, courtesy of NPA:
And from the Bank of America event:
Popular in the Community