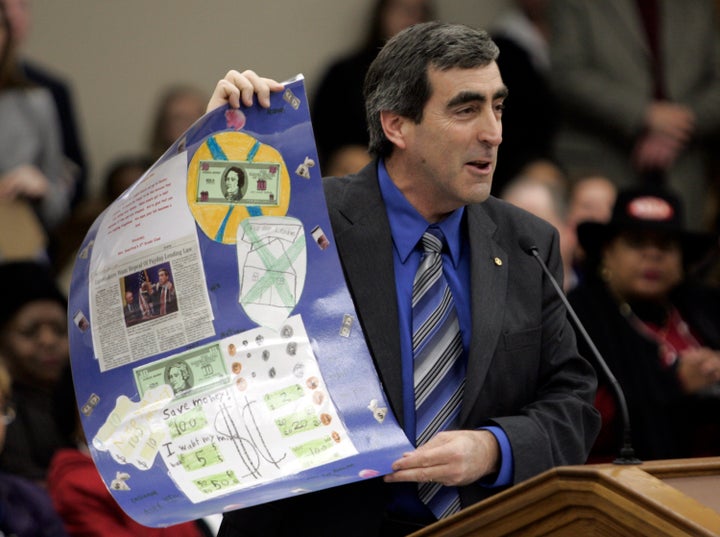 From the looks of the mortgage relief companies Christopher Mallett has marketed in recent years, offering lower payments and new loan terms to troubled homeowners, one might easily get the impression that he has the backing of the federal government or is running non-profit help groups.
Mallett is the driving force behind usbankloanmodiication-gov.info and mortgagehelpgov.us. He also founded The Department of Consumer Services Protection, U.S. Debt Care, the U.S. Mortgage Relief Council and several other operations with similarly authoritative if not auspicious-sounding names. But people who turned to them for help didn't receive services, according to court documents filed by the Federal Trade Commission in U.S. District Court this month. Their names were instead sold to companies that almost universally scam distressed homeowners, federal regulators say.
Consumer advocates inside and outside the federal government say Mallett appears to be part of a rapidly growing network of customer lead generation, foreclosure rescue and debt settlement companies aggressively marketing their services to a crop of cash-strapped consumers that's grown out of the housing crisis. Many of these companies break the law by portraying themselves as agents or partners of the federal government and by guaranteeing relief that they fail to deliver, FTC officials said.
In the last three years, The FTC has accused Mallett and nearly 40 other company owners of deceiving consumers about foreclosure prevention services. This year alone, attorneys general in Virginia, Idaho, Ohio, Michigan and North Carolina have brought cases against foreclosure rescue companies. In most cases, the companies collected up front fees for their services. That practice has been banned by the FTC since January. But new mortgage relief services are constantly evolving.
"That's the thing here, a lot of the people running these scams are incredibly smart," said Andrew Pizor, a staff attorney with the National Consumer Law Center. "The scams are often sophisticated. It is not like an armed robbery where you know immediately what's happened. I mean, one of these companies is run by a group of Ivy League graduates."
In fact, state and federal regulators say that some of the same people who sold risky, even predatory loans to consumers have moved on to the business of for-profit loan modifications. In California, one company that sold home loans to people with subpar credit during the boom -- Pacific First Mortgage -- transformed itself into a mortgage relief operation once the mortgage crisis began, The New York Times reported. Pacific First became the Federal Loan Modification Law Center and offered its services to distressed homeowners. The FTC shut it down in 2010. In Maryland, some out of work mortgage brokers have been approached with requests to buy their client lists, regulators say. And, there is evidence that lead generators often sell to multiple companies that purport to help people with various kinds of financial distress -- credit card debt, past due mortgages, homeowners who are underwater, student loan defaults, FTC officials said.
Mallett, a San Antonio businessman, could not be reached for comment Thursday, when the FTC announced that the case had been filed. Telephone numbers at his home were disconnected and several of the websites the FTC says Mallett operates could not be accessed. The FTC is seeking a temporary court order to shut down Mallet's websites and stop his companies from doing business until a court can decide if they should be permanently shuttered.
In the years leading up to the recession when foreclosures were rare but home values were climbing in many markets, some mortgage relief operations were structured to trick homeowners into signing over their property deeds in exchange for loans equal to the amount of past-due payments, Pizor said. Most of these homes were later sold by mortgage relief companies at a profit. The distressed borrowers were simply evicted.
By 2006, homeowners throughout the country were not just behind on their payments but owed lenders more than their homes were worth. So, many of these same operations began to claim they would negotiate with lenders directly to modify the terms of distressed homeowners' mortgages. Clients were encouraged to stop paying, and in some cases, communicating with their lenders directly. Instead, distressed homeowners were told to make payments through foreclosure rescue companies. In most cases little or no effort was made on behalf of these consumers, Pizor said.
And now, in the wake of the robo-signing scandal that exposed several major mortgage lenders' shoddy document practices , a group of self-styled "forensic loan auditors" have cropped up. These businesses promise that they can stop a foreclosure or force banks to renegotiate the terms of a loan by finding irregularities or evidence of predatory lending in a distressed homeowners' purchase agreement. In most cases, these companies don't have staff with the financial or legal expertise to identify actionable problems in a mortgage, Pizor said. So, customers are simply wasting their money.
"I think it is fair to say that there has been a real proliferation (of scams) within the last couple of years," said Reilly Dolan, the assistant director for the FTC's financial practices division.
The FTC has created a pair of consumer advisories for people facing mortgage difficulties or other debt problems. Several sources also suggested that consumers are often better off attempting to directly negotiate a mortgage modification or other debt settlements with lenders. Those who need help should work with a HUD-certified counselor or a nonprofit debt counseling agency, Dolan said.
In 2009, the FTC announced plans to work closely with state regulators to "crackdown on fraud and deception by mortgage modification and home foreclosure rescue companies." As a part of that crackdown, the FTC issued 71 warning letters to companies across the United States and states issued another 60 to companies suspected of illegal mortgage related activities, according to an agency press release.
At least one FTC case highlighted how branding can leave consumers with the false impression that companies are associated with the federal government or set up to assist consumers.
In 2009, the FTC shut down California-based Nation's Home Modification Center, a company that claimed it could help stop foreclosures. The company's solicitation letters indicated that "due to the current foreclosure crisis," Congress had "enacted a law allowing Nation's Home Modification Center to provide relief" for homeowners delinquent on their mortgages. These letters arrived in envelopes bearing a watermark in the shape of the U.S. Capitol dome and an address in Washington, D.C.'s Capitol Hill neighborhood. The company also did business as The Federal Housing Modification Department, Inc. and The Loan Modification Reform Association. The FTC settled the case, and a federal court order banned the companies and their owners from offering mortgage assistance services again.
"We've seen ads with U.S. Flags, ads with President Obama's picture and ads with language that says things like 'This is the President's plan to help you avoid foreclosure'," said Anne Balcer Norton, the Maryland Department of Labor Licensing and Regulation's Deputy Commissioner of Financial Regulation.
People who are in serious financial trouble in Maryland and states around the country are being targeted and tracked by lead generation, foreclosure rescue and debt modification companies based inside and outside the United States, Balcer Norton said.
"What these companies do is play on the fact that when people are facing the loss of their home, this is not just a financial problem," said Balcer Norton, "it is an incredibly emotional, upsetting experience. As a state regulator you sort of know that that things have gone wild and people are really being aggressively targeted when you find yourself issuing subpoenas for records (in the United States offices of companies based) in Australia."
Since the housing crisis began, nearly half the victims of mortgage loan modification scams are of African American, Hispanic, or Asian descent, according to a May study released by the Homeownership Preservation Foundation, a nonprofit that works with distressed homeowners.
In a few sections of Prince George's County, Md. -- a predominantly black and mostly affluent community outside Washington, D.C., where nearly 25 percent of homes were in foreclosure or default in August -- entire street light posts are wallpapered at eye view level with ads claiming that one company or another can secure a mortgage modification or stop a foreclosure. In some of the county's less affluent areas, the medians that divide major thoroughfares and mark the turn offs into neighborhoods have sprouted a bumper yield of signs. Some are handwritten that encourage people to call a particular number so "they can't take your home," others that look professionally printed, include glossy images of Barack Obama and claims that "The President has commissioned" a specific business to help "save your home."
Ads also run regularly on gospel and hip-hop radio stations and in Spanish language newspapers that outright promise a foreclosure can be stopped or a loan payment amount reduced. This week, one ad in El Tiempo Latino, a Spanish –language paper distributed in Prince George's County, claimed that a company could "convert" loans to "fixed-interest" agreements, "reduce monthly mortgage payments," get lenders to "extend payment terms to 30 or 40 years," or "add" past due amounts to the "existing loan." The ad appears between pitches for insurance companies, childcare centers and services that power wash decks or maintain lawns.
But foreclosure rescue companies have not limited their work to black or Latino areas, Balcer Norton said.
"Really, it's almost impossible to know just how many people have been sucked in and victimized by any one of these schemes," said Pizor.
It is also not clear how many names that Mallett may have collected and passed along since setting up his operations in 2008, Dolan said. What federal regulators do know is that Mallett may have won some consumer's trust with bold creativity.
Several of Mallett's websites prominently displayed the Federal Trade Commission's seal and offered advice on "avoiding scams."

Popular in the Community