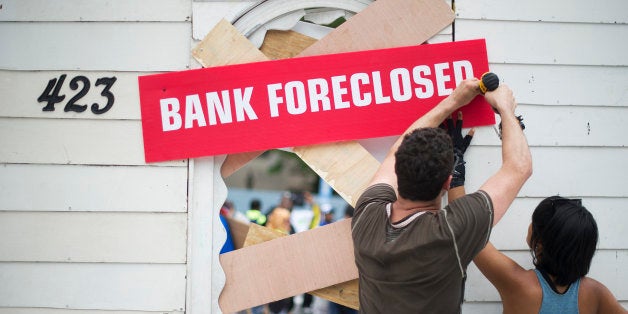 One year after federal bank regulators pledged that a nearly $10 billion legal settlement would quickly deliver cash to foreclosure abuse victims, hundreds of thousands of people are still checking their mailboxes each day, only to find them empty.
As of January, about 732,000 settlement checks had not been cashed, according to data shared with The Huffington Post by the Office of the Comptroller of the Currency -- a number that exceeds the entire population of Baltimore. The total value of this unclaimed heap of money: $600 million.
Regulators say they are doing everything they can to make sure that all of those who qualify -- 4.4 million people who received a foreclosure notice from one of more than a dozen major U.S. banks -- receive their share of the $3.6 billion pie. It's not clear how many of the uncashed checks were delivered to the wrong address, though regulators have acknowledged in the past that tracking people down has proved vexing.
An OCC spokesman said that Rust Consulting, the paying agent, has reissued more than 850,000 checks since autumn in an effort to make sure as many people as possible collect on what they are due.
Rust Consulting did not respond to a request for comment, but in the past has said that many of the addresses provided by the banks were old and inaccurate.
To those who are still waiting, these explanations provide little comfort.
"This is ridiculous," said Roberta Reid, who is due a payment she reckons should be about $5,000. She said she has strived to get answers about why her check hasn't arrived at her home in Portland, Maine, to no avail.
"I've called dozens of times," she said. "It's as bad as trying to get an answer from a bank."
Reid has also sought to modify the terms of her loan to lower the rate -- assistance also pledged under the foreclosure settlement. That hasn't happened, either. She and her husband are actually paying $500 more a month on their home mortgage than they did when they refinanced with Ally Financial, then known as GMAC Mortgage, at the peak of the foreclosure epidemic, she said.
"Is it all a waste of time?" Reid asked, speculatively. "I don't understand what they've accomplished."
The failure to deliver checks to the proper addresses is the latest setback for regulators in their management of a foreclosure epidemic that claimed more than 4 million homes.
Untold thousands of people have complained in recent years that they were subjected to a nightmare experience of lost paperwork, misapplied fees and Kafkaesque phone calls with clueless customer service representatives as they strived to avoid foreclosures they say were preventable. These claims are backed up by a swelling number of academic studies and insider accounts of misconduct and abuse.
To resolve these complaints, bank regulators initiated a program in 2011 known as the Independent Foreclosure Review. Under the program, borrowers could apply to have an independent consultant comb through their mortgage file and determine the scope of the harm.
As it became clear the individual review process was more time-consuming than anticipated and difficult to regulate, it was replaced with a settlement comprised of a very different proposition. Regulators waived the requirement that borrowers submit claims in order to obtain a payout. Everyone who received a foreclosure notice in 2009 or 2010 would get a check of at least a few hundred dollars, with payment determinations calculated by the banks themselves.
"Our new approach will get more money to more people much more quickly," said Thomas Curry, head the Office of the Comptroller of the Currency, in announcing the deal.
This decision didn't sit well with the hundreds of thousands of people who had applied for a review. Many of them had spent weeks digging through documents in order to prove their case. Now they were told that the same banks they blamed for their situation would determine the size of their checks. Moreover, the decision to dole out cash to far more people -- about 4.4 million, all told -- ensured that payouts would be small.
Bridget McCready, who tried to save her home in Cape Coral, Fla., only to have her mortgage company rebuff her requests for a loan modification, is one of those who received the smallest payout.
"Well, I cashed it," she said of her $300 check. "Big whoop."
Accounts like McCready's have served to greatly diminish expectations among those still waiting for a check.
Reid, the Portland woman, said her troubles started when a now-defunct mortgage company misapplied a single loan payment in 2007. That triggered a cascade of late fees, and in 2009, a foreclosure filing, she said. A modification of the terms of her mortgage actually left her paying $500 a month more than before. She said she hasn't been able to get answers about why her check hasn't arrived, or whether she qualifies for a new modification.
"It's been five or six years of complete awfulness," she said.
Ally Financial, which filed the foreclosure papers in Reid's case, didn't join the settlement until July. Still, Reid said she can't figure out what is taking so long. She and her husband have lived in the same house for 30 years. The address is in the phone book.
She said she was told recently that her check should arrive by the end of the month.
"I'm not holding my breath," she said.
Calling all HuffPost superfans!
Sign up for membership to become a founding member and help shape HuffPost's next chapter
BEFORE YOU GO
PHOTO GALLERY
America's Worst Foreclosure Fails