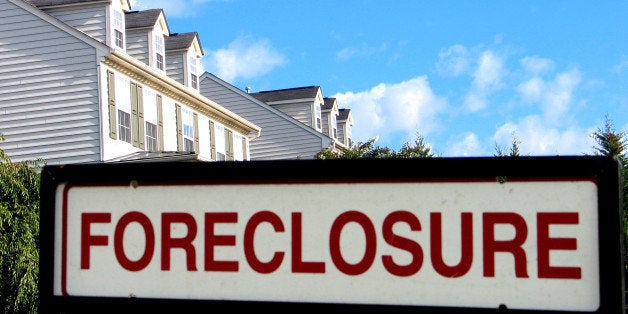 The housing crisis was not only an economic disaster, but a human tragedy, possibly leading to higher suicide rates across the U.S., particularly among middle-aged Americans.
A new study published on Monday found a correlation between home foreclosures and increased suicide rates in the U.S. Though the study's authors could show no direct link between foreclosure and suicide, the numbers are stark.
"The foreclosure crisis has likely contributed to increased suicides, independent of other economic factors associated with the recession," says the study, titled The Home Foreclosure Crisis and Rising Suicide Rates 2005 to 2010. It was published in the American Journal of Public Health by Dartmouth College assistant sociology professor Jason N. Houle and Purdue University assistant professor of sociology Michael T. Light.
Look: As the foreclosure rate climbed from 2005 to 2010, the suicide rate rose alongside it.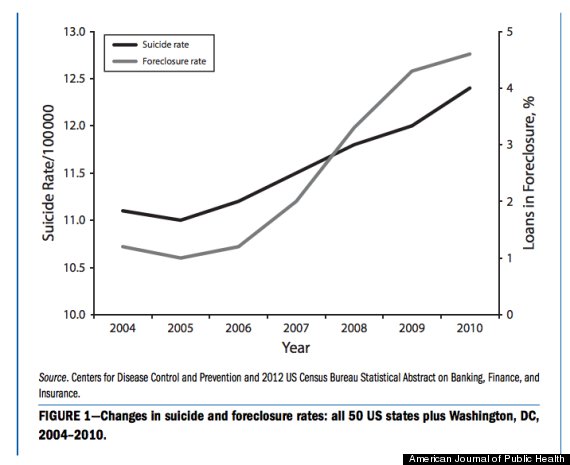 The authors looked at annual suicide and foreclosure data for all 50 states plus Washington, D.C., from 2005 to 2010, controlling for factors like poverty and unemployment. Over those six years, the suicide rate climbed 13 percent, while the rate at which new foreclosure processes started nearly tripled.
The study found an even higher association between suicides and "real-estate-owned" foreclosures, a more severe type of foreclosure where a lender repossesses a family's house.
And people between the ages of 46 and 64 were found to be the most affected by losing their home. The study reported that just a five-percent increase in real-estate-owned foreclosures between 2005 and 2010 was associated with a 25-percent increase in the suicide rate for people in that age range.
Of course, correlation isn't the same thing as causation. The annual suicide data used for the study, from the Centers for Disease Control and Prevention, don't provide reasons that people took their own lives, so the study's authors weren't able to say for sure that foreclosures caused more suicides.
Whether or not economic recessions directly cause depression and suicide isn't totally clear. While some studies have found no link, others -- like one released by the CDC in 2011, which looked at national economic downturns all the way back to the Great Depression -- have found that suicides tend to increase during economic downturns and decrease during times of growth.
Popular in the Community