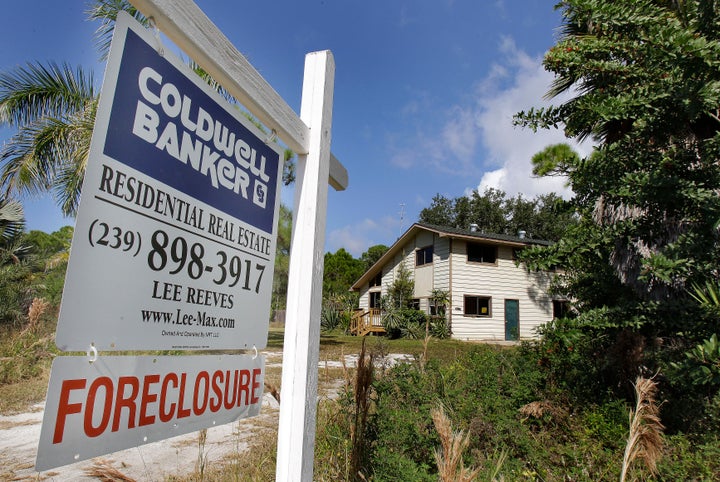 Foreclosure filings fell to a three-year low in the first three months of the year, thanks mostly because of stalled paperwork, according to a report released Thursday.
In the first quarter of 2011, home repossession filings were down 30 percent from one year prior to 680,000, RealtyTrac reported. The decrease, however, appears to have less to do with a recovering economy than the processing problems that are stalling foreclosures and backlogging banks and mortgage companies across the country, RealtyTrac says.
Nationally, successful home repossessions fell 17 percent from the same period last year, too, with just over 215,000 in the first three months of 2011. But new foreclosure filings sped up in March, suggesting the total number of foreclosures could still hit 1 million in the U.S. by the end of the year.
That means foreclosures remain a looming threat to further derail an already fragile housing market, RealtyTrac CEO James Saccacio said in a release.
"The nation's housing market continued to languish in the first quarter, even as foreclosure activity fell to a three-year low," Saccacio said. "Weak demand, declining home prices and the lack of credit availability are weighing heavily on the market, which is still facing the threat of a looming shadow inventory of distressed properties."
Nevada had the highest foreclosure rate in the first quarter, with one filing for every 35. In Arizona, one in every 60 housing units received a foreclosure notice; in California, it was one in every 80.
Foreclosure filings slowed temporarily at the end of last year when it was discovered that some mortgage company staffers, dubbed robo-signers, had approved thousands of foreclosure documents without reading them, leading some lenders to reexamine their foreclosure cases.
After the revelation, judges in states where foreclosure involves court proceedings -- including New York, New Jersey and Florida -- slowed the process to examine paperwork, with one New York judge throwing out foreclosure cases at the beginning of this year.
In states where judges do not have to review foreclosures, repossessions rose 9 percent in the first quarter of 2011. Some of the biggest annual decreases in foreclosure activity, though, occurred in states where judges were more involved in the foreclosure crisis, according to RealtyTrac, such as in New Jersey (45 percent drop in foreclosures) and Massachusetts (over 60 percent).
On Wednesday, federal bank regulators announced that the nation's 14 largest mortgage firms must compensate wronged homeowners, saying mortgage lenders like Bank of America, JPMorgan Chase, Wells Fargo, Citigroup and Ally Financial systematically broke rules by taking foreclosure shortcuts last year.