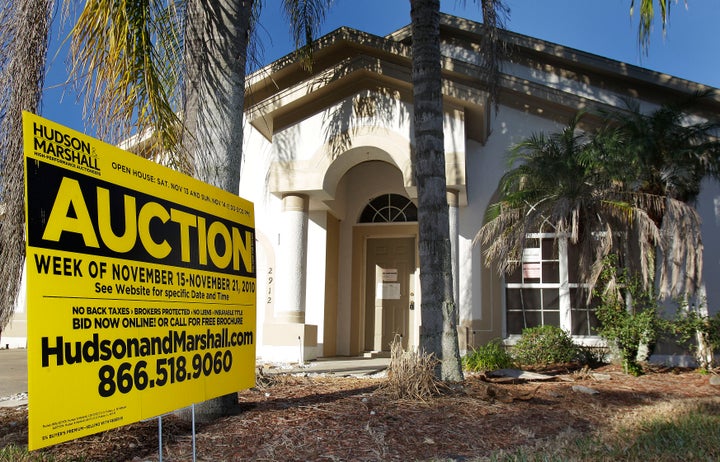 Foreclosure activity has fallen to a 40-month low, but not because of any recovery in the housing market, a new report finds. Rather, the slowdown comes from massive delays in processing foreclosure paperwork.
In April, overall foreclosure filings -- including default notices, scheduled auctions and bank repossessions -- declined for the seventh month straight to 219,258, a 9 percent decrease from March and a 34 percent decrease from April last year. Banks seized 69,532 homes last month, a 5 percent drop from March, according to data provider RealtyTrac.
"This slowdown continues to be largely the result of massive delays in processing foreclosures rather than the result of a housing recovery that is lifting people out of foreclosure," said James J. Saccacio, chief executive officer of RealtyTrac, in a press release.
Nationwide, foreclosures completed in the first quarter of the year took an average of 400 days from initial default notice to conclusion, up from the 340 days the process took last year and more than twice the average time -- 151 days -- it took to complete a foreclosure in the first quarter of 2007. In some states, that number soared higher. In New Jersey and New York, the average timeframe in the first quarter of this year was 900 days. In Florida, it was 619.
With home prices still falling, a slowdown in foreclosures driven by paperwork delays is bad news for the overall housing market recovery. Home prices hit their lowest point in two years in April, falling 0.7 percent below March 2009 levels, according to a recent report by Clear Capital. Housing experts say the data from RealtyTrac's report does not indicate a reversal of this trend will be quickly forthcoming.
"As the servicers sort out their processing issues and staff up a little that means these homes will end up on the market as a distress sale and that will cause home prices to fall further," said Celia Chen, a housing market analyst for Moody's Analytics. "It delays the problem. It extends the recovery in the housing market,"
Last fall, many of the nation's largest lenders voluntarily halted home repossessions when flawed foreclosure practices came to light. On Wednesday, the Huffington Post reported that HSBC North America Holdings, the 12th-largest mortgage servicer in the U.S., will continue its moratorium on home seizures in some jurisdictions. According to the bank's filings, the bank will not fully resume foreclosing on defaulted borrowers for a number of months. The Obama administration is now pushing for the creation of a federal account to help distressed borrowers and settle ongoing probes into faulty mortgage practices, the Huffington Post reported on Wednesday.
There is still a large stock of homes in distress -- at least 3.7 million homes are in a late stage of the foreclosure process, according to the report -- and housing experts stress that processing these properties as quickly as possible is critical to the recovery of the housing market.
"This is what frees up the economy to make forward progress and allows home prices to rise," said Michael Englund, chief economist at Action Economics. "It will probably take about another year to work our way through the foreclosure mess."
Calling all HuffPost superfans!
Sign up for membership to become a founding member and help shape HuffPost's next chapter