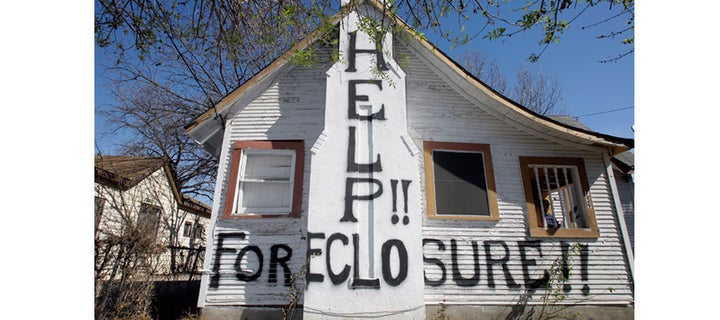 August saw more Americans lose their homes to foreclosure than any other month on record, RealtyTrac reported today.
Banks repossessed a total of 95,364 properties in August, a 25 percent increase from the same period in 2009 and a 2 percent increase over this May's previous record. Foreclosure filings of all types, including default notices, scheduled auctions and bank repossessions (the three major stages of the foreclosure process), increased to 338,836 in the month, a 4 percent jump from July.
At the same time, though, the number of default notices that lenders issued to homeowners to initiate the foreclosure process actually went down. The August total of 96,469 was a 1 percent decline from July and a 30 percent drop from August of last year. It's significantly lower than the April 2009 peak of 142,064 default notices issued.
That the numbers of repossessed homes and default notices (respectively the last and first stages of the process) are converging demonstrates that banks are trying to mitigate the flow of new homes to the market. As Bloomberg reported Wednesday, the glut of housing inventory means home prices could decline for at least three years.
Indeed, the number of properties with delinquent loans (30 or more days past due) that aren't yet in foreclosure is currently 4,947,000, or 9.22 percent of all mortgage-financed homes, according to data from Lender Processing Services. The total number of foreclosed properties on the market, LPS says, is 2,038,000.
It's a bleak picture, but glimmers of hope emerge. The majority of Americans (at least, the majority of a 3,399-person sample) think the market has bottomed out, according to a survey released today by Fannie Mae. 47 percent of those surveyed said prices will remain flat for the next year and 31 percent predicted prices will rise.
Even in such trying times, the majority of a 2,967-person sample of Americans say it's "unacceptable" for homeowners to willingly walk away from a mortgage, according to a new survey from Pew Research Center. A whopping 59 percent of respondents condemn homeowners who choose to stop payments on "underwater" mortgages.
According to the RealtyTrac data, Nevada and Florida led the nation in rates of foreclosure filings (including default notices, scheduled auctions, and repossessions) in August, despite year-over-year decreases in activity in both those states. One in every 84 Nevada homes received some form of foreclosure filing, compared to one in every 155 homes in Florida. Arizona, California and Idaho were right behind Nevada and Florida in the foreclosure rankings.
Related
Popular in the Community