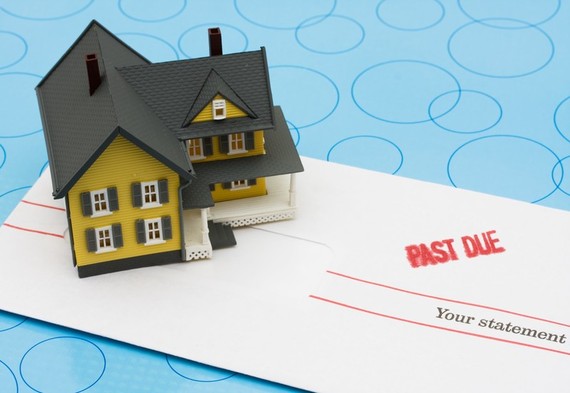 RealtyTrac is a leading resource for foreclosure information and statistics. According to RealtyTrac, foreclosures (default notices, scheduled auctions and bank repossessions) decreased again in February, dropping to their lowest level since July 2006. As of February, the rate represented one out of every 1,295 housing units.
There are two different structures nationally for processing foreclosures, and they are based on the laws of the state in which the property is located.
• Non-judicial - These are states where "statutory" foreclosures are allowed, where deeds of trust are used. The trustee can process the foreclosure and sale of the property without court involvement.
• Judicial - In these states the courts process foreclosures. There is more documentation and process involved, and they take longer; sometimes much longer.
In some of the non-judicial states, the more efficient process has resulted in current foreclosure rates dropping back to or below pre-recession levels. This reduces the inventory of bargain-priced properties, causing more competition among investors and rising prices.
In judicial states foreclosures are speeding up, and the lag behind the non-judicial states has created increased numbers of foreclosures. 24 states have posted an increase in foreclosure activity over the past year. These are primarily judicial states, and the logjam is beginning to break, with the pace of foreclosure activity increasing.
Zombies are Good for Some
Zombies foreclosures are those homes that have been abandoned by the owners. They are far more common in judicial states due to the length of time it can take to completely process the foreclosure and take the property to the auction block. The ramping up of foreclosures in judicial states is yielding an increasing number of zombie properties.
This is a welcome situation for investors, especially fix & flip strategists. These properties are generally in a condition that precludes a mortgage, so there is no competition from retail buyers. The investor can buy the home out of foreclosure and quickly move to the rehab process. The number of flipped homes is down overall, but zombie flips are up.
However, RealtyTrac reports that the number may be down but the average gross profit has been increasing. The most recent report shows an average flip gross profit of 37%. Poor condition and some heavily impacted neighborhoods have made flipping a bit more risky, but this profitability increase seems to point out that most investors are successfully navigating the market.
Another factor could be impacting these stats. More fix & flip investors are selling in the retail market than before, when many flips went to rental property buyers. The retail buyer pays more, and the fix & flip investor is enjoying the higher price buyers returning to the market.
This doesn't mean that rental property investors aren't buying. They do have to sharpen their calculation pencils, but rising rents are keeping a reasonable number of properties on their radars. Zillow.com reports that rents are continuing to rise. They are up 3.7% year over year to an average of $1,362 per month. This is almost on pace with the home prices increase of 3.9% for the same period.
Rising rents do push some tenants back into the market, as low mortgage rates and affordable homes are making ownership more appealing. Historically, renters have paid around 25% of their income for rent, while now it is running around 30%. Conversely, buyers are seeing a drop from 22% down to 15% of income for mortgage payments.
Rental property owners need not fear though. If too many tenants decide to buy, it will put upward pressure on prices, and selling at a profit is an option.
REAL LIFE. REAL NEWS. REAL VOICES.
Help us tell more of the stories that matter from voices that too often remain unheard.