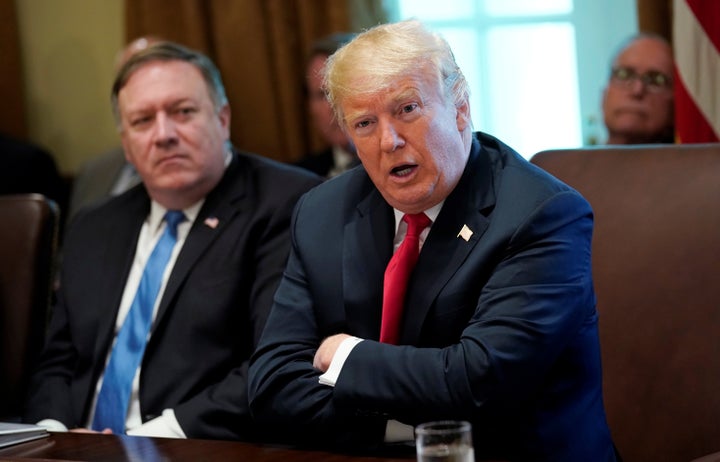 The Trump administration's plans to take back over $3 billion in congressionally allocated funds were killed Tuesday in a major win for foreign aid.
The planned rescissions targeted foreign assistance through the U.S. Agency for International Development and the U.S. State Department. The global development community saw the effort as a way for the Trump administration to circumvent Congress' budgetary process and achieve a version of the foreign aid cuts initially proposed in earlier budgets as part of President Donald Trump's "America First" ethos.
The decision to not go through with the rescission package followed a Tuesday midday meeting between Trump, Secretary of State Mike Pompeo and Office of Management and Budget head and fiscal hawk Mick Mulvaney.
Lawmakers from both parties had previously condemned the effort to "freeze" money that hadn't been spent in the last days before the federal government's fiscal year ends on Sept. 30. Under the rescission plan, whatever money was not spent would have been returned to the U.S. Treasury. Congressional attempts to stop such a move would have required floor time, which is difficult this late in an election year. Taking a vote on foreign assistance is also unappealing for lawmakers heading into midterm elections.
In a statement on Tuesday afternoon, Sen. Patrick Leahy (D-Vt.), vice chairman of the Senate Appropriations Committee, called the latest move a "welcome decision."
"Rescinding funds that had been agreed to by Congress and signed into law by the President, in the waning days of the fiscal year, would have set a terrible precedent and harmed programs that further United States interests around the world," Leahy said. "For the appropriations process to function we need assurance that the Congress's constitutional power of the purse will be respected."
Sen. Bob Corker (R-Tenn.), chairman of the Senate Foreign Relations Committee, told CQ that this rescission would have been "short-sighted."
"They were going to cut out a couple of billion dollars and infuriate Congress in the process — just to make themselves look good to the base," Corker said. "It was very short-sighted, so hopefully they figured that out."
Global development experts were thrilled the rescission had not come to pass.
Kevin Rachlin of InterAction, the largest alliance of U.S.-based international nongovernmental organizations ― who had confirmed the news to HuffPost ― was beyond pleased with the turn of events. InterAction had been organizing lobbying efforts to fight the potential rescission.
"Cutting critical foreign assistance programs could harm U.S. efforts to save lives, strengthen civil society, support good governance and create economic opportunity," Rachlin said.
Jeremy Konyndyk, a senior policy fellow for the Washington-based Center for Global Development, told HuffPost, "It's a relief to see that cooler heads have prevailed."
"Cutting the aid budget this way is probably the clumsiest of all possible ways to do it, due to how badly it would disrupt planning within the administration and poison relations with congressional appropriators," Konyndyk said.
Michelle Nunn, head of the international humanitarian agency CARE, said that while the rejection was a "major victory," the global aid community is still left wondering if the president's policies will ever align with Congress' stance on foreign aid.
"What is a tipping point?" she said, pointing to Congress' rejection of the Trump administration's last rescission attempt. "How many times does Congress have to push back before the administration starts to work in a more cooperative way, with what is truly a bipartisan sensibility around international development, foreign affairs and diplomacy?"
Sens. Leahy and Corker were among those lawmakers who had previously urged the president and his team not to follow through on the rescission plan, which would have negated bipartisan agreements on foreign aid through an end-of-year loophole.
Leahy took it a step further in a Friday letter to Pompeo and Mulvaney: "It would cause significant damage to the bipartisan consensus that produced those funds and to the Congress's ability to work cooperatively with the Administration on future appropriations matters."
Nunn described the congressional leadership of Leahy, Sen. Lindsey Graham (R-S.C.), Rep. Nita Lowey (D-N.Y.) and Rep. Hal Rogers (R-Ky.) as pivotal in the rejection of the planned rescission. She also gave credit to an outpouring of citizen activism and general support from the Department of Defense for foreign aid.
The decision to kill the rescission also looks like a win for Pompeo, whose State Department's budget and morale would have been decimated by the cuts.
"I hope that it does signify a leadership shift as Secretary Pompeo has said he wants the State Department to get its swagger back," Nunn said.
Popular in the Community