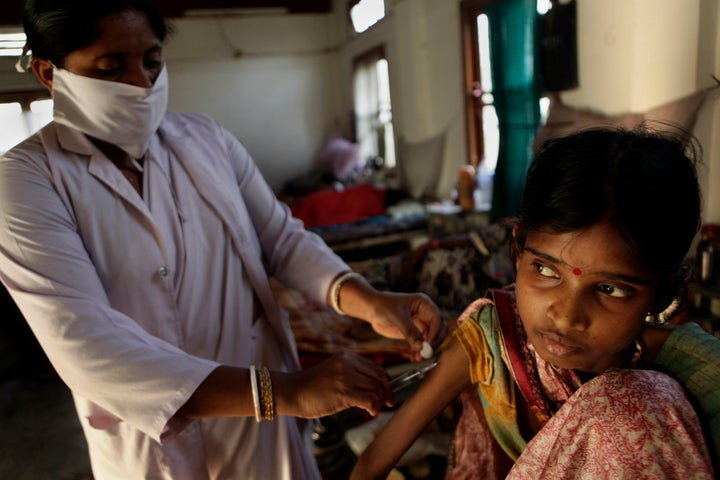 This autumn, as Congress enters tense budget discussions, U.S. taxpayers are asking legitimate questions. Amid economic instability and worries at home, Americans are scrutinizing where their tax dollars are going and who they are helping. In particular, Americans often ask, why do we spend so many of our tax dollars on foreign aid? And what do we get for it?
These questions are appropriate and important to our democracy.
But so are informed answers.
About 1 percent of the U.S. federal budget is spent on America's contribution to helping the rest of the world develop and grow. According to a recent poll, most Americans place this figure at 25 percent. Why? Because they have not been given a comprehensive explanation of how U.S. investments in foreign aid -- particularly global health -- are used or how they benefit Americans here at home.
It's time to respond.

Global health investments benefit the globe. If there is anything that the last decade has made clear to Americans, it is that the world is more interconnected than ever. When families and individuals are healthy, they are optimistic and productive. When they are productive, they work and invest, they support economic growth abroad, and when they're given the chance, they are able to participate in the political process and support the economy. Healthy families yield healthy societies and economies. Everyone everywhere benefits.

The health advantage of these investments is easy to see and understand. U.S. taxpayers, through the efforts of the U.S. Agency for International Development (USAID) and other initiatives, have provided millions of individuals and families worldwide with life-saving health services, products, and information. To date, USAID has reached 3.2 million HIV positive people with antiretroviral therapy and provided care and support for 11 million people affected by HIV/AIDS. During the past decade, USAID action to combat malaria has saved an estimated 1.1 million lives in Sub-Saharan Africa alone.
My organization, PSI, as a recipient of USAID funding, is a proud participant in these efforts. Last year, U.S. taxpayers helped PSI prevent approximately 39 million malaria episodes and 300,000 malaria deaths, 4 million unintended pregnancies, 7 million cases of diarrhea, and nearly 180,000 new HIV infections.

What is less conspicuous -- yet equally as important -- is the economic advantage of healthy populations.

The World Bank estimates that malaria-related illness costs Africa $12 billion in GDP every year. According to WHO analysis, an additional $11 billion invested in safe water and sanitation globally would have an economic benefit of $84 billion. When the impacts of programs targeting HIV, pneumonia, and maternal health are included, the economic opportunity is substantial -- especially for Americans and American companies.

The U.S. represents 5 percent of the world's population. That means 95 percent of the world's consumers are somewhere else. American business gets this. One out of every three American manufacturing jobs are supported by international trade, and approximately 50 percent of the $1.28 trillion American export industry goes to developing countries.

Investing in global health, as part of a robust international affairs budget, is smart for America and smart for the world. These are cost-effective investments that demonstrably save lives, strengthen communities, and grow economies.

In tough budgetary times, the temptation to cut programs whose constituents are far away and powerless is strong. But making the relatively tiny international affairs budget bear a disproportionately big share of necessary cuts would be fooling ourselves. Global misery or global health? Americans know which option is better for them.

Related
Popular in the Community