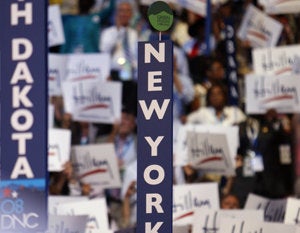 What do Ben Affleck, Tom Daschle, Obiagele " Oby" Ezekwesili, Tim Wirth, Madeleine Albright, Hernando de Soto and James Wolfensohn have in common? They all participated in a National Democratic Institute of International Affairs (NDI) roundtable discussion on "Combating Global Poverty" at the Democratic Convention. In the audience, were 650 foreign guests from 100 countries who were invited to the Convention by NDI along with local high school and college students.
Among the many NDI guests in the audience were the Foreign Ministers of Bulgaria (Ivailo Kalfin), Macedonia (Antonio Milososki), and Slovakia (Jan Kubis). Also, listening were Nigeria's Speaker of the House (Dimeji Bankole), India Ambassador (Ranendra Sen), Mexico Ambassador (Arturo Sarukhan) and Prime Minister of Mauritius (Navinchandra Ramgoolam) just to mention a few. Even the Vice Prime Minister of Georgia, Giorgi Bakradze, flew in to participate in the NDI's officially named, International Leaders Forum.
A little known fact, that since 1984, the Democrats through NDI have invited foreign ministers, heads of state, prime ministers, Ambassadors, and members of parliament to be honored guests at the Convention. They listened, they discussed, they networked and they watched democracy in action. Ivailo Kalfin of Bulgaria who had never attended an American political convention before said, "It's overwhelming...the Pepsi hall, the delegates, and the press. Democracy is quite different in my country. I'm very impressed."
The youthful Foreign Minister of Macedonia agreed. Minister Milososki said, "We have a lot to learn how to strengthen democracy in our part of the world. I've gotten a lot of new ideas."
In the evening, after the convention proceeding was finished, NDI had several small dinners and receptions for their VIP guests with foreign policy experts, past government officials and various convention attendees. Prime Minister Ramgoolam of Mauritius, who is both a medical Doctor and a lawyer told Arianna Huffington at one of these events that he had never heard of the Huffington Post before he came to Denver. However, as a prolific internet user, he quickly discovered the site and said that he was considering becoming a blogger in the future.
The NDI counterpart, The International Republican Institute, "IRI", is headed by none other than John McCain. IRI has not invited any foreign dignitaries to their convention in the Twin Cities. Madeleine Albright, Chair of NDI, commented, "We do many things at NDI from grass roots democracy building in 60 countries to election monitoring around the world, but nothing is more important than being the hosts to our friends from around the world who want to see how our party nominates its candidate for President."
NDI was started along with IRI in 1983 during the Reagan administration to foster a greater understanding of the democratic process and, if invited, work with political parties, government institutions, minority groups around the world. NDI's financial support comes from private donations, foundations and from the US government through the National Endowment for Democracy (NED) and US AID.
At this year's convention, there were twelve panels and special events including a reception at the Colorado's Governor's Mansion hosted by Governor Bill Ritter.
Some of the other discussions besides poverty were the "Role of Primaries, Nominating Conventions and President Debates" with Walter Mondale, Paul Kirk (former Chair of the DNC) and others.
"Ensuring Democracy Delivers" with Secretary Albright; Joschka Fischer, former Vice Chancellor of Germany and head of the Green Party; Richardo Lago, former President of Chile; Mary Robinson, former President of Ireland; Alejandro Toledo, former President of Peru; Abdul Karim Al Eryani, former Prime Minister of Yemen; Zlatko Lagumdzija, former Prime Minister of Bosnia-Herzegovina and Kim Campbell, former Prime Minister of Canada.
Other partipants in panel discussions included: Richard Haass, President of the Council on Foreign Relations; Richard Holbrook, former UN Representative, Tom Brokaw of NBC; Susan Rice, Obama's Chief Foreign Policy Adviser and NDI Board member; Anthony Lake, former National Security Adviser; Gary Hart and Dick Durbin, U.S. Senator from Illinois.
Back to poverty, the conclusion of the speakers were that climate change, energy, food and poverty were all linked and we must come together globally to deliver real solutions to end the slow starvation of billions of people on the planet.
Ben Affleck said in his travels to Africa, "People know how to fish; we have to make sure that there is a pond." Oby Ezekwesili, Vice President of the World Bank for Africa agreed and recommended that we listen to the ideas of the poor on how they can improve their lives and be supportive.
Madeleine Albright exclaimed, "The poor aren't stupid. They must have access to make sure their voices are heard!" The panel moderator, Gayle Smith, former Aide to President Clinton, told the audience that we must get engaged and enraged by global poverty.
James Wolfensohn, former head of the World Bank, gave statistics to show the rapid growth of income in Asia over the next decade and the slow growth in Africa. Professor Soto of Peru, an expert on poverty, stated legal entitlements including property rights are critical, if we are going to break the cycle of increasing poverty.
Tim Wirth agreed and emphasis how climate change will further add to world-wide hunger shortage. Former Senator Daschle (another NDI Board member) added that this is a major national security issue for the new President. All the panelists urged the young people in the audience to get involved in this issue, travel to these zones of famine and network your stories to your friends and elected officials.
Urbane Ambassador Sarukhan of Mexico summed up the whole NDI Convention experience, "Fascinating conference, and a great convention. It was extremely worthwhile for all of us who want to understand American politics better!" Ken Wollack, the long time President of NDI added, "We are the best kept secret at the Democratic Convention. But along with the Council on Foreign Relations, the Club of Madrid and the University of Denver, we put on the best show."
Calling all HuffPost superfans!
Sign up for membership to become a founding member and help shape HuffPost's next chapter