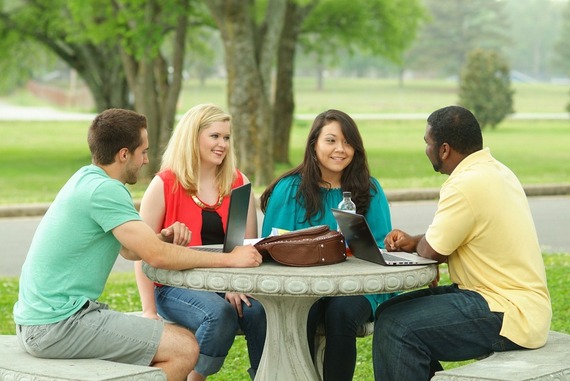 1.13 million foreign students were enrolled in American colleges and universities for the 2014-2015 academic year. To put that in perspective, according to a recent Wall Street Journal article, that is an 85 percent increase over the number in 2005 and a 50 percent increase over 2010. Part of the reason for this dramatic increase is the open recruitment of "cash-strapped" universities, who can charge much larger tuition rates than they can to in-state students, and the exploding rate at which middle-class Chinese students are coming. Even these two factors, however, do not account for all of this increase. There are just some basic appeals of studying in America that go beyond recruitment and abilities of foreign students to pay (many are actually subsidized by their governments and native industries).
1. The Options and Resources of the U.S.
Foreign students typically have more options for study, particularly if they come from countries where collegiate programs and degree fields are more limited. Taking advantage of these options and then returning home with a prestigious degree from an America university, allows students to be on the forefront of change and innovation in their home countries.
Along with more options for academic disciplines, many students come to master their English language skills. This is extremely difficult for students with limited English proficiency when they arrive. Competing with American students in courses in which they are evaluated at least in part on their research and writing skills is tough. Still, they are an ingenious group, and many find an essay writing service to use while they improve those skills. Given that English is the most widely spoken language in the world, a students with good proficiency who returns home after mastering English, has a professional advantage over his peers at home.
2. Reputation of American Higher Education and Specific Schools
According to the 2015 Quacquarelli Symonds rankings of the world's universities, 13 of the top 20 schools are in the U.S. Foreign students are particularly lured to the Ivy League schools in the Northeast but, as well, to many of the schools within the public university system in California.
Many other public universities are now involved in attempting to showcase their opportunities to foreign students and actually send recruiters to a number of foreign countries. The University of Colorado, for example, sent recruiters to 40 separate countries during 2014-15, for the 2015-16 school year. It is the system's ultimate goal to have 10 percent of its student body comprised of foreign students. Currently, most foreign students in the Colorado University system are from China, Saudi Arabia, and Kuwait.
3. Chasing the "American Dream."
Foreign students in their native countries have more access to American culture than ever before. Even if they do return home after their studies, they will have experienced that American culture first hand and can probably look forward to a somewhat similar lifestyle once they return home. And some students have no choice but to return to their home countries.
The America Dream Interrupted
On the other hand, quite a number of foreign students would like to remain in the United States after graduation. Unfortunately, many are unaware of newer immigration laws which make it much more difficult to obtain work visas than it was to obtain a student visa. For this reason, many renew their student visas to go on to graduate programs, hoping that they can move through the difficult process before they complete their graduate programs, a process that involves finding a job and being one of only 85,000 foreign student graduates who will be provided with a work visa in any given year. Another program extends student visas for employment, but that is only for a maximum of 17 months. And those students will need to be in STEM fields, with jobs primarily in research and high-tech. There is a current proposal from the Department of Homeland Security to extend these student visa extensions to 24 months, but the current Congressional mood on immigration is not likely to take up this recommendation until after the 2016 elections.
The lure of study in the United States is a big one. For those students who study here and then return to their native countries, they could very well become effective ambassadors for the U.S. when they return.
Calling all HuffPost superfans!
Sign up for membership to become a founding member and help shape HuffPost's next chapter