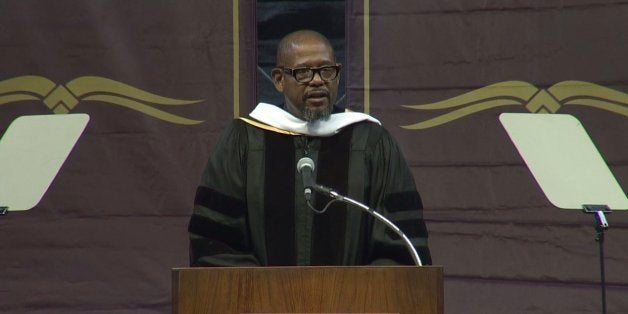 Actor Forest Whitaker gave a sincere, inspirational commencement address Saturday at the California State University, Dominguez Hills. He urged graduates to lead an engaged, purposeful life filled with kindness and loved ones.
Whitaker started personally, explaining that he grew up across the street from the university. When he was young, he used to go to a field on campus and run around with his dog.
"I was a shy kid. I was always very introverted and I never really felt like I would quite fit in," he said. "But then I would go to this field, and everything felt right. It became my sanctuary."
The field, he said, was a place for him to center himself. As he grew up and moved around the world, he found "some new field" every time he felt lost. He acknowledged that graduates probably feel lost right now as they try to figure out where they will live and what they will do for work. But those questions are secondary to a more important set of considerations, he said, including: "How will I live my life? With empathy, with kindness, with compassion? Am I standing for the things that I believe in? Am I spending the time with the people I love and I care about?"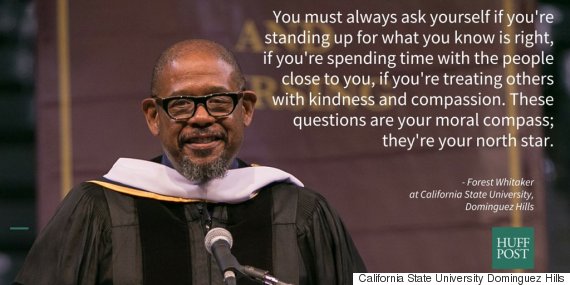 Whitaker used a quote from novelist Walter Kirn to set up the rest of his speech: "Life is an upstream, not an uphill, battle, and it results in just one story: how, and alongside whom, one used his paddle."
The actor said currents of jealousy, greed and anger try to push people away from what they believe, and that everyone is responsible for paddling themselves toward the life they want to live.
"Life," he said, "is an active, not a passive, journey."
Throughout the speech, Whitaker urged graduates to be kind to the people around them and to thank their family and friends who help them along the way.
"If you live with honesty and integrity, if you try to see the best in others, if you seek to deepen your relationships and understanding with your fellow human beings, if you devote your life in some way to service, then no matter where the currents take you, you'll find the meaning and the purpose that we all seek," Whitaker said.
"All that searching, [and] the whole time, the answer was right here across from where I grew up," Whitaker said. "From time to time, I hope the currents will carry you back home to where you began."
At the commencement, Whitaker also received an honorary degree from the school.
Watch Whitaker's speech below, which starts at the 1:10:00 mark:
Calling all HuffPost superfans!
Sign up for membership to become a founding member and help shape HuffPost's next chapter