Forests are often described as the "lungs of the planet," and their ability to absorb immense volumes of carbon dioxide makes them a tremendous asset in the fight against climate change. Cutting forests down not only negates that ability; it also adds significantly to global warming. Currently, deforestation already accounts for about 10 percent of annual carbon emissions worldwide -- about as much as all cars and trucks on the planet combined -- while broader land use issues, such as agriculture, are responsible for an estimated quarter of the global total.
One powerful tool that can ensure forests are a dependable ally in the fight against climate change is a program called REDD+ (Reducing Emissions from Deforestation and forest Degradation). It's one of the many points on the agenda of the upcoming international climate negotiations in Paris, but it's one to remember, because protecting forests is a critical part of the strategy to preserve a habitable Earth for future generations.
A global agreement that supports REDD+ can benefit forests by ensuring that there are clear policy and political signals to protect them. Given that the land use sector accounts for over half of the emissions for 58 countries, approaches that amplify action in this sector are urgently needed. Emissions from global forest destruction, in particular, need to be reduced as quickly as possible in order to avoid dangerous climate change. Just recently we've witnessed the damage in Indonesia, where between August and November forest and peatland fires emitted more greenhouse gases (GHG) than the entire Russian economy in 2015.
Investing in the carbon-absorbing capabilities of forests is one of most cost-effective ways to combat climate change, and, unlike some other approaches, keeping forests standing doesn't require additional technological development.
Policy alone, however, is not enough. Strong political signals must be accompanied by the sufficient finance -- particularly to developing countries -- to ensure that nations can reach the targets they've set. One reason REDD+ is such an attractive option is that it's ready to go - fully formed after a decade's worth of UN negotiations to design a system for delivering payments to tropical forest countries that keep their forests standing.
Not only do the sustainable land use practices encouraged by REDD+ help mitigate climate change; they can also improve livelihoods for rural populations in places like Ghana, where farmers are turning to environmentally friendly ways of cultivating cocoa trees. In the process, they're turning one of the country's leading causes of deforestation into a sustainable industry that is better adapted to withstand climate change.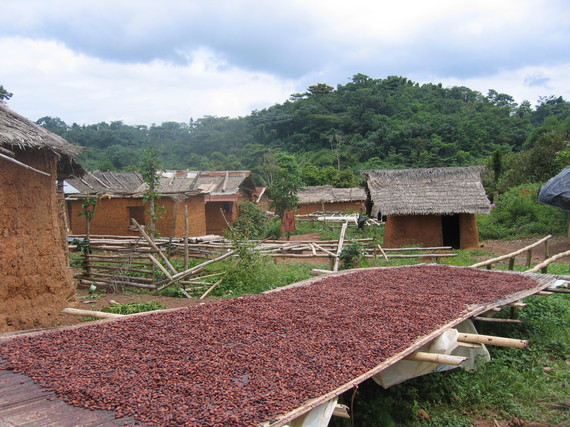 "Climate-Smart Cocoa" production can help curb deforestation and fight climate change in Ghana (Photo credit Rebecca Ashley-Asare)
Practices like rotating crops and growing cocoa under shade trees are more effective in the long-term, and by lowering emissions from deforestation, they open the door for farmers to profit from protecting forests. REDD+ finance is critical to making this kind of compensation possible.
Norway and other countries have helped kick-start this process by contributing large sums of public finance, particularly to Brazil, which has become the world's greatest success story in terms of reducing deforestation over the past decade.
But much more money is needed and the flow of these funds has to be guaranteed. A recent Forest Trends report shows that $10 billion has been pledged through 2015 at the global level -- $6 billion of which we are tracking closely via our REDDX initiative. That figure falls far short of the $20 billion a year we estimate is necessary to reduce global deforestation 50 percent.
Paris is not the end of the road -- it's only the beginning of action governments need to take. The fact remains that current climate pledges by over 150 countries are not enough to avoid dangerous climate change.
Strong initiatives in other areas will have to complement these regulatory actions. Although the private sector has made some investments in forest protection projects, explicitly including REDD+ in the Paris agreement will encourage more companies to help fill the gap between where we are and where we need to be to help developing countries better protect their forests.
Support from the private sector can also include conscientious action by both companies and consumers. Ensuring that the manufacture of consumer products does not lead to the destruction of forests is one area that shows great promise, as evidenced by recent findings from our Supply Change project. That potential remains largely untapped: Only about 8 percent of influential companies tracked by a new report have overarching "zero deforestation" policies in place. A strong signal from Paris will encourage more companies to follow in their footsteps rather than fall by the wayside.
Successfully addressing climate change through forest protection requires a three-pronged approach of climate and development policy set by governments; new sources of finance for climate mitigation and adaptation; and clear incentives for the private sector to invest in the low carbon economy of the future. A global deal in Paris can start that process, but it's up to all of us to see it through.
This post is part of a "What's Working: Protecting the Natural World" series produced by The Huffington Post, in conjunction with the U.N.'s 21st Conference of the Parties (COP21) in Paris (Nov. 30-Dec. 11), aka the climate-change conference. The series will put a spotlight on solutions-oriented efforts to fighting climate change and the implications for ecosystems on land and at sea. It is part of HuffPost's What's Working editorial initiative. To view the entire series, visit here.
Related
Popular in the Community