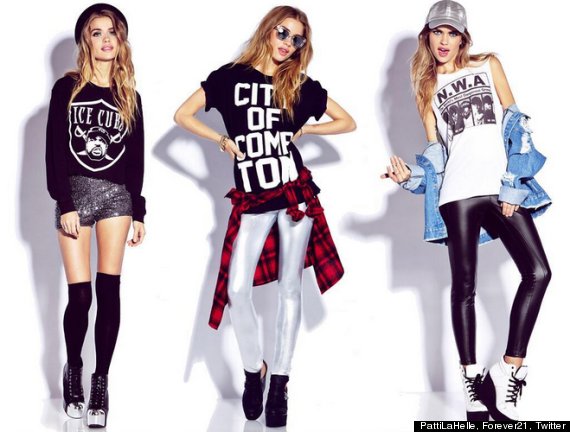 Sparks began to fly Thursday after the retailer tweeted, "New arrivals... straight outta Compton." The tweet was accompanied by the above photo of white models wearing the shirts emblazoned with logos that read, "Ice Cube," "City Of Compton" and "N.W.A.: The World's Most Dangerous Group."
The tweet was quickly deleted after some accused the company of cultural appropriation.
Forever 21. with Straight out of Compton? 99% of the ppl wearing that shit have never been to Compton and know nothing of it. I can't deal.

— Ⓜ. (@MylaKnowsBEST) September 25, 2013
And it seems Forever 21 has since yanked the shirts off of its retail site altogether. A quick google search for "Forever 21 Compton tee" leads to a page on the store's website that reads "We're sorry. This item is no longer available." The same thing happens if you search for "Forever 21 NWA tee."
Forever 21 did not respond to an email from the Huffington Post requesting comment.
Here's a sampling of some other Twitter reactions to the shirts: