The Gator in the Bay won't be the only cold-blooded attraction turning heads this Art Basel season. Galleria Ca` d'Oro and Cracking Art Group, the collective behind the pepto pink snails on Miami Beach in 2010, have adorned Miami's Freedom Tower with primary-colored resin creatures.
Installed Friday and running through December 9, the historic building will be covered with alligators, salamanders, and frogs as well as house 300 more critters inside for an exhibit called "Foreverglades."
The reptilian pieces, some measuring nearly 20 feet long, are the work of William Sweetlove, who has also infiltrated cities like Siracusa, Milan, Rome, Venice with his resin animals.
But due to the historic value of the Freedom Tower, the group's initial plans for the exterior exhibit had to be scaled down.
"The exterior of the building could not be impaled in any way, so the alligators are attached to the building through a series of vices," a spokesperson from Miami Dade College, which owns and operates the Freedom Tower, told HuffPost Miami. "The works were engineered to withstand the wind impact of the South Florida (series of holes to relieve wind pressure) and the Freedom Tower's location on Biscayne Bay."
Click below for more images from Foreverglades, the pink snails, as well as Cracking's projects in other cities.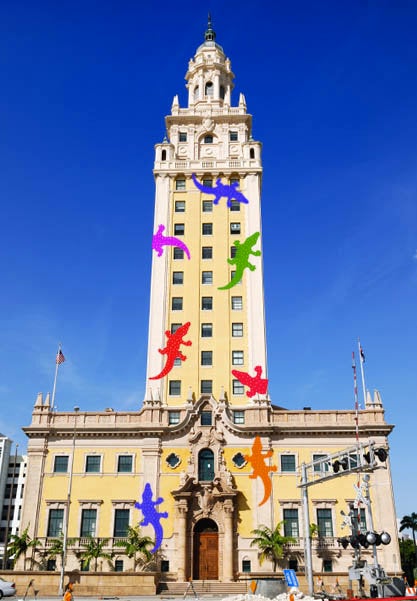 Foreverglades
Related
Popular in the Community