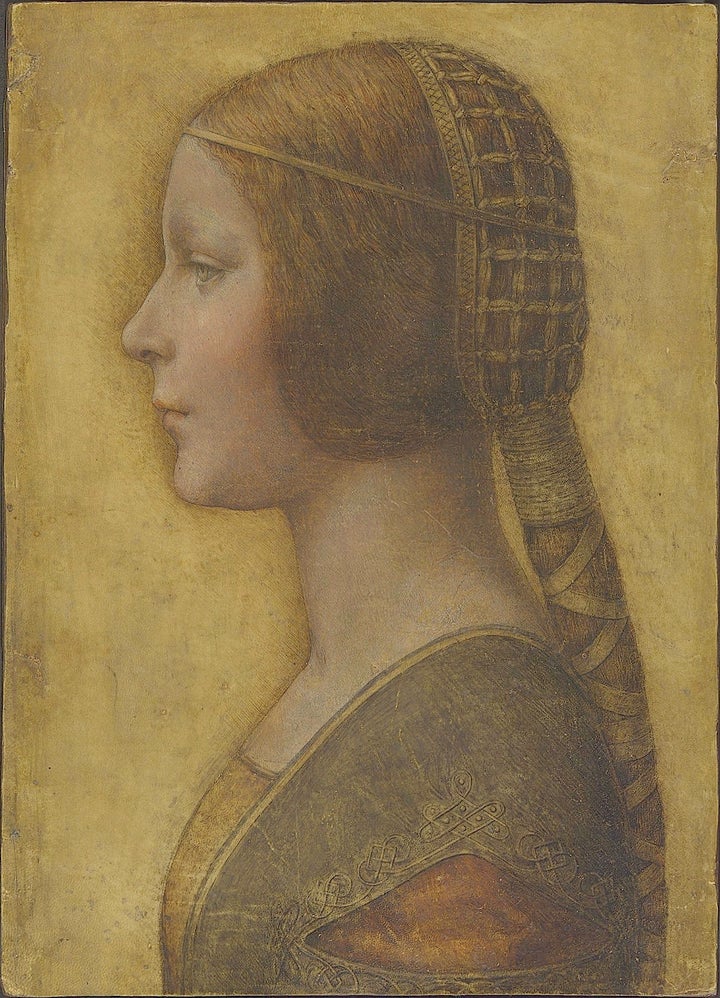 Until very recently, the image above, titled "La Bella Principessa," was known by amateur and expert art historians to be the work of 15th century master Leonardo -- you know, the one from Vinci. However, in his memoir A Forger's Tale, famed forger Shaun Greenhalgh claims the drawing, reportedly worth a cool $225,000, is his handiwork. 
According to Greenhalgh, the gold-tinged portrait is not a depiction of an enigmatic Renaissance beauty who looks better from her left side, but in fact, a woman named Sally who worked checkout at the local food co-op.
Prior to this unexpected revelation, the work was rumored to depict 13-year-old Bianca Sforza, the illegitimate daughter of Ludovico Sforza, the duke of Milan from 1494 to 1499. To achieve that authentic 15th century look, Greenhalgh claims to have repurposed a 1587 land deed to work as his vellum and a Victorian school desk as backing. And finally, he says he turned the image 90 degrees clockwise to mirror Leonardo da Vinci's left-handed style.
In 2007, Manchester-born Greenhalgh was sentenced to four years and eight months in prison for a series of his homemade fakes, including drawings, paintings and sculptures. His parents, George and Olive, who too were involved, were given suspended sentences. If he's telling the truth, Greenhalgh would have been only 17 years old at the time of Principessa's creation. 
The ink and chalk portrait first surfaced to the public in 1998 at Christie's. The work was introduced by Jeanne Marchig, who said that her husband Giannino owned it when they wed in 1955. The drawing then sold to a Canadian collector. It wasn't until 2008 that the portrait was identified as the work of Leonardo. Renaissance specialist Martin Kemp, of the University at Oxford, dated the image to 1495-96, and introduced the theory of Bianca as subject. 
Kemp is far from convinced that Greenhalgh's alleged ownership of the work is true. For one, if the work was owned by Giannino Marchig in 1955, Greenhalgh would not have been born yet. Furthermore, the chalk used in the drawing dates back to the pre-17th century. It's unlikely, of course, that a 17-year-old would know how to get his hands on such a medium.
To The Art Newspaper, he described the claim as "hilarious."
PHOTO GALLERY
30 Artist Names You Are Probably Pronouncing Wrong
Calling all HuffPost superfans!
Sign up for membership to become a founding member and help shape HuffPost's next chapter