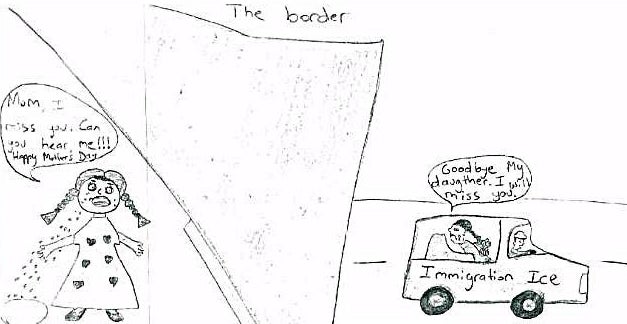 "If you're in this country illegally and you committed a crime by [virtue of] being in this country, you should be uncomfortable, you should look over your shoulder. You need to be worried. No population is off the table." ― Thomas D. Homan, Acting Director of Immigration and Customs Enforcement (ICE), House Appropriations Committee Hearing June 2017
In recent weeks, it has become increasingly clear that Trump's massive deportation machine is not targeting the "bad hombres." Instead, hard-working, long-term residents who pay taxes and have U.S. citizen children are in the crosshairs. Arrests of non-criminal undocumented immigrants increased by 150 percent between February and May 2017 compared to the same time a year ago.
Immigrants with old deportation orders who weren't priorities for removal under Obama as long as they checked in with ICE officials once a year are now at risk. Clients who just a few months ago appeared eligible for humanitarian relief or lawful status are suddenly vulnerable to detention and deportation, including victims of domestic violence and human trafficking who cooperated fully with law enforcement and have pending u-visa applications.
Meantime, 50,000 Haitians with Temporary Protected Status (TPS) were given six months to pack their bags and return to a country still reeling from devastating national disasters and an ongoing cholera epidemic. 300,000 Salvadorans, Hondurans and Nicaraguans who have lived and worked here legally for upwards of 20 years now also face losing their TPS status, and during a recent meeting between Hispanic Congressional Caucus members and DHS Secretary Kelly, members left fearing that even 800,000 DACA recipients could soon be facing a "death sentence."
While many persons working for ICE and CBP no doubt want to do the right thing, leadership is sending a troubling message to their troops. In February, the head of ICE Enforcement and Removal Operations (ERO) issued a memo advising his officers that they WILL—not may—arrest ALL undocumented immigrants they encounter. ICE's Acting Director subsequently boasted that the number of non-criminal arrests has gone "from zero to 100 under a new Administration."
Even immigrants granted protection by our courts are at the tip of Trump's spear. Those who have been granted withholding of removal by an Immigration judge due to clear probability of being persecuted if deported and literally fled for their lives are being told to quickly make arrangements to find a third country to take them in, even if they can only secure a temporary tourist visa to live elsewhere.
Most troubling, innocent children arriving alone at our border after fleeing murderous gangs in some of the most dangerous countries in the world are being used as bait to arrest undocumented relatives waiting to take them in. These family members, generally a parent, not only face detention and deportation, but criminal charges as "smugglers" if they helped facilitate their child's journey here in any way. And children no longer able to live with caring relatives while their immigration case is pending now face prolonged detention.
Since Trump took office, the number of immigrant arrests has risen by nearly 40 percent compared to the same time last year, with the sharpest increase among those with no criminal record. When our staff visit the local detention centers, beds are filled with long-term residents who own businesses, care for our children, mow our lawns, and pick our crops. Visitation rooms in our local detention centers are filled to capacity, as families tearfully say a last goodbye.
This Administration's massive deportation plan not only fails to prioritize criminals while demonizing hardworking immigrants, it adversely impacts our economy. The Social Security Administration estimates that undocumented immigrants paid $100 billion into the system over the past decade, without any expectation of collecting benefits, and they contribute an additional $12 billion annually in state and local taxes. Conversely, ending TPS for Haitians, Salvadorans and Hondurans would result in about $45 billion in lost GDP over a decade, according to the U.S. Department of Commerce's Census Bureau.
The extent to which President Trump is ruthlessly targeting vulnerable immigrants who are easy prey is not only heartless, it is cowardly. Most importantly, it is not making anyone safer. We are less safe because we are spending precious resources tearing families apart rather than targeting those who truly intend to do us harm.
Support HuffPost
The Stakes Have Never Been Higher
Popular in the Community