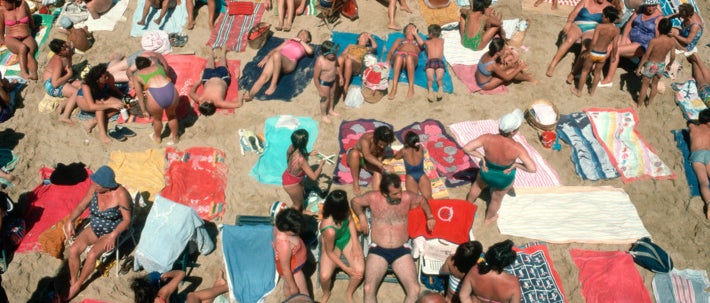 It is late afternoon on a sunny day in Vermont and around a dozen people are gathered to talk about their bodies. They're all staying at Green Mountain at Fox Run, a retreat where women (and only women) stay from one week to several months to learn healthy eating habits and make peace with their bodies. It's much more bare bones than a spa, and rather than focus on numbers, like a typical weight-loss program, the aim is to teach women how to change the way they think about food. The days are structured, with classes on meal planning, goal setting, self-care, and workouts like yoga and strength training. Even meals are to be eaten mindfully, with a weekly exercise that involves savoring every bite of a tiny dessert.
That journey to peace is a lot easier said than done, as the group, who range from college age to their 40s, is learning in the Body Neutrality workshop, led by the program director Anne Poirier, BS, CSCS, CIEC, whose previous job was running the fitness program at Colby-Sawyer College. She has prompted everyone to consider "what your body felt like and looked like at different times in your life" and they're all jotting notes down in a binder with Green Mountain's "womanifesto" printed on it ("too often, our lives play out on the stage between our ears"). A blonde in her 30s talks about being a former competitive swimmer who feels shame because she gained weight; a brunette next to her talks about how, despite losing half her body weight in college, she always feels obese.
Poirier listens to all of this and nods. "There's a whole movement talking about loving our bodies. But it's kind of a long jump to move there from dissatisfaction," she says. "Some people are just going to land in body neutrality, which is the term we utilize here for somewhere in the middle." It's a kind of détente, a white flag, a way station between hating oneself and loving oneself.
If we judged how we felt as a culture about our bodies just by Instagram alone, the results would be mixed at best. There are the celebrities shilling sketchy tea detoxes, all the sweaty post-workout selfies our friends post, and countless pretty, proportionate girls in an array of sizes posing in bikinis encouraging all of us, no matter our weight, to embrace our curves, to shun diets, to just love our bodies — and, by extension, ourselves —already.
"My problem with body love, beside the fact that it's a high standard, is it's asking women to regulate their emotions, not just their bodies," says Autumn Whitefield-Madrano, author of Face Value: The Hidden Ways Beauty Shapes Women's Lives. "I don't see the pressure on women really easing up, and then you're supposed to have this bulletproof self-esteem on top of all that. It's not something we can really live up to. Body love keeps the focus on the body. The times I'm happiest are when I'm not thinking about my body at all."
The way that we feel about our bodies, she notes, is not a simple upward graph where one day we vow to love ourselves and each day we progress forward on the journey to embracing our thighs that touch or total lack of six-pack abs. "It's a topographical map, it's fluctuating. And that's normal and healthy."
Another thing that's unavoidable: feeling less than unqualified joy about what you see in the mirror. "If you're even a tiny bit of a critical person, there are always things that are wrong with everything. We have this notion of love that is connected to perfectionism — the image that we should be in bliss all the time is so strong in our culture," says Joan Chrisler, Ph.D., a professor of psychology at Connecticut College in New London. What might instead be a more successful and realistic approach is to think, "You have the body you have and accept what you have. It's an essential part of yourself." At least it's something to work toward.
"I don't think I know anybody who walks around every day thinking, 'I am loving this today,'" says Kelsey Miller with a laugh. She's the 29-year-old New York–based author of the memoir Big Girl: How I Gave Up Dieting and Got a Life. Perhaps ironically, while she was writing the book about learning to love her body, she was working around the clock, barely having time to exercise and living on takeout by necessity. "I put on weight. I was thinking, here I am supposed to be body positive but I don't feel psyched about this right now."
She vowed not to let it ruin her life, nor her sense of accomplishment at finishing a book, even if she wasn't her most satisfied. Part of the implicit goal of body neutrality is to free up all the energy and attention that women often devote to body angst so that they can care about other matters instead. "I realized my body is going along with my life, and there's nothing wrong with that — I hadn't committed a terrible crime. If I can't like this, I have to be able to accept it, otherwise I'm not going to live my life." One thing she committed to was to stay resolutely in the present, with no place for magical thinking about losing ten pounds in a week. In the weeks that followed, she didn't go on a crash diet or start weighing herself religiously to mark her progress, but instead simply let her life return to normal. Miller went to barre classes and "remembered what a joy it was to make my own damn breakfast," she laughs. "I don't weigh myself but I know I've lost some weight. My message to my body was, thanks for getting me through this and not breaking down, and now I can devote time to doing what makes you feel good: sweating, eating homemade food, going to sleep."
Wanting to be fit isn't antithetical to body neutrality, nor is dieting. "But it's a tricky balance," says Elena Ramirez, Ph.D., a clinical assistant professor of psychology at the University of Vermont in Burlington. "It's reasonable, if someone is overweight, that they should lose weight. It's all about moderation and being grounded in reality instead of avoiding the issue." Body neutrality isn't a license to throw in the towel, dive head-first into a pile of chips, and give up on feeling healthy, but to move on from the mindset of needing to lose weight or worrying about what you see in the mirror to focusing on how you feel. "It doesn't mean suddenly stopping things like being physically active or choosing nutritious foods. Just focus on what feels good: dancing, bike rides, going on a walk, eating more vegetables, meditating, taking a bubble bath, getting a massage," says Chrisler. "Sometimes you'll lose weight without trying. The important part is not delaying your happiness until then and remind yourself not to be so demanding."
Thirty-one-year-old Mara Glatzel is a life coach in Cape Cod who helps women come to terms with their bodies. But she wasn't always in such a good place. In fact, she uses the words "damaged" and "difficult" to describe her relationship with her body. "I was just constantly creating plans — diets, workouts — which all had to do with how I looked to somebody else," she says. So instead of jumping straight from a place of loathing to love, she shifted her focus to "things I was overlooking. I picked one or two things to focus on, really simple ones like brushing my teeth and making sure I washed my face before bed or drinking enough water," she says. " But it worked because I tried to turn down the volume of what I think about. Now I take good care of myself." For some of us, that's enough of a breakthrough right there.
Try thinking about your body the way you think about friends and family, says Ann Kearney-Cooke, Ph.D., director of the Cincinnati Psychotherapy Institute. "The way I like to look at this is, think about your best friend. Is she perfect? Well, no. Are you mean to her because she's not?" she says. "There is nobody out there who is a perfect ten emotionally or physically and yet people fall in love with people all the time. Look at your partner and you might say, 'Well, he has a receding hairline but is funny and loyal and has beautiful eyes.'"
Working on neutrality — and it is an ever-evolving process — is ultimately about how you want to allocate your time and focus. "Neutrality is the freedom to go about your day without such a strong focus on your body," says Kearney-Cooke. "We have only so much energy, where do we want to use it? There are lots of other things that need attention. You don't want to neglect your body, so you listen to it, and are aware of the function it serves."
Melissa A. Fabello, a 31-year-old Ph.D. candidate in Philadelphia, wrote a blog post on body neutrality in 2015 (the term seems to have been popping up on the internet for the past few years, but Green Mountain applied to trademark it last year) that sums up how it can be both a joy and a relief for those of us who have previously felt only body turmoil. Body neutrality is "going to the Cheesecake Factory and perusing their 'Skinnylicious' (ugh, I hate that name) menu just because you want more options to choose from," she wrote. "It's ordering S'mores cheesecake because it strikes you as sounding amazing. It's only eating half of it because that's when you get full. It's taking it home for later, in case you need a midnight snack."
Talking on the phone, Fabello said just the idea that a kind of peace with our bodies is possible is important. "I'm in a place where I can order pizza without a problem and not feel bad about myself all the time." But that was not always the case. As a conventionally attractive, relatively thin woman, she had a positive body image growing up. Then, she gained a lot of weight for her frame — around 25 pounds — when she went to college. In her early 20s, she was in an emotionally abusive relationship with a man who would tell her she was fat and needed to go to the gym. After he broke up with her, "I thought, well I'll show him," she says. "I went on the first serious diet of my life, spiraled out of control and was diagnosed with an eating disorder. After that I had to do some work to get to a place where I felt okay about myself."
One thing she does is recognize that negative thoughts about her body are a pattern, one she doesn't have to just succumb to. "We spiral and make up stories about how bad they are. I don't have to place a value on it," she says. "So if I think, I don't like my thighs, I will think about my thighs in terms of how they actually are. What are the things I need my thighs for? They hold me up, I can walk, I can bend down. It sounds trite, but we lose sight that our bodies are to help us move through the world."
Back in Vermont at Green Mountain, Anne Poirier sits down after teaching and talks about her personal history. "My journey is yo-yo dieting, diet after diet, and never happy with my body. I'm tired and I don't like how much it has occupied my whole life." She calls all the space food talk takes up in her brain "Judge Foodie."
When asked about whether she has gotten to body acceptance, she shakes her head no. "I honor and respect my body. I like feeling strong, certain things I like, but I can't say I love it." Instead of sounding like a failure, the revelation that she's making her way through the spectrum of body hate to body love and falls somewhere in the middle makes it sound more real and more achievable. "Body neutrality is experiential and not something that happens overnight," says Poirier. "It's one awareness at a time, one thought at a time."
Calling all HuffPost superfans!
Sign up for membership to become a founding member and help shape HuffPost's next chapter
BEFORE YOU GO