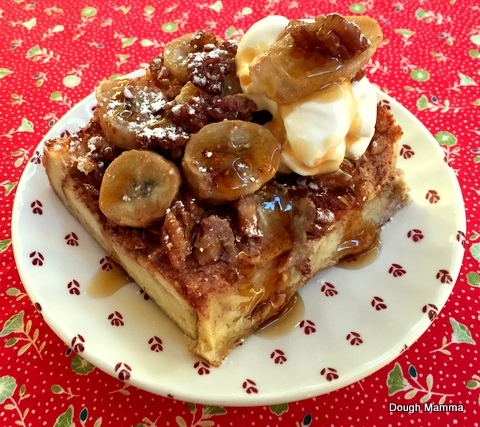 "Forget 'Bout It" French Toast is an ideal recipe for those without a lot of time but have plenty of mouths to feed. You simply mix your ingredients, place your casserole dish in the refrigerator overnight, put it in the oven in the morning and voila, your "forget 'bout it" french toast is ready to devour.
The movie "Donnie Brasco" (NSFW) defines "forget 'bout it" perfectly. It's a close equivalent to the Southerner's "bless their hearts" sentiment. It's been a "forget 'bout it" couple of weeks in the Reynolds' household. From our everyday craziness of having a baby, to preparing our move to Colorado, to deciding to take my son out if his school last minute because of an unresolved bullying issue... "forget 'bout it," has recently become our family motto.
Instead of 2016 being the year of "yes," I'm more inclined to declare it the year of "forget about it." "Forget about it," exudes a kind of confidence that implies, one not only has things handled, they have perspective to know things always work out as they should.
From our kitchen to yours, here is wishing you all a Happy New Year and a "forget 'bout it" spirit for those ebbs and flows in life.
Enjoy!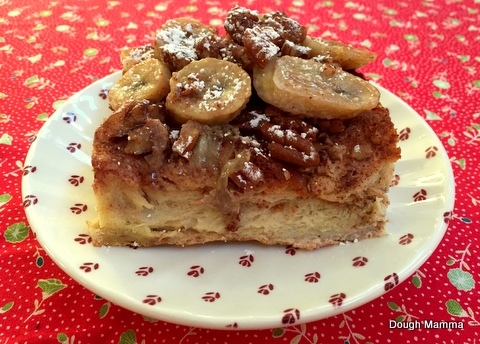 Title: Forget-Bout-It French Toast
Author: Dough Mamma
Prep time: 25 mins
Cook time: 35 mins
Total time: 1 hour
Serves: 8
Notes: If your french toast begins to brown, loosely cover with tinfoil to keep from burning. Don't forget to add your bananas and pecans during the last 15 minutes of baking time.
Ingredients
French Toast
1 large loaf of Challah bread
10 large eggs
2 cups of half-n-half
1 cup of milk
2 tsp of vanilla bean paste or extract
2 tsp of cinnamon
½ tsp of nutmeg
pinch of salt
Banana Topping
4 large bananas
2-3 Tbsp of butter
3 Tbsp of brown sugar
3 Tbsp of rum *optional
Pecan Topping
1 cup of chopped pecans
3 Tbsp of Brown Sugar
1 tsp of cinnamon
¼ tsp of nutmeg
4 tbsp of butter
Instructions
Lightly butter a casserole dish. Slice bread into ¼ inch portions and lay in casserole dish.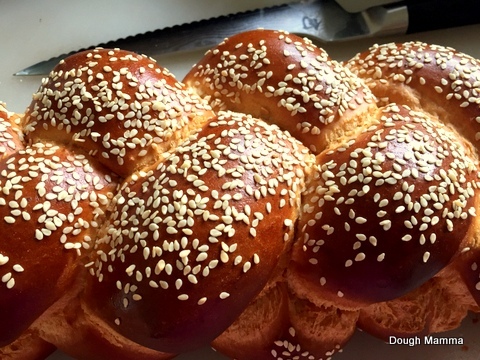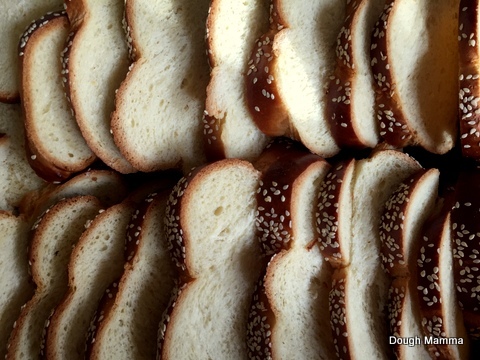 In a large bowl, whisk your eggs, half-n-half, milk, vanilla and spices. Mix well. Carefully pour liquid mixture over bread, making sure to get liquid in between slices.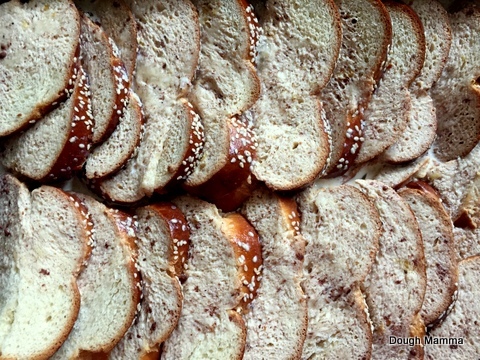 Cover with tinfoil and leave in refrigerator overnight. Most of the liquid will be absorbed by the bread by morning.
Banana Topping
Slice bananas and put aside while saute pan heats up over medium-medium/high heat. Add 2-3 Tbsp of butter and swirl in pan to coat evenly. Once pan is hot and butter is melted, add your bananas. If using Rum, remove pan from flame, add rum and return pan to flame. Sprinkle tops with 1½ Tbsp of brown sugar. Cook on one side for about 4 minutes, or until golden brown. Flip bananas over, sprinkle the remainder of the brown sugar and cook until golden brown, about 3 minutes. Remove from heat and set aside.

Pecan Topping
Chop pecans into small pieces. In a small bowl, mix together the pecans, sugar and spices. Add the butter and mix again.
Heat oven to 350 F. Remove the tinfoil from the casserole and bake for about 35 minutes. For the last 15 minutes, remove the casserole dish from the oven, spoon your pecan mixture evenly over bread and then spread your banana mixture. Cook for the last 15 minutes. Don't forget to check the tops of your casserole, see notes. Cut and serve while warm. Top with whipped cream, powdered sugar and maple syrup.