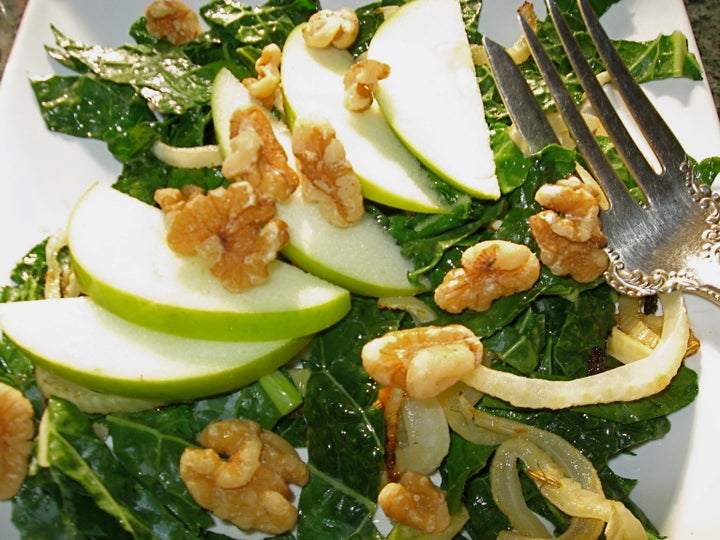 When people find out you're a food editor, they immediately bombard you with questions about your favorite places to eat and if you even think about grabbing a last-minute gift at Vons or Safeway, en route to a dinner party, you're in for some raised brows. While people's projections of how you live -- on caviar and foie gras -- are as far-fetched as the idea of Walter White's character in Breaking Bad cooking meth, there's still a lot of pressure when hosting dinner or, worse, planning a wedding. And it all revolves around food.
While I used to make fun of brides for obsessing over the wrong thing -- a perfect dress, bridesmaids, to emboss or not to emboss the invitation -- when my husband dropped the Big Q, I cried, smiled and then immediately began to plan the menu in my head. I had just launched BlackboardEats and on top of startup pressures, I now had a new topic to keep me up at night. Rather than stressing over guest lists and makeup, I cooked up every image of what could go wrong with the food. When a friend, Matt, a producer for Top Chef, called to congratulate me, his first question was: "What's on the menu?"
He wasn't alone. Other friends added gratuitous insult to my injury with comments like, "I bet the food is going to be amazing," which gave me anxiety knots the size of meatballs. Visions of raw halibut steaks and crab meat gone wrong kept me up at night, along with the worry of plates served from the right and cleared from the left, forgotten table settings. You name it, I worried about it.
My husband thought I was turning into Foodzilla. He would have preferred we talk about my menstrual cycle. "Let's do burgers and margaritas with red-checkered table cloths," he said. I thought that sounded cool and in the spirit of preparing for what marriage might actually be like, I turned things over to him. Then I called my father, who was hosting the thing in his backyard. He cut me off right away and said, "Just so you know, red-checkered table cloth screams T.G.I. Fridays." Next, we settled on a proper lobster bake, but my soon-to-be mother-in-law was concerned about the Kosher issue. Oy vey. It was back to the drawing board.
Twenty hours of Googling "gourmet catering" yielded one painful celebrity chef conversation and I started to have fantasies of serving my guests take-out Chinese. A glass (or two) of wine later, I went online to NY Mag Weddings and, like a knight in shining organic packaging, I found my savior in Mary Cleaver, of the Cleaver Co., an Earth Mother, no, a real goddess, in a sea of used-car salesmen. She suggested the perfect menu as casually as if commenting on the weather. I made only one change: No gravlax. Granted, I love my cured salmon, but let's face it, not everyone would welcome it as their entree.
On the day of, my train broke, I couldn't take complete breaths; my dress was too tight. My makeup was laid on thicker than a drag queen's, and my "wedding planner," (aka my mother's best friend) cued my father and I down the aisle immediately after the groom with no romantic delay/anticipation. Later, the groom jumped into the pool and lost his wedding ring (yes, the one I gave him) and I was 99 percent sure one of my best friends was in the woods during my entire wedding with her clothes off.
The night didn't go off without a hitch, but it was a great wedding, a blast, actually, but that's not the point. The point is that we get in our own pre-wedding way. Whether it's about the food, the diet, the design, whatever your obsession may be. But your anxiety is never about the arbitrary thing you cling to. It's about that deep pit in all of our tummies, the fear of walking into a chapter that will forever change your life, the thought of "you," becoming "we."
It's a scary thing because it's a very serious thing, no doubt, and it's a lot easier to transfer the focus on the mini dogs. But if you're walking into the light for the right reasons (not for money, power or just looks) but something deeper, odds are with you that this could be -- as they said in great 80's movies -- "This could be real."
Oh, and the food was damn good.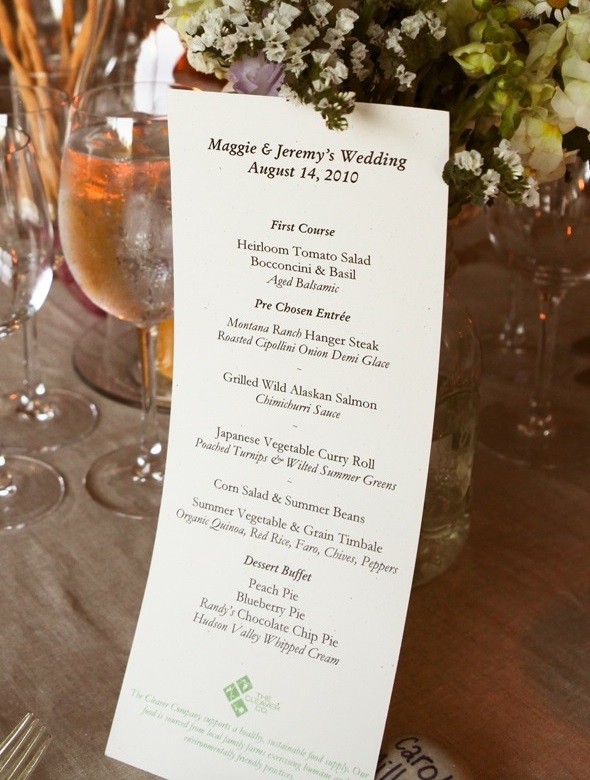 Passed Hors d' Oeuvres

Mini Maine Lobster Rolls on Handmade Brioche Buns

Aleppo and Coriander Crusted Tuna on Hudson Valley Potato Chip with Grated Daikon

Mini Organic Grilled Cheese Sandwiches with Pickled Onions & Fig Marmalade

Niman Ranch Lamb & Feta Burgers on House Made Buns with Tzatziki

Tuscan Marinated Chicken Skewers

On the Tables
House-Pickled Local Vegetables
First Course

Heirloom Tomato Salad with Bocconcini & Basil

Entrees
Montana Ranch Hangar Steak with Roasted Cipollini Onion Demi Glace
Grilled Wild Alaskan Salmon with Chimichurri Sauce
Japanese Vegetable Curry Roll With Poached Hakurei Turnips & Wilted Summer Greens

Family Style Sides
Corn Salad with White & Summer Beans

Summer Vegetable Grain Salad

Organic Quinoa, Red Rice, Faro

Dessert
Lemon Cupcakes with Buttermilk Glaze

Orange Cardamom with Rose Pistachio Cream

Chocolate Triangles with Dark Chocolate Drizzle

Lavender Shortbread