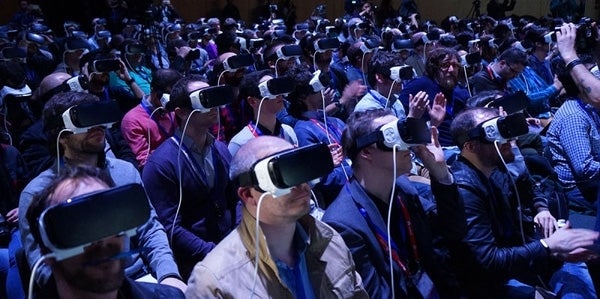 It's been nearly one year since Pokemon Go launched, and the headlines are still rolling in. Whether you're sick of hearing about the 90's inspired mobile game or you're out there catching 'em all, it's the most widely used and talked about application of augmented reality (AR) to date. Pokemon Go has made it easier to explain AR and virtual reality (VR) to the masses, but it's also made it difficult to position these technologies as the truly powerful tools that they are. While Snapchat's AR lenses are widely used and Facebook's new VR chat environment is considered cutting edge, there's so much more to AR and VR than providing a "cool factor" for consumers to play around with.
In the coming years, AR and VR experiences will redefine how consumers interact and engage with each other. We've seen similar shifts happen before (take the introduction of social media, for example), and it's important that brands stay on top of these trends so that they can speak to customers wherever they are. Brands need to look beyond the flashy superimposed cartoon characters to leverage AR and VR for what matters most: immersive and memorable experiences. The ROI for businesses who adopt early could be huge.
So forget everything you think you know about AR and VR. Here's how companies should start leveraging this increasingly popular technology to transform customer experiences:
Supplement In-Store Experiences
With the rise of e-commerce, brick-and-mortar retailers are often looking for new ways to entice customers to stop by and shop in-store. While flashy attractions (like rock walls) or creatively designed spaces might increase traffic at first, the appeal is likely to wear off after the first or second visit. Instead of stunts that don't last, consider leveraging AR and VR to supplement experiences in a valuable way.
For example, home improvement store Lowe's is testing a "Holoroom How-To" center that allows customers to participate in a step-by-step tutorial for their next project. Using the HTC Vive VR headset, users can virtually act out home improvement projects, such as retiling a bathroom so they know what to expect when they try it at home.
The key to success? Make the AR and VR experiences meaningful and relevant to your brand. Your customers don't need an AR-powered mobile game to help them navigate your aisles. But if you're a home improvement retailer, they appreciate visualizing how a new sofa would look in their living room or imagining how their walls might look painted a different color.
Empower Customers to Buy Exactly What They Want
With AR and VR becoming increasingly more popular, consumers are starting to foot the bill for their own headsets. An estimated four in ten US adults will own some form of VR headset by 2020. That means brands don't need customers to be in-store to provide AR or VR powered experiences — shopping can be brought to life without ever leaving the comfort of home.
Many customers like to get up close and personal with products before they make a purchase, but it's an intimacy that has been lost with the emergence of ecommerce. What if you could let consumers interact with that product virtually? Good news: you can. With AR technology, you can superimpose a pair of glasses directly onto the customer's face. Meanwhile, VR allows users to engage with products and explore them more closely. For example, Expedia is working on VR-powered hotel tours where users can open doors, step out onto the balcony of their virtual room and ride the elevator down to the lobby. With AR and VR tools, gone are the days of returning and second guessing recent purchases.
Test Your Product Pipeline Before You Invest
Beyond providing innovative customer experiences, brands can leverage AR and VR to better understand customer wants and needs. Consider using this technology to beta test products with your target demographic. Producing a virtual rendering of your next product is far more affordable than investing in a prototype that may never see the light of day. Use this technology to test out new creations without worrying about ROI.
Establish a Two-Way Dialogue with Customers
Phone calls, emails, texts and tweets are quick and easy ways to communicate with customers. But these methods can often feel rehearsed and impersonal. With AR and VR technologies, you can open up a new line of communication — one that is still convenient and fast paced, but also puts a name and face to your brand for more personal interactions. Take it from tech giant Mark Zuckerberg: "One of the most powerful side effects of VR is empathy — the ability to understand other people better when you feel like you're actually with them." Using this sort of technology to power customer support centers allows you to engage with customers more authentically. With AR and VR, your customers can virtually walk the halls of your store. They can have a customer service agent "in their house," to virtually troubleshoot a product and provide technical support. They can read visual, emotional and physical cues when they communicate with real agents via AR or via virtual agents and bots who have a physical presence and facial expression. In the not too distant future we will be entering a brave new world of communication, connection and customer experience.
With AR and VR, the possibilities are endless. It's time we take this technology beyond fun and games for real, meaningful interactions and experiences. New technologies often go through four adoption stages: 1 ) demonstration 2) temporary distraction 3) persistent entertainment media 4) practical utility with mainstream business and consumer uses. Pokemon Go may be a stage 2 passing distraction, but the technology that powers it is here to stay. In the next couple of years, look for VR immersive movies and entertainment, then the adoption of the technology as a vital way to communicate and collaborate across time and space. It will happen faster than you think. Are you ready?
Popular in the Community