The real Honolulu is a thriving city and a true melting pot of eastern and western cultures. With creative cross-cultural food and drinks, a newly thriving art scene, and bustling farmers markets, Honolulu feels like all the best parts of Tokyo, Portland, Oregon, and Brooklyn, rolled into one.
Below, some of the ways you can escape Waikiki and become acquainted with the real Honolulu.
Step away from the tropical tiki drinks.
A carefully crafted mai tai is a wonderful thing, but Hawaii's cocktail circuit doesn't stop at tropical. Bevy, in the up-and-coming Kaka'ako neighborhood, and Chinatown's The Manifest both serve up a mean craft cocktail -- no paper umbrella included. If you're more of a beer drinker, head to BREW'd in Kaimuki for a massive, ever-changing selection.
Give local ingredients some love.
Up-and-coming Oahu restaurants embrace Hawaii's unique ingredients in their food. Beloved brunch spot Koko Head Cafe and Vietnamese-fusion favorite The Pig and the Lady are creating brilliant dishes using classic Hawaii flavors -- dishes like Breakfast Bibimbap and Kiawe Grilled Pork Jowl -- and locals are welcoming them with open arms (and mouths).
Keep it fresh at the busy farmers markets.
Not only do Honolulu's farmers markets have the freshest local produce on the island, they also offer local jams, honeys, and coffee. Head to the KCC farmers market on Saturday mornings for fried green tomatoes and Maui onion, technicolor selections of orchids, and Big Island abalone -- a must-try marine mollusk.
Save room for dessert.
There are some things that just define Honolulu for locals, and most of them are sweet. Track down classics like Kamehameha Bakery's poi malasadas (vibrant purple taro-flavored Portuguese donuts), Monsarrat Ave shave ice (superfine ice shavings doused in sweet local syrups), and Liliha Bakery's famous coco puffs (buttery puff pastries filled with creamy chocolate pudding). Trust us, they're worth it.
Be inspired and challenged by Oahu's art scene.
Honolulu's art scene has been picking up steam as of late, with POW! WOW! Hawaii's street art covering the walls of Kaka'ako and art-based events becoming more frequent throughout the city. The Honolulu Museum of Art's monthly "ARTafterDARK" event and "First Fridays" in Chinatown are great opportunities to meet young locals and experience Honolulu's innovative art scene firsthand.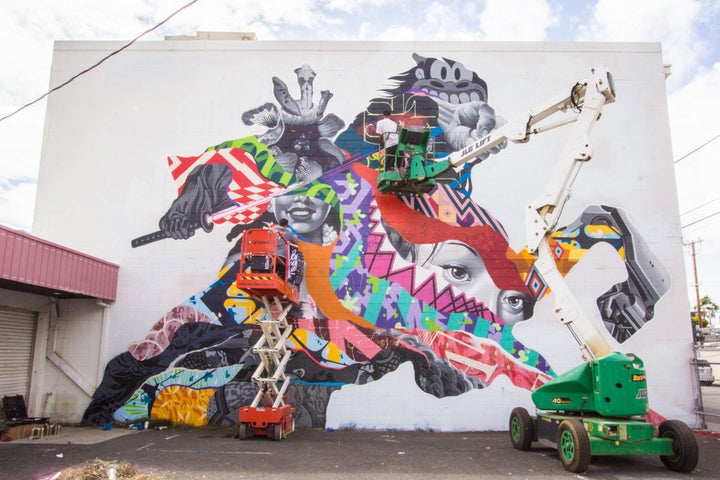 Bring home authentic souvenirs.
Put down the spring-loaded hula girl and nobody gets hurt. Bringing home a true taste of Hawaii is no easy task when you're surrounded by kitsch stores, but it can be done. Pick up a vintage aloha shirt at Bailey's in Kapahulu, which boasts the world's largest selection of aloha shirts. In Chinatown, boutique Roberta Oaks offers more modern aloha wear, and adorable shops like Homecoming Honolulu and Barrio Vintage are right nearby. If it's snacks you want to take home, find a crack seed store (there's a great one in Kaimuki) and load up on local candies, dried fruit, and li hing mui.
Watch the sunset from above.
Tantalus lookout, with its panoramic views of Honolulu, makes a great spot to set up a picnic and watch the sunset from above. You'll see the entire city and experience a quieter side of Honolulu. If you want a spot closer to the water, head to China Walls in Hawaii Kai for a different view of the city and the sunset. Just keep your distance from the rocky ledge; the waves can be unpredictable and powerful.