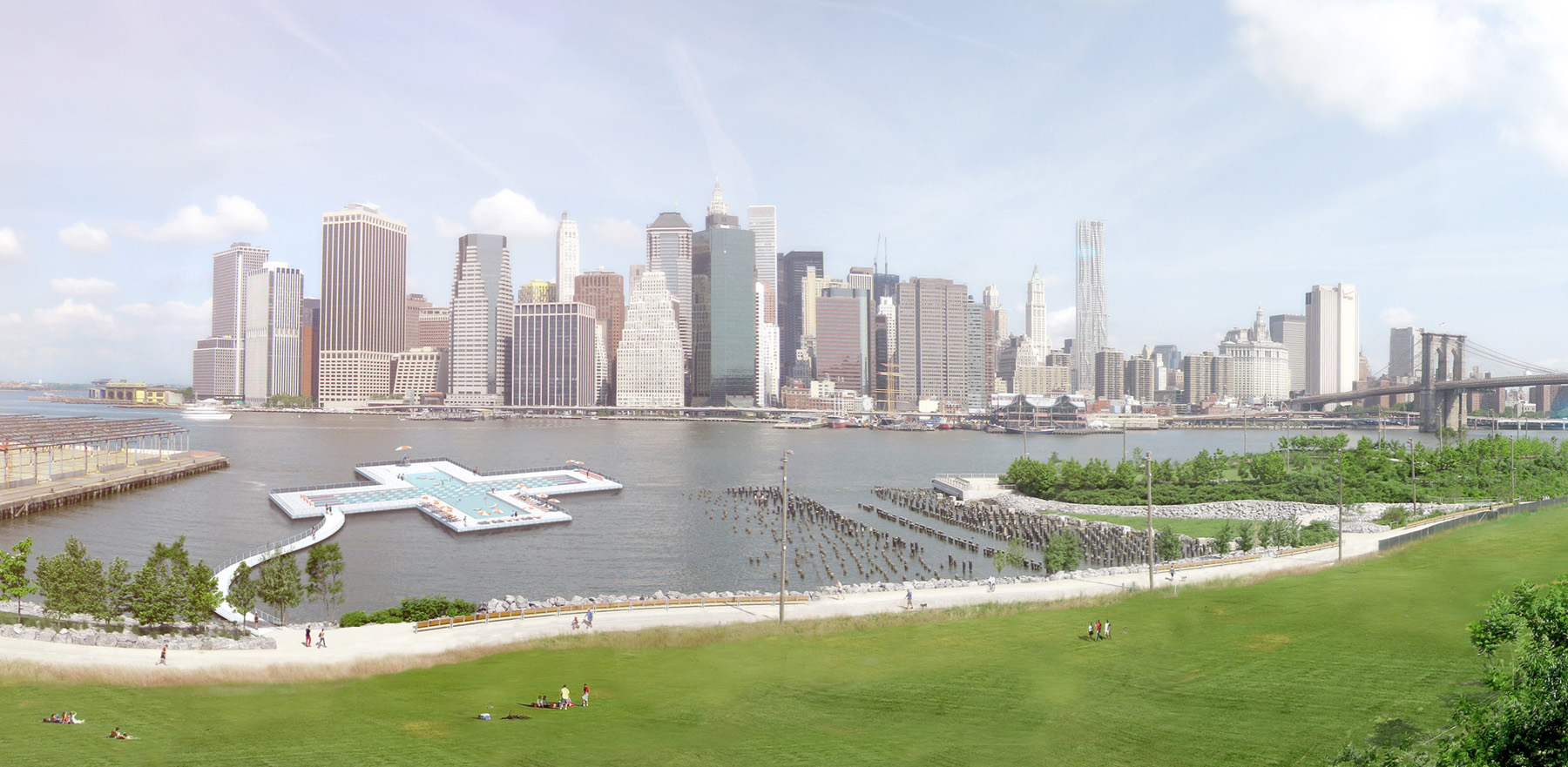 + Pool is designed to filter river water through its walls "like a giant strainer dropped into the river." SEE MORE PHOTOS>>
Originally published on Turnstylenews.com, a digital information service surfacing emerging stories in news, entertainment, art and culture; powered by award-winning journalists.
It's time to consider diving into the city's abundant waterways. Just ignore the grease, oil, algae, bacteria, and small rodents clogging the water. You're a New Yorker, after all.
Or, you could just wait for the +Pool. It's the grand vision of three young designers: nine thousand square feet of pool with four distinct "arms" that would float in, and be filled by, New York river water. These "arms," which would form the pool's plus shape, would offer something for everyone: a Children's Pool, a Sports Pool, a Lap Pool and Lounge Pool. Or the pool could be opened up completely, to accommodate "all the humanity," as my family would say.
The designers, Archie Lee Coates IV and Jeffrey Franklin of PlayLab and Dong-Ping Wong of Family Architects, dreamed up the pool last summer, and very quickly, drew the interest of engineering firm Arup, which donated funds for feasibility research. Coates said his group views the +Pool as a social initiative, designed for the "market" of the New York City public. "The most fundamental component of the project is its new type of filtration technology, which is an incredible product design project in itself, and with the potential for impacting water cleanliness throughout the world."
That technology is the centerpiece of their current Kickstarter fundraising drive, which ends this Friday.The initial campaign target was $25,000 to test the Primary Filtration Layer, a geotextile that would restrain all the most repellent gunk from the pool. But they reached that in a short six days. They decided to push on to the next level, hoping to reach $50,000 and be able to test the secondary layer as well. When the project eventually raises $500,000, the designers will be able to build a mockup of a piece of the pool, undertake a permitting process, and begin fundraising for the significant cost of building the real thing—which they expect could reach $5 million.
We chatted by email about the inspiration behind the project; read more about it below, and check out their Kickstarter page for more details.
Turnstyle: This is obviously a project that resonates with people profoundly. Last summer, there was prodigious coverage of the pop-up pools that appeared on rooftops around the city - many were exclusive. Can you talk about whether those influenced this idea of a pool with a significantly different approach to access?
Archie Lee Coates IV: What was great about the rooftop and dumpster pools was their resourcefulness, and the fact that they made people think of both pools and community interaction in a new way. With + Pool, we were less interested in reusing something physical and man-made, and more interested in reusing something natural and abundant: the water. The pop-up pools helped reignite an interest in pools in this city, but because of their exclusivity, it wasn't available for the general public to experience. We want + Pool to be a place for all New Yorkers, and for everyone. It's called + Pool because it's as much about the inclusivity of it as it is about the water. + Pool can help make the city and the water better.
TS: One of the best parts of is the four arms that would serve different populations. Why form it in the shape of a plus, rather than, say, four parallel areas?
ACL: The plus shape encourages interaction. It makes it easier to visually understand that there are four different areas - potentially all separate in one instance, or opened to a giant lap lane in another. This could have been done with parallel pools, but there is something very friendly and familiar about the plus, and naturally iconic in a way.
TS: Do you remember the first pool you ever swam in? Where, and what was it like?
ACL: My dad built almost every one of the houses that I lived in growing up. It was his thing, and starting around four years old, we always had a pool. We lived in Virginia Beach, so we had a natural affinity for the water, and being around it, but my dad absolutely had to see it all the time. It made him feel calm, and it does the same for me. A pool is amazing, because it allows you to focus on the immediate space around you, and the people you're with, so memories are often stronger in a pool.
Jeffrey: I grew up a few blocks away from my town's public pool. I had my first dip there and spent many summers either in or around it. My parents would bring me there on weekends and when I was old enough, I took the lessons offered by the Parks Department to learned how to swim there, too. A pool always meant time with friends, begging to not get out, unless it was for a fast break to the concession stand.
Dong: In truth, I was never much of a pool kid. I grew up surfing so I always had a hard time in stagnant and artificial waters. It's kinda weird I suppose that I feel less dirty when I get out of the ocean than I do when I get out of a chlorinated swimming pool. Having said that, I'm pretty sure the first pool I was ever in was a neighbors pool. My friend and I would sneak over the backyard fence to jump in then run away and hide in the canyon behind their house. The neighbor also had a motorcycle, so between that and the pool (which was used for alot of parties), he was the coolest guy I'd ever met.
Related