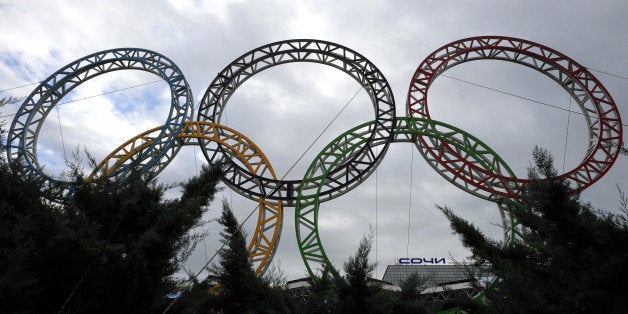 Harry Potter's Cloak of Invisibility. The Fantastic Four's Invisible Woman. In comics and fantasy, invisibility is an important superpower, one that may soon exist in the real world. For lesbians, gays, bisexuals, and transgender persons (LGBT), however, visibility is the more potent superpower. President Obama's selection of openly gay athletes as part of the U.S. Olympic delegation to Sochi, Russia -- in apparent protest of Russia's anti-gay laws -- is one demonstration of this power. Aside from protest, the visibility of LGBT persons makes us familiar and more difficult to demonize as some unknown, scary "other." Instead, we are familiar faces on TV, or colleagues, or sisters, brothers, sons, or daughters.

The power of visibility has unique force in sports where, particularly for gay men, the stereotype is that gays are unathletic. When coupled with the prominence that sports plays in American culture, visible LGBT athletes (and even straight allies) can help change minds. People, particularly children, mirror their behavior based on the acts of professional athletes. As the Supreme Court brief joined by NFL players Chris Kluwe, Brendon Ayanbadejo, and Scott Fujita in support of marriage equality explained, "Sports figures receive a celebrity status that influences a large majority of the population ... [professional sports] at the league level, team level, and individual level are finally speaking out against homophobia and intolerance of LGBTQ individuals."
When one of my openly gay students, who was also a collegiate athlete, found out that I was co-counsel for Kluwe and Ayanbadejo, he sent me a note thanking me "for drafting this document that expressly connects sports and gays in a way that is rarely spoken about in public forum." Sports Illustrated placed the coming out story of then-active NBA player Jason Collins on its cover, launching a national conversation about sexual orientation in professional sports. Visibility in sports can change minds and mitigate negative stereotypes.
The importance of visibility is not limited to sports: LGBT visibility of other celebrities is also important because the community has not achieved complete social acceptance. Robin Roberts, Anderson Cooper, Meredith Baxter, and Wentworth Miller all garnered considerable press when they disclosed that they are gay. Chaz Bono's disclosure that he is transgender moved mountains in terms of acceptance for transgender persons.
The fact that any of these disclosures is newsworthy is evidence, however, that, sexual orientation and identity still matters to us. In fact, being anything other than "straight" matters; you don't see headlines when a male celebrity announces that he dates women. Yet visibility breeds broader acceptance for the community by making us familiar and known.
The visibility of LGBT politicians is as, if not more, important, particularly as the House of Representatives considers the Employment Non-Discrimination Act (ENDA), prohibiting LGBT employment discrimination nationally. Currently, there is no federal law prohibiting LGBT discrimination. In 29 states, it is legal to refuse to hire, fire, or deny housing to someone because of their perceived sexual orientation. That number jumps to 33 states when it comes to gender identity. As of December 2013, same-sex marriage is unavailable in 32 states, denying couples crucial rights such as adoption, parental rights, hospital visitation, and end-of-life decisions, with predictable and potentially disastrous -- not to mention heartbreaking -- consequences.
In November, Congressman Michael Michaud of Maine came out as gay in an op-ed to the people of Maine. Michaud immediately tried to de-emphasize the importance of his sexual orientation by rhetorically asking "why should it matter?" On one level he is correct -- his sexual has nothing to do with his qualifications as congressman or governor.
On another, though, he is completely wrong. His visibility to his colleagues impacts how they view the LGBT community. Now, those opposed to ENDA will have to look into the eyes of Michaud, Sean Patrick Maloney, Jared Polis, and other openly gay representatives and say, "your rights do not matter to me." When opponents to LGBT equality realize that we are actually friends and colleagues, justifying discrimination becomes far more difficult. Such visibility makes us persons, not strangers that are easy to dismiss. Indeed, being visible can change minds. Senator Rob Portman reversed his opposition to same-sex marriage after his son came out to him as gay.
This is not to suggest that all LGBT persons must be out professionally and personally. Some people choose to keep their sexual orientation private. New Jersey Senator Cory Booker and actor George Clooney, both vocal supports of LGBT equality, have refused to disclose their sexual orientation. That is their right, as it is the right of others, gay or straight.
But others recognize the power of, and need for, visibility, such as gold medalist Olympic skater Brian Boitano. After years of declining to address his sexual orientation, he finally came out after his appointment to the Sochi Olympic delegation. Such visibility remains essential to LGBT progress. Be it as a form of protest of Russian homophobic laws to changing the minds of everyday people, visibility makes discrimination against LGBT persons lose any supposed legitimacy. The LGBT community can only advance itself by being at the table, which means that everyone else gathered knows we are LGBT.
Calling all HuffPost superfans!
Sign up for membership to become a founding member and help shape HuffPost's next chapter