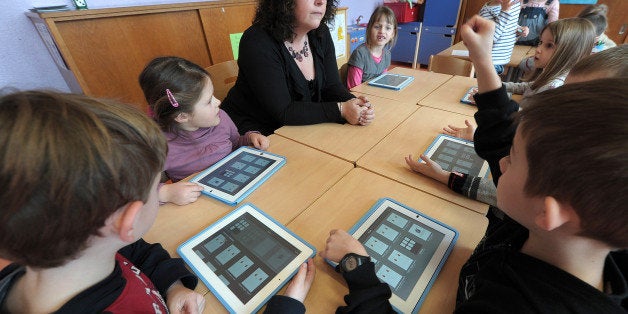 The Los Angeles Unified School District planned to spend $67 million to purchase 700,000 iPads for students, teachers, and administrators for its Common Core Technology Project (CCTP). According to some sources, thus far, the district has actually spent $61 million dollars for 109,000 iPads (including store-and-charge carts), only 62,000 of which contain Pearson's curriculum, and $2 million of which are allegedly missing. If $61 million only gets you 109,000 iPads, who thought $67 million would get 700,000 of them? And where are the missing iPads?
This sounds like a Common Core test question.
The entire LAUSD iPad situation appears to be a total cluster-cuss, fraught with, as Superintendent John Deasy states, "...insinuations, innuendos, and misleading statements" on all sides. Thus, rather than attempting to untangle this cuss of a cluster, I would like to shift our focus from who-did-what-and-when to the idea that technology will, as Deasy suggests, teach third-graders to read and ensure adolescents graduate high school.
The purpose of the Common Core Technology Project is to provide all the youth in the Los Angeles Unified School District with the opportunity to be college ready in the 21st century. That means to have world-class curriculum married with world-class technology lead by world-class teachers (p. 1).
That sounds like a world-class idea that doesn't require $61,000 million in iPads and Pearson curriculum.
Technology is, no doubt, an important educational tool. But it is just that: a tool. It is not a silver bullet that can magically teach children to read and ensure adolescents graduate from high school, even if it's loaded with Pearson curriculum (whatever that may be). If you want students to learn to read, do as the research literature suggests: make a variety of books accessible and ensure students have free voluntary reading time (choice is key)[1]. This is also not a silver bullet, but it has been demonstrated to be effective (whereas iPads and Pearson curriculum have not), even with English Language learners[2], and I doubt it would cost $61 million.
One could argue, however, that giving every child an iPad provides greater access to electronic books. But given that recent research shows screen readers have weaker plot recall than paper readers, electronic books may not be such a great idea. One could also argue that even with greater access to paper books, students won't choose to read. Cross-cultural studies, however, have debunked that argument[3]. As linguist Dr. Stephen Krashen states: "Given access to books, young people read." And the more free reading time they have, the better their comprehension and writing, spelling, and grammar skills. Who would've thunk?
If you want adolescents engaged in high school curriculum so they actually learn it, reconsider the method used to teach it. Some would say that technology is the best method, but research doesn't show this. Instead, research suggests providing opportunities for collaboration on solving real world problems in context rather than focusing on "...symbols correctly manipulated but divorced from experience."[4] Teaching theory is only so interesting if its application is unknown, even if it's technologically flashy.
According to Deasy, it was Dr. Jaime Aquino's responsibility as Deputy Superintendent for Instruction to
...know what the current research was saying about serving all students...[5] .
Too bad Dr. Aquino looked only at Pearson's "research" (or so it seems).
The biggest problem with our educational system is that it's big business. And the education-technology revolution, while claiming to be the answer to our outdated system, only fuels the money machine, providing zero incentive to make changes that will truly help our children.
The bottom line is that technology or no technology, our public education system is still based upon an industrial framework[6]. And the reason, in my opinion, that so may reforms fail is because they are always being stuffed into this same model. What we need is a completely different framework -- one that is based upon how the brain learns and how humans develop because that is what schools are filled with, developing humans, not widgets.
Rather than asking who-did-what-and-when, let's ask whether that $61 million could be better spent on a framework that truly serves our children. And let's ask loudly because if we don't demand it, those who profit from our system as is will never transform it.

[1] Krashen, S. D. (2004). The power of reading (second edition). Westport, CT: Libraries Unlimited.
[2] Shu-Yuan, L., et al. (2007). Sophia's choice: Summer reading. Knowledge Quest 35(3), 52-55.
[3] Krashen, S. D. (2011). Free Voluntary Reading. Santa Barbara, CA: ABC-CLIO.

[4] Resnick, L. B. (1987). The 1987 presidential address: Learning in school and out. Educational Researcher, 16(9), 13-54.
[5] Deasy, J. E. (2014). Common core technology project. Los Angeles, CA: Office of the Superintendent, LASUD.
[6] Callahan, R. E. (1962). Education and the cult of efficiency: A study of the social forces that have shaped the administration of the public schools. Chicago, IL: University of Chicago Press.
Popular in the Community