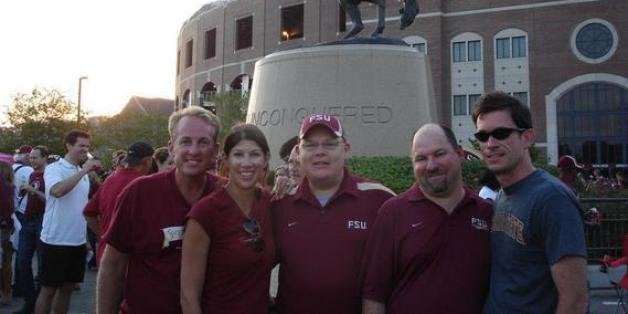 As a Florida State University alumna, a school shooting has unfortunately finally hit home for me. It was only a matter of time I suppose since the prevalence of these violent occurrences are on the rise. Last Thursday morning's shooting at Strozier Library was heartbreaking and scary. Seeing the Facebook posts of my former classmates, who have children enrolled at FSU, updating everyone about the safety of their son or daughter was gut-wrenching. I couldn't help but to think about my own daughter and other family members who aspire to become Seminoles. If they were attending FSU now, I would have been panicked.
Upon hearing the news of the shooting, I could clearly envision the front steps and inside of Strozier Library where victims were shot and the shooter tragically lost his life. In an instance, I was transported back the cubbies and stacks at that library where I had spent time as a college student. It was easy for me to place myself among the chaos and fear current students must have felt when they heard gun shots.
It's sad to think that the serene environment of Tallahassee, this growing town with the typical charm and hospitality of a southern city, maybe forever in my mind's eye replaced by something darker than we can explain. Despite this, I know Tallahassee and FSU will always be my happy place. It's where I made great friends, met my husband and go back to visit every year for football games and relive my youth.
We will be stronger as a community after this tragedy. We were lucky more people were not harmed due in large part to the bravery and swift action of the Florida State University and Tallahassee Police Departments who thwarted further casualties. What's even tougher for Tallahassee's law enforcement community today is on the heels of this campus shooting, they lost Leon County Deputy Christopher L. Smith who was shot and killed this past weekend. A new normal will settle in to this community with students and local citizens becoming more vigilant about their surroundings. The phrase "unconquered," a proud FSU mantra, symbolic of everyone's resilient spirit and a reflection of the Seminole Tribe's rich history, is now more relevant than ever.
What's most striking to me about this shooting though, is not that FSU now joins the long list of other school shootings -- a list that has been chipping away at our consciences for years -- the outpouring of grief, the screams for gun control or the calls for better mental healthcare. But what saddens me the most is I already sense people nationwide are quickly forgetting what happened. I am guilty of this myself and when I have heard about countless other school and workplace shootings I didn't reflect very long about what had happened unless they were horrific, i.e. Newtown or Virginia Tech. I realize now, and I hope you do too, the rapidly changing news headlines doesn't change the fact we're left grappling with the same problems. Nothing has changed since this type of violence has escalated in our communities.
Let's review what we know for the hundredth time:
There is not enough of a safety net for people like Myron May who are suffering from mental illness. Many people tried to help May but could not. Prevention and treatment should come long before crisis. Our mental health system is critically under resourced. View the legislative priorities of the National Council, NAMI and MHA to learn more.
I'm grateful none of the victims died although Farham "Ronny" Ahmed, who was shot three times and is now paralyzed from the waist down still suffers greatly. We will continue to support his recovery. Although harm and terror was waged in our community, my hope is if we can somehow have empathy for the tragic death of Myron May, who was an FSU graduate and in the midst of a total breakdown.
I don't want to accept or quickly forget, and neither should you, that random shootings have become a normal part of our society. This violence is a disruption to our psyche, it leaves a hallow place in our soul and the damage it causes for the welfare of our future seems an overwhelming cost to bare. Let's not forget how we felt immediately upon hearing the news of the shooting at FSU and the many other shootings that have happened nationwide. Holding on to these memories is our only hope that something will change.
REAL LIFE. REAL NEWS. REAL VOICES.
Help us tell more of the stories that matter from voices that too often remain unheard.