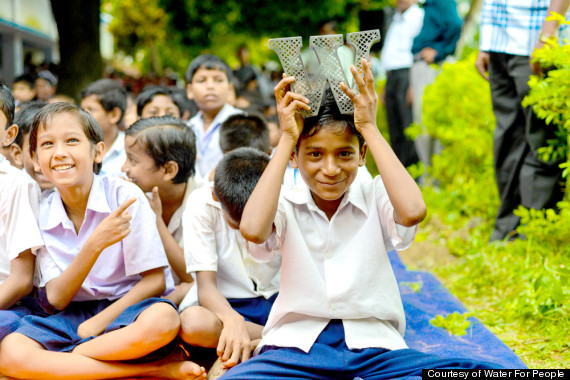 Students at a school supported by Water For People in India
The closing of a year always opens a window to the next: we reflect upon what happened (and what didn't) in the last 12 months, and we aspire to be better and do better in the next 12. So it goes with our work in philanthropy -- we, too, are reviewing our successes, learning from our challenges, setting big goals and making great changes for the future.
And in these last several months, my team at Water For People has been looking more closely than ever before at how individual and collective contributions and action can affect change -- in other words, how can we make investments today that create impact forever?
In the water and sanitation sector, there is a lot of money, resources, technology and marketing dedicated to instant fixes and short-term solutions. It's stopping leaks and fixing wells and building toilets. But I have been pushing (to put it lightly) my team, the partners we collaborate with, and everyone in our field to think beyond the fast and the easy and the cheap. Wouldn't it be better to have water services that flow forever, work better, create jobs, build economies and help more people? The answer should be a resounding YES.
And the thing is, it's not just about water and sanitation. It may start with something seemingly so simple, (it's actually not), but access to clean water for Everyone Forever affects so many other aspects of our lives: health, education, culture, employment, politics, and the environment to name a few. I know that many other issues and causes intersect in this way as well, like hunger and poverty and women and girls. I've heard from dozens of nonprofits that say they are shifting their focus to the long-term, to the lifetime solution, not just the one arbitrarily set for a year in the near future.
A wonderful example is SPLASH, which looks for ways to hand over water systems at orphanages in Asia and Africa in a way that ensures their lasting viability. Or how about the IRC in Holland, whose work on long-term finance is needed to solve the global water crisis, or those who are shining an uncomfortable light on the "$25 saves a life" lie that still is uttered by agencies looking for a quick buck instead of a real solution.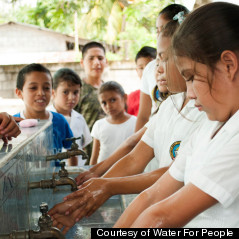 New handwashing stations at a school in Latin America
It's not just nonprofits making investments for change -- it's individuals and communities contributing their time, skills, income and ideas. The people we help around the world are understanding the importance of building a movement that starts with one household or one school or one person, and growing it to community level, then districts, then nationally, and eventually globally. It's people like Dinesh Kumar in Bihar, India, a young entrepreneur who, with the help of a sanitation loan (through our Sanitation as a Business program) and some training, opened a one-stop shop for toilet construction and sanitation services for local customers. He is one of a growing group of new business owners fulfilling an important need, while supporting job creation and simplifying the B2C process. It's students like the ones at Burega School Complex in the Rulindo district of Rwanda, who devised rainwater harvesting and human waste compost and reuse systems to support the operations and funding for their new water and sanitation infrastructure. They're learning about hygiene education and practices and taking that knowledge home to families and neighbors, creating a ripple effect in their community.
More than ever, technology and data are playing an instrumental role in how we decide what to invest in and what that means. We can't understand the true needs and the resources available without comprehensive, consistent monitoring and evaluation (M&E). And we can't expect our donors and partners to support our vision, programming and operations if we can't explain, in both numbers and in narratives, how they are making an impact with their investment.
It's why Water For People has worked so closely with Akvo Flow on M&E so we can share our findings and our progress in platforms like Re-imagine Reporting (RiR). It's why this year we created the Impact Calculator, so donors can plug in their gift and see it's leveraged value over time. And it's why in 2015 we will continue to push the boundaries on what we can achieve when people, technology, and bold visions come together -- not just to solve the water crisis, but to build a better forever for everyone around the world.
As you think about what you've accomplished this year and what you're working towards next, push yourself to go bigger and longer. Don't stop success at next year, or even five years from now. What steps can you take and whom can you partner with to create impact with no end? Set your sights on a forever goal, and start investing in it, right now.
REAL LIFE. REAL NEWS. REAL VOICES.
Help us tell more of the stories that matter from voices that too often remain unheard.