This holiday season, when you're shopping for that perfect gift for your spouse, partner, family member, or friend, consider that you might be the gift they are looking to receive. No one really needs the picture frame with its own email address, the foot bath, or the expensive bottle of wine. But I can guess that they all want you to be healthier, feel younger, and be a more vibrant part of their lives.
The gift of good health means taking care of yourself now, before the so-called "silent" diseases associated with aging strike. It means taking a proactive approach to health care by identifying illness at the earliest possible stages through state of the art testing. It means losing your love handles, or those stubborn last ten pounds, so that you do not become a candidate for diabetes, heart disease, or metabolic syndrome. And it means enhancing your brain so you won't forget to continue to take care of yourself for years to come.
We now have the capacity to live longer, more engaged lives. However, the way you take care of yourself today will determine exactly how you age. Will you be demented, frail, and confined to a nursing home, or will you be a vivacious octogenarian travelling the world? Will you enjoy an active and electrifying sex life until you are well into your nineties, or have you already resigned yourself to a midlife of celibacy? Are you protecting your bones and muscle mass so that they can support you well into old age, or are you imagining a future focused on a rocking chair and a front porch? These scenarios are all realistic visions of the future: the choices are yours to make right now.
Instead of a new toaster, or a plasma television set the size of Graceland, give your loved ones the comfort of knowing that you've had a head-to-toe physical, putting you on the right path for the New Year. Find a leading edge doctor who knows the right foods, nutrients and supplements, lifestyle changes, hormone therapies, and prescription medications that will reverse illness and restore health , making you look and feel younger than ever.
Eric R. Braverman, MD is the founder of PATH Medical in New York City, and the bestselling author of Younger (Thinner) You Diet and the forthcoming book, Younger (Sexier) You (Rodale, 2011).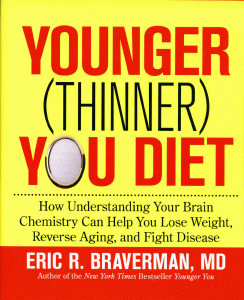 Related
Popular in the Community